Kenya's birding hotspots
Kenya is home to an incredible 1,124 bird species with 11 being endemic. This tour has been specially crafted to allow you to enjoy Kenya's best birding hotspots, seeing approximately 250 birds over 11 days, as well as an enormous amount of big game.
Loaded with national and regional specialities, this tour will engage you in a birding experience of a lifetime. The locations and destinations have been carefully selected to give you an opportunity to see Kenya's best mammal and bird parks. From soda lakes to freshwater wetlands – to grasslands, bush and savannah habitats, as well as rainforests – you will see incredible birdlife. Endemic species include Clarke's Weaver, Kikuyu White-eye, Taita Thrush, Taita Apalis, Taita White-eye, Snowy (Brown-and-white) Barbet, Aberdare Cisticola, Jackson's Francolin, Hinde's Babbler, Sharpe's Longclaw, Williams's Lark, but there will also be a chance to see near-endemic species.

Departure dates:
19th November 2023
4th February 2024
Tour Leader - Sammy Mugo
Sammy was born on the slopes of Mt Kenya. This is a place of rivers, streams, forests and lush vegetation teaming with animals, insects and an abundance of bird species. Sammy learned his trade as a young man by guarding his family's livestock and making meticulous notes about the habits of the birds he saw. This interest in birds from an early age led him to an education in Biological Sciences. After his education, he studied Tour Guiding & Travel in college and after qualifying he worked in various safari lodges and camps as a Resident Ornithologist and Naturalist.
Sammy is a highly qualified and very knowledgeable guide with particular expertise in birding and photography, but also as a guide of Big 5 safaris. He is referred to as the 'Walking Encyclopaedia of Kenya Birds', due to his expertise and experience in bird guiding, but also because along with Lorenzo Barelli and Jaques Pitteloud, he co-authored a photographic guide book on birds in Kenya titled 'Wings of Kenya'. Sammy truly is regarded as one of the very best guides in Kenya and we couldn't be happier that he is leading this tour. Sammy will show you the true magic of Kenya's birds! Sammy's favourite bird is the Blue-headed Bee-eater.
Speak to an expert
I created this trip - call me to create yours.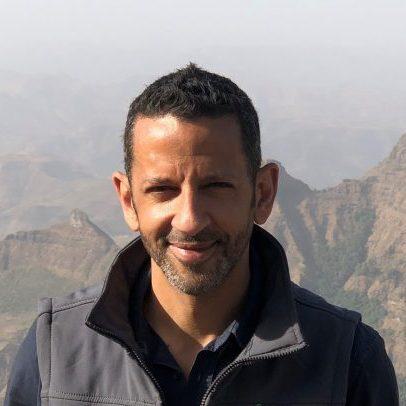 Ben
Africa Specialist
The itinerary…
Day 1: Lake Naivasha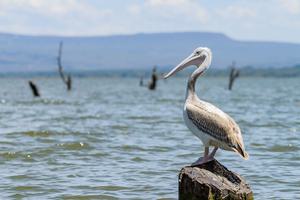 We kick off the tour en route to Lake Naivasha – Kenya's second-largest freshwater lake. Once we arrive by mid-morning, you'll be treated to a leisurely boat ride onto the lake to reach the trickier to spot species and also get up close to the local African Fish Eagle population guarding their territories. We'll also ride up to the best-selected and secluded shoreline points, where many shorebirds are likely to be seen.
After a lovely day, we'll retire to Enashipai Resort & Spa – excellent luxury safari lodge located on the lakeshore, with beautifully decorated rooms.

Lake Naivasha Birds: 80+ Species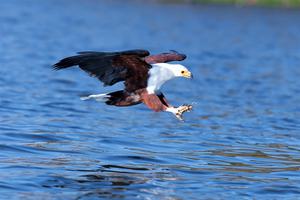 Expected species include Mosque Swallow, Bearded Woodpecker, Plain backed Pipit, Giant Kingfisher, Grey-backed Fiscal, Grey-crested Helmet Shrike, Brimstone Canary, Cape Teal, Pied Avocet, Black Heron, Goliath Heron, Lesser Flamingo, Maccoa Duck, Great White Pelican, Common Greenshank, Ruff, Green Sandpiper, Black-tailed Godwit, Hilderbrandt's Francolin, Arrow-marked Babbler, Black-lored Babbler, African Fish Eagle, Verreaux's Eagle, Tawny Eagle, Osprey, Hybrid Lovebird, Red-throated Wryneck, Golden-breasted Bunting, Buff-bellied Warbler, Grey Crowned Crane, Black Cuckoo and African Hoopoe.
Day 2: Lake Bogoria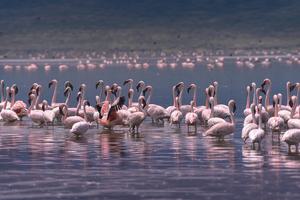 This morning we will travel north to see the volcanic soda lake, Lake Bogoria. The hot springs are a tourist attraction, but for us the real attraction is the birdlife, and especially the Lesser Flamingos which can be found in their millions.
After lunch, we'll drive to the truly remarkable Lake Baringo, one of the best birding locations in the world. You'll check into Tumbili Cliff Lodge where you will spend the next three nights with terrific lakeside views.

Day 3-4: Lake Baringo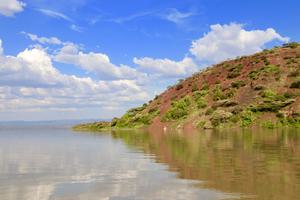 During your days at Lake Baringo, as well as walking around the scrubland looking for many birds (see below for list), you will also be taking you on a boat ride in search of water birds such as the African Jacana, Black Crake, Goliath Heron, Little Bittern, Purple Heron and White-faced Whistling Duck.
We will also get the opportunity to go on a night drive here, where we can see nightjars and owls, as well as some nocturnal mammal species such as porcupine, aardvarks, hyenas etc. If we're lucky we might even see leopard
Lake Baringo Birds: 150+ Species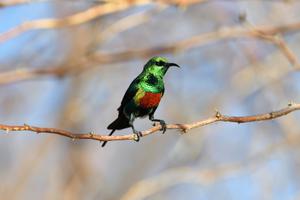 Spotted Eagle-Owl, African Scops Owl, Northern White faced Scops Owl, Shikra, Dark Chanting-Goshawk, Verreaux's Eagle, Slender-tailed Nightjar, Heuglin's Courser, Blue-capped Cordon-bleu, D'Arnaud's Barbet, Black-throated Barbet, Brubru, Grey headed Bushshrike, Jackson's Golden- backed Weaver, Northern Masked Weaver, White-billed Buffalo Weaver, Beautiful Sunbird, Jackson's Hornbill, Yellow billed Hornbill, Hemprich's Hornbill, Northern Red Bishop, Brown- tailed Rock Chat, Mocking Cliff Chat and Bristle-crowned Starling, among many other wonderful species of this area.
Day 5 - 6: Kakamega Forest Reserve.
Today we'll head around 4-5 hours to the gorgeous Kakamega Forest Reserve. Species diversity here is high and we will hope to add to our large list of species already seen. Our time will be spent walking in the forest in search of local specialities.
After each day of exceptional birding, we'll head back to our lodge, Rondo Retreat which is located within the forest – look for the large African Crowned Eagle nest in the garden
Kakamega Birds: 60+ bird species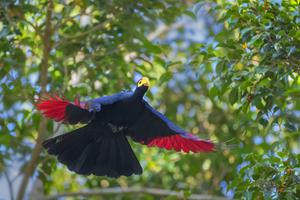 We expect to see species such as the Crowned Eagle, Black-faced Rufous Warbler, Chapin's Flycatcher, Yellow mantled Widowbird, Red-headed Bluebill, Uganda Woodland Warbler, White-chinned Prinia, Buff throated Apalis, Turner's Eremomela, Green Hylia, Yellow-bellied Hyliota, Vieillot's Black Weaver, Olive-Green Camaroptera, African Broadbill, Snowy-headed Robin-Chat, Hairy breasted Barbet, Green-throated Sunbird, Mackinnon's Fiscal, White-spotted Flufftail, Dusky Tit, Bocage's Bush-Shrike, Luhder's Bush Shrike, Black-crowned Waxbill, White breasted Negrofinch, Yellow-crested Woodpecker, Equatorial Akalat, White-tailed Ant Thrush, Chapin's Flycatcher, Blue-headed Bee eater, Common Wattle-eye, Jameson's Wattle eye and Yellow-bellied Wattle-eye to name a few.
Day 7: Lake Victoria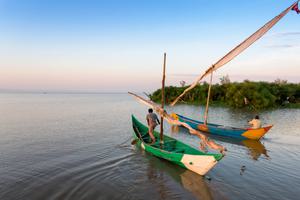 A short drive to Lake Victoria, the world's second largest lake is simply teeming with birdlife, where the local riparian zone will be our major target area.
We expect species such as: Papyrus Gonolek, Papyrus Canary, Northern Brown-throated Weaver, Double-toothed Barbet, Black-billed Barbet, Slender-billed Weaver, Greater Swamp Warbler, Red-chested Sunbird, Eastern Grey Plantain-eater, Swamp Flycatcher and Carruther's Cisticola.
We will also take a boat ride onto the lake in search of those trickier-to-find species!
Spend one night at Acacia Premier Hotel.

Day 8-10: Masai Mara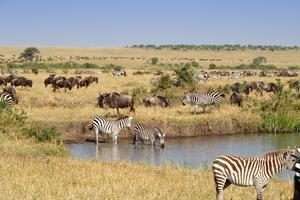 Today you'll be treated to the wildlife theatre of the Masai Mara Reserve. Described by many as the top reserve in the world, this park has so much to offer from the Big Five, and Wildebeest Migration to the incredible birdlife - it truly is a nature lover's dream.

Birding will likely be busy with several transects across this vast savannah. We'll spend the next two days in the park travelling across different habitats such as the Musiara Marsh, the Tanzania border, the major rivers in the reserve and the Oloololo Escarpment area. Each area will provide a different habitat in which we'll be seeking different species on each section of the reserve.
Spend three nights at Basecamp Masai Mara - make sure you check out their community project located on-site whilst here.

Masai Mara Birds: 100+ Species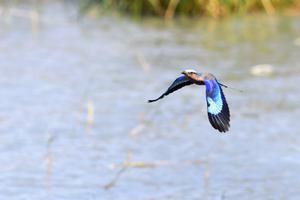 Likely bird species include: Familiar Chat, Sooty Chat, Rufous bellied Heron, Pennant-winged Nightjar, Square tailed Nightjar, Dusky Nightjar, Schalow's Turaco, Grey-crested Helmetshrike, Red-necked Spurfowl, Red-winged Francolin, White-headed Vulture, Ruppell's Vulture, Secretarybird, Temminck's Courser, Rosy-breasted Longclaw, Bare-faced Go away-bird, Rufous-chested Swallow, Southern Ground Hornbill, Green-capped Eremomela, Black Coucal, Kori Bustard, Bush Pipit, White-tailed Lark, Flappet Lark, Athi Short toed Lark, Rufous-tailed Weaver, Trilling Cisticola, Long-tailed Cisticola, Wattled Plover, Saddle-billed Stork, Southern Ground-hornbill, Lilac-breasted Roller, Rosy-breasted Longclaw and Magpie Shrike among so much more!
Day 11: Return to Nairobi
After lunch, we'll jump in the safari vehicle as we head back to the capital where this tour will sadly be coming to an end. On the way back, we'll be going through our now very extensive checklist. We'll drop you either at the airport or your hotel in Nairobi.
---
Duration: 11 days
Location: Kenya, Africa
Price: £0pp
Includes
Accommodations listed on a full-board basis (excluding drinks)
Professional bird guide for entirety of the tour: we pride ourselves in having the very best guides in Kenya.
4x4 open-roofed safari Toyota Landcruiser with a vetted driver, fully qualified guide and full insurance.
Airport transfer.
Updated 2023 bird checklist.
All National Park, Forest & Ranger fees.
SMALL GROUP TOUR
Expert led birding tour
Speak to a Kenya specialist today.