The vast majority of visitors to Namibia will explore under their own steam, picking up a rental vehicle at the start of their trip and having this for the majority, if not all, of their trip.

Although some of the drives are long, they are a big part of the Namibia experience, with ever-changing and breathtaking landscapes – make sure you take the time to stop and admire these views and give yourself a chance to refresh and stretch your legs.
Speak To A Namibia Expert
Start Planning Your Self-Driving Holiday

Call an expert on
01768 603 715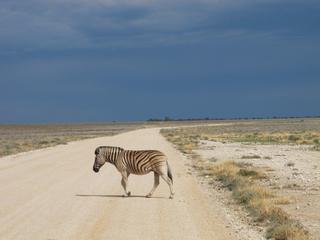 Roads
The country is made for self-driving with an excellent network of tar and gravel, as well as dirt roads, to get visitors around. There aren't many roads, so the chances of getting lost are slim and, with very few cars on the roads, you aren't fighting traffic or huge convoys of vehicles.
Tip: Download MAPS.ME before you go. This app allows you to download maps for the area and it has better offline functionality and more accurate estimates for journey times than Google maps.

Who can drive?
In most cases, in order to hire a car in Namibia, you must be at least 23 years old and have held your licence for at least one year (this may differ depending on supplier). Some suppliers might require you to be at least 25 and will charge those between 21 and 25 an additional insurance fee.
Make sure you take your passport and driving licence with you for car hire.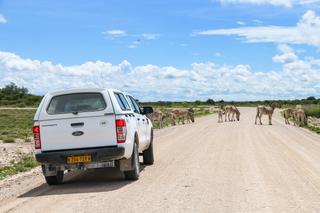 Choosing your vehicle
While not essential, if you can stretch to it, we'd advise a 4x4 rather than 2x4 vehicle; this will help you navigate the gravel roads more easily and can make for a more comfortable ride. If you a 2x4, it will need to have a high clearance. If you are travelling between November and March, rain can make the roads more challenging so at this time a 4x4 becomes necessary.
We'll ensure your car comes with spare tyres, a cool box and ideally a satellite phone for emergencies as this does not require reception.
If you are doing a camping trip, then we'd advise a 'fully equipped' vehicle, which includes roof tents and all of the camping, cooking and cleaning equipment you could need.
Driving Dos
Plan your route in advance. We'd advise travelling a max of 400km a day to allow yourself plenty of time to stop and enjoy the trip. When we plan your trip we'll make sure of this for you.
Be prepared to have to change a tyre – the gravel roads can cause punctures. Make sure you have the necessary equipment such as spares and a jack which should be provided with your vehicle hire, along with instructions. Remember, if you get a puncture and have to change a tyre, you no longer have a spare tyre so get the puncture fixed at the next petrol station.
Be prepared for last-minute changes, breakdowns or getting stuck, and avoid panicking when this happens. Carry excess food, water, medication in case and if possible take a satellite phone for emergencies.
Inform your next hotel or campsite of your expected arrival time and inform your origin of your next destination. Try to let them know if you are running significantly late.
Ask lodges if there is any road damage in your upcoming trip you should be aware of – this is especially valuable in the rainy season when parts of the road can be washed away.
Stop for fuel whenever you can – especially important on more remote roads when petrol stations can be few and far between. Make sure you carry cash for this as many will not accept card.
Keep your distance from animals and give them plenty of space.
Stick to the speed limit which is generally 120km/h on open tarred roads, 80km/h on gravel roads and 60km/h in towns, cities and Etosha National Park. Gravel roads can change conditions quickly and, even on tar roads, wildlife such as warthog can quickly appear from the grasses on the side of the road so do not speed. If you do get caught speeding, pay the fine – bribing and corruption is very much frowned upon in Namibia.
Driving in the middle of the road is often where it is in best condition rather than near the sides, but make sure you move over to the left if you see another vehicle coming towards you.
Keep your distance from vehicles in front and go slowly past other vehicles as gravel can spray causing damage and the dust can make it hard to see.
If you see a car stopped at the side of a road, slow down to check the occupants are OK; most will be having a quick stop for lunch or enjoying the views, but some drivers do require assistance.
A few don'ts
Never drive at night and be careful at dusk when animals can become more active.
Do not off-road in national parks or reserves or anywhere as you may get stuck or damage flora and fauna.
Do not get out of your vehicle and approach animals on foot. Stay in the vehicle and give them plenty of space to behave naturally.
Do not leave your vehicle if you get stuck. You are almost always better to wait for someone to pass and help you.
Most of all – enjoy the experience – Namibia is home to some of the most stunning landscapes on earth so make the most of it!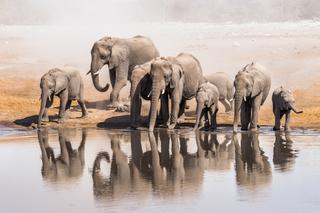 ​ Elephant encounters
Although the desert terrain results in these being less common in Namibia in comparison to neighbouring Botswana, Zambia and Zimbabwe, knowing how to approach and watch elephants from a safe distance is very important. This knowledge can also be put into practice when observing other wildlife too.
Keep your distance. This will enable you to observe the elephant behaving naturally but most importantly keep you and it safe. While bull elephants or breeding females can be particularly troublesome, it is advisable to treat every elephant you see with caution, give it lots of room and observe from a safe distance.
Try to make sure you have a quick and safe exit route.
Do not drive directly towards them – if they are in the road stop well before, allowing them to cross in their own time; do not pressure the animals to move quicker than they usually would.
Elephants are good at letting you know if you have pushed the boundaries and this is often done by a shake of the head and a flap of the ears. Most importantly keep your distance and let the elephant behave naturally; if the elephant is changing its behaviour because of you, then you are too close.
Speak To Someone Who Has Done A Self-Drive Holiday
Start Planning Your Namibia Holiday

Call an expert on
01768 603 715