Experience the Best of Chile
Explore Chile's wonders: Santiago to Atacama, glaciers to lagoons. An adventure of landscapes, culture, and unforgettable experiences.
Discover the heart and soul of Chile with our unforgettable adventure that showcases the country's most captivating landscapes, rich cultural heritage, and natural wonders. From the bustling streets of Santiago to the ethereal deserts of Atacama, and from the tranquil lakes of Puerto Varas to the rugged beauty of Torres del Paine, this journey is a symphony of experiences that will leave you spellbound.
Explore the mystical Moon Valley, and witness the epic landscapes of the high-plateau Altiplanic Lagoons. Encounter penguins in Chiloé, navigate turquoise waters to witness the magnificent Grey Glacier, and stand in awe of the granite peaks in Torres del Paine National Park.
Indulge in moments of tranquillity at the Azul Lagoon, marvel at the rainbow-hued rocks of the Rainbow Valley, and soak in the serenity of the Andean highlands. On this trip, you will undoubtedly experience the best of Chile, from cultural heritage to ecological paradises.
Speak to an expert
I created this trip - call me to create yours.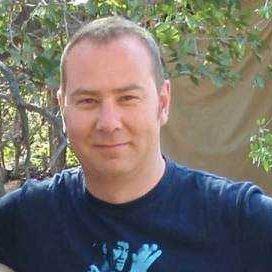 Alistair
Managing Director
The itinerary…
Day 1: It's holiday time!
Head to your planned airport for your flight to Santiago.
Day 2: Arrival in Santiago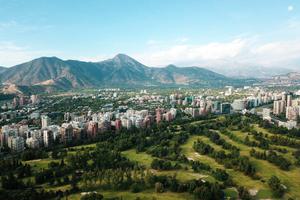 Welcome to Santiago. Upon arrival at the airport you will be transferred to your hotel Le Reve situated in a stylish part of Santiago, where you will stay for one night.
Get ready to embark on a captivating journey through Chile's vibrant capital city. Your afternoon will be filled with exploration as you visit iconic landmarks like "Plaza de Armas," the Cathedral, Ahumada Boulevard, and the impressive Government Palace "La Moneda."
The evening will take you through the modern allure of Santiago, including chic neighborhoods, shopping districts, and financial centers.
Day 3: Atacama's Enchanting Deserts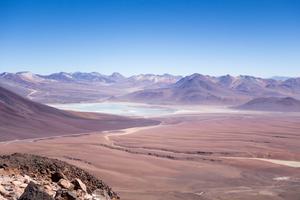 After a hearty breakfast, you'll be transferred to Calama airport for a flight to the magical San Pedro de Atacama staying at Kimal Hotel where you will spend four nights.
Take in the captivating landscapes as you're guided through the ethereal Moon Valley, an arid desert valley that feels like another world. Explore unique geological formations shaped by the wind and water and take in the beauty of the Atacama Desert.
Day 4: High-Plateau Wonders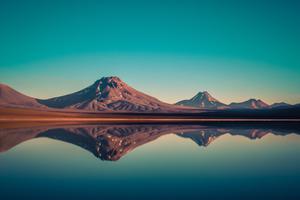 Today, the high-plateau (Altiplanic Lagoons) and Socaire village await your discovery. Delight in the unique vegetation, wildlife, lagoons, and salt flats of the region. The grandeur of Miscanti lagoon will leave you in awe, and a visit to Socaire village will immerse you in traditional Atacaman culture. Return to San Pedro enriched by this unforgettable journey.
Day 5: Tatio Geysers & Thermal Waters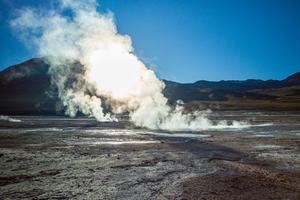 With the sunrise, experience the awe-inspiring Tatio Geysers. Traverse through diverse ecosystems, stopping at Machuca village, before reaching the spectacular geyser field "El Tatio." Embrace the chance to immerse yourself in the therapeutic thermal waters amidst this natural wonder.
Day 6: A Rainbow of Beauty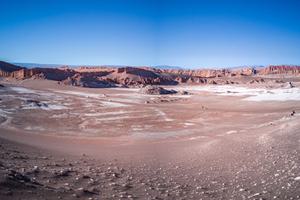 Enjoy a leisurely morning in San Pedro. Explore the village, its charming church, and the vibrant craft market. In the afternoon, embark on a journey to the Rainbow Valley and Yerbas Buenas, two culturally and geologically significant sites. Discover the enchanting layers of ancient rocks in Rainbow Valley, and revel in the mesmerising views from the rim of the salt Mountain range.
Day 7: Andean Highlands to Lakeside Beauty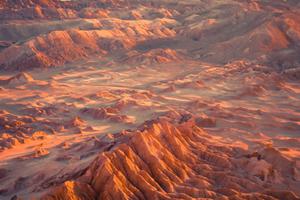 Bid farewell to San Pedro as you embark on a journey to Puerto Montt and Puerto Varas.
En-route, feast your eyes on the stunning landscapes that transition from the Andean highlands to the shores of Llanquihue Lake. Immerse yourself in the picturesque charm of Puerto Varas, nestled before the majestic Osorno volcano. You will be staying at Cabanas Del Lago Hotel where you will spend three nights.
Day 8: Peulla's Ecological Paradise
Today, embark on a beautiful excursion to Peulla. Traverse the southern shore of Lake Llanquihue and be mesmerised by the Petrohué River Falls. Navigate the emerald waters of to reach Villa Peulla, a paradise for nature enthusiasts. Engage in a variety of ecotourism activities and savour the wonders of this ecological haven.
Day 9: Chiloé's Enchanting Charms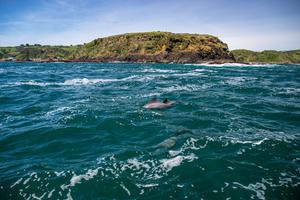 Experience the wonders of Chiloé Island, a treasure trove of cultural and natural riches. Encounter the captivating penguins of Puñihuil, a unique natural spectacle where Magellanic and Humboldt penguins coexist. Explore charming towns, striking palafitos, and immerse yourself in the rich heritage of this coastal gem.
Day 10: Journey to the Southern Wilderness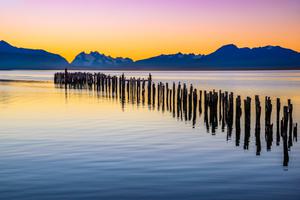 After breakfast at the hotel transfer to Puerto Montt airport to board your next flight to Puerto Natales, where you will be staying at Costaustralis Hotel for two nights.

Day 11: Marvel at Grey Glacier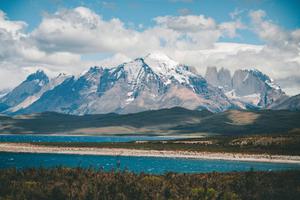 Today you will head to Grey Glacier and experience the natural wonders of Torres del Paine from the turquoise waters of Grey Lake. Gaze at blue icebergs, towering mountains, and the ever-changing landscape, all while savouring a pisco sour made with thousand-year-old glacier ice.
Day 12: Grey Glacier Adventure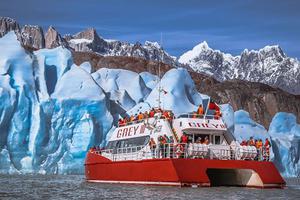 Embark on a 3-hour voyage to Grey Glacier within Torres del Paine National Park. Aboard Grey III, a modern vessel, which will take you on a trip of lush landscapes and towering mountains and dazzling blue icebergs. Take in the grandeur of Cerro Paine Grande, the Paine massif, and snow-clad peaks. Staying at Lago Grey Hotel for two nights.

Day 13: Discover the Tranquility of Azul Lagoon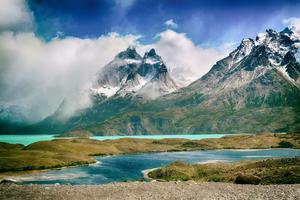 Embark on a morning journey to the serene shores of Azul Lagoon, where an easy 30-minute walk awaits amidst the incredible backdrop of Las Torres Mountains. These vistas provide a unique and captivating perspective of the granite peaks, setting this spot apart from other areas in the park. The area teems with wildlife, enveloping you in a tranquil atmosphere that naturally encourages contemplation of life, nature, and the enchantment of the present moment.

As you journey back to Puerto Natales, a significant stop awaits: the Milodon Cave, a natural monument that holds the remains of a prehistoric herbivorous animal. After this captivating exploration, return to your hotel for a comfortable overnight stay.
Day 14: Homeward Bound via Santiago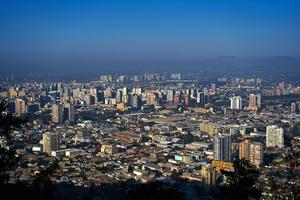 After breakfast at the hotel, travel back to Santiago via Punta Arenas, cherishing the memories of your Chilean adventure. Transfer to your hotel in Santiago and enjoy a final night in this dynamic city.
Day 15: Farewell Santiago!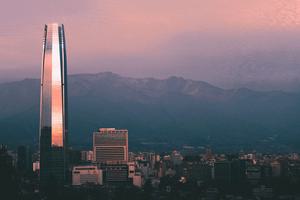 Savour a final breakfast in Santiago before being transferred to the airport for your departure. As you bid farewell to Chile, take with you a heart full of unforgettable experiences.
---
Duration: 15 Days
Location: Chile Holidays, South America Holidays
Price: £4630pp
From £4,630 based on two people sharing (excluding international flights)
The trip includes all internal flights, accommodation and activities specified above. Rooms and meals as below:
2 nights, Le Reve Hotel, Standard Deluxe room - breakfast included.
4 nights, Kimal Hotel, Standard room - San Pedro Atacama, breakfast included.
3 nights, Cabanas del Lago Hotel, Standard room, breakfast included.
2 nights, Costaustralis Hotel, City view room, breakfast included.
2 nights, Lago Grey Hotel, Superior room, Grey Lake sector, breakfast included.
This trip excludes:
International flights to and from UK (expect these to cost from £1,500 pp for economy flights. Please note; that pricing can change significantly depending on the time of year and how far in advance flights are booked)
Where to go in Chile
Top places to visit in Chile
When to go to Peru
Peru is a country that can be visited year-round, as it has a diverse climate and a range of activities to suit every season. Here's a short month-by-month guide to help you decide when to visit:
Jan
Feb
Mar
Apr
May
Jun
Jul
Aug
Sep
Oct
Nov
Dec
Speak to a Peru expert today
Receive a detailed itinerary within 24 hours.
Alistair

Managing Director
Call an expert on
01768 603 715