A Journey through History, Wine, and Natural Wonders
An unparalleled travel experience that will leave you a profound connection to the heart of Chile and beyond.
This trip promises an unforgettable odyssey across diverse landscapes, captivating historical sites, and some of the finest vineyards Chile has to offer.
Beginning in the vibrant city of Santiago, you can discover the city's heart and soul. From there, take a flavourful turn into the renowned Colchagua Valley, where the art of winemaking is your guide. Visits to the Laura Hartwig and Viu Manent vineyards offer immersive experiences into the complexities of the viticulture that have shaped these remarkable wines.
Outside the bounds of Santiago and its surroundings, you will head to the magnificent Easter Island, which beckons with its ancient tales and mysterious moai statues. Explore the remnants of forgotten civilizations and stand in awe of the colossal sculptures that guard this remote island.
Finally, finish your adventure amongst the rugged grandeur of Patagonia, where Torres del Paine National Park unveils its incredible vistas, and Grey Glacier promises an encounter with one of nature's most awe-inspiring wonders.
Speak to an expert
I created this trip - call me to create yours.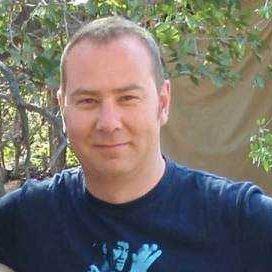 Alistair
Managing Director
The itinerary…
Day 1: Ready, set, go!
Head to your nearest international airport and board your overnight flight to Santiago, Chile.
Day 2: Welcome to Santiago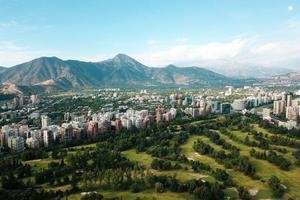 At the airport, you will be transferred to the Le Reve Hotel in uptown Santiago, where you will stay for one night. After check-in, your adventure begins with a half-day guided tour through the heart of Santiago. The pinnacle of the day is ascending San Cristobal Hill on a panoramic bus with a sweeping panorama of the city and the epic Andes Mountain Range. Return via a cable car will take you back to the modern, chic side of Santiago.
Day 3: The Art of Winemaking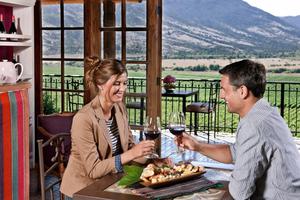 After a hearty breakfast at the hotel, take a trip to Santa Cruz city in the renowned Colchagua Valley. Your first stop is the Laura Hartwig Vineyard where you'll indulge in a comprehensive tour. Your journey continues to the Viu Manent vineyard, where lunch awaits. In the afternoon, tour the vineyard grounds, and cellar visits, get a glimpse into the wine production process, and wine tasting. Relax as the day draws to a close at your hotel, Santa Cruz Plaza, where you will stay one night.
Day 4: Immersed in Wine Culture
After a delicious breakfast, you will take a guided tour of the Santa Cruz winery. Immerse yourself in the essence of winemaking as you sample a selection of wines and enjoy lunch. This experience also features a cableway ride to the Chamán Hill, where indigenous village replicas of Aymara, Mapuche, and Rapanui cultures stand. Make your way back to your hotel in Santiago, where you'll spend one night at Le Reve.
Day 5: Santiago to Easter Island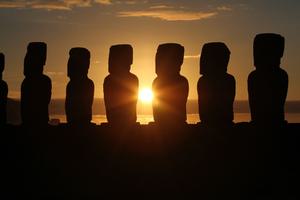 Awaken to breakfast at the hotel, then prepare to embark on a journey to Easter Island. You will be transferred from Le Reve Hotel to the airport in Santiago and upon arrival at Mataveri Airport in Easter Island, you will be transferred again to Taha-Tai Hotel where you will spend three nights.
Day 6: Ancient Wonders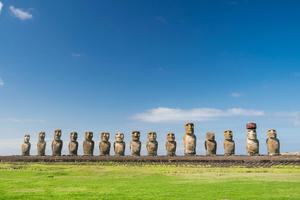 Eat up at breakfast, as today's itinerary includes a visit to Tongariki, Rano Raraku, and Anakena. Your expedition begins at the ruins of the Akahanga temple, where moai hats create an intriguing spectacle. Venture on to the Rano Raraku volcano, the birthplace of the island's iconic moai. A fulfilling lunch awaits at a local Rapanui's residence and then the day concludes at Anakena Beach, graced by two picturesque Ahu. Use your free time to indulge in a refreshing swim or a leisurely stroll before retiring to your hotel.
Day 7: Enigmatic Orongo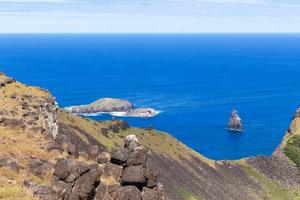 A hearty breakfast sets the tone for your day of discovery. This morning's excursion takes you to Rano Kau, Orongo, and Vinapu. Explore Vinapu's archaeological remnants, offering insights into volcanic rock constructions and the island's tribal history. Continue to the volcanic wonder of Rano Kau, with its deep crater, and serene lagoon. The ancient ceremonial city of Orongo, adorned with petroglyphs, unveils the mysteries of the Tangata Manu birdman tradition. The afternoon ventures to Ahu Akivi, showcasing the Seven Moai in a captivating ceremonial setting. Your journey further leads to Puna Pau, where the iconic "pukao" (topknots) were crafted for the moai.
Day 8: Easter Island to Santiago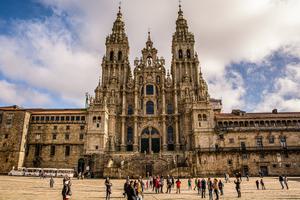 As the sun rises, enjoy a satisfying breakfast at the hotel. You will be transferred to Mataveri Airport for your return flight to Santiago. Once back in Santiago, you will return to Le Reve Hotel where you will stay for one night.
Day 9: Gateway to Patagonia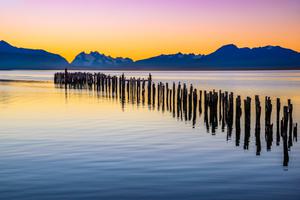 A delightful breakfast awaits at the hotel, fueling you for your journey ahead. Transfer to the airport for your flight to Punta Arenas, where our team will be ready to welcome you. A comfortable transfer to Puerto Natales awaits, leading you to your hotel Costaustralis Hotel where you'll spend the night.
Day 10: Puerto Natales to Torres del Paine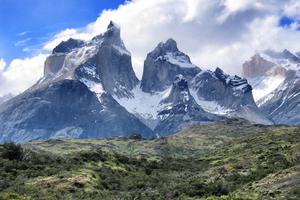 After breakfast at the hotel, your day begins with an excursion to Torres del Paine National Park. This UNESCO-designated biosphere reserve offers a captivating panorama of the Andean Massif, adorned with glaciers, waterfalls, lagoons, and the pristine Pehoe Lake. Revel in the park's diverse flora and fauna, taking in the awe-inspiring views. Stay in the Grey Lake area at Lago Grey Hotel for two nights.
Day 11: Exploring Grey Glacier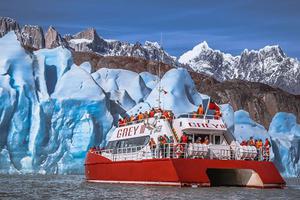 After breakfast, a half-day navigation to Grey Glacier awaits, showcasing the captivating blend of landscapes, lush greenery, and towering mountains. Onboard the Grey III boat, you'll sail to Grey Glacier. The sight of brilliant blue icebergs floating in the grey waters is a spectacle to behold.
With a touch of luck, you might witness ice chunks calving off the glacier. The rest of the day is yours to relax and explore at your leisure.
Day 12: Azul Lagoon Exploration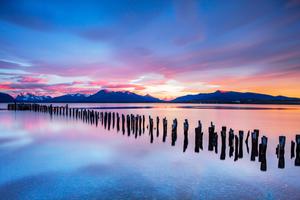 Greet the day with a delicious breakfast at the hotel. Today's adventure leads to Azul Lagoon, offering a tranquil respite by its serene shores. A leisurely walk will reveal remarkable vistas of the Las Torres Mountains. Visit to the Milodon Cave, a natural monument housing prehistoric remains, then return to Costaustralis Hotel for the night.
Day 13: Completing the Patagonian Journey
Enjoy a satisfying breakfast at the hotel, followed by a transfer to Punta Arenas Airport for your flight back to Santiago. Transfer to Le Reve hotel for one more night.
Day 14: Farewell and Safe Travels
Savour a final breakfast back at Le Reve hotel, marking the culmination of your unforgettable journey, and transfer to the airport for your homeward bound flight.
---
Duration: 13 nights
Location: Chile Holidays, South America Holidays
Price: £5350pp
From £5,350 pp based on two people sharing, excluding international flights.
The trip includes all accommodation and activities specified above.
Rooms and meals as below:
4 nights at Le Reve Hotel - standard deluxe room, breakfast and lunch included.
1 night at the Santa Cruz Plaza Hotel - standard room.
3 nights at Taha-Tai Hotel - standard room, breakfast daily, and lunch on day 6.
2 nights at Costaustralis Hotel - city view room, breakfast included.
3 nights at Lago Grey Hotel - superior room, breakfast included.
Excludes:
Single Supplements.
Meals not mentioned as included.
International flights to and from UK (expect these to cost from £1,200 pp for economy flights. Please note; pricing can change significantly depending on the time of year and how far in advance flights are booked.
When to visit Chile
Discover the best times to visit Chile with this guide
Jan
Feb
Mar
Apr
May
Jun
Jul
Aug
Sep
Oct
Nov
Dec
Speak to a Chile expert today.
Receive a detailed itinerary within 24 hours.
Alistair

Managing Director
Call an expert on
01768 603 715