Central Valley, Atacama, and Bolivia Adventure
Visit surreal and otherworldly landscapes, places where you can truly feel like an astronaut exploring an alien world right here on Earth.
Prepare to embark on an extraordinary adventure through the heart of Central Valley, Atacama, and Bolivia, where awe-inspiring landscapes, rich cultural experiences, and unforgettable moments await. Your journey begins in Santiago, Chile's vibrant capital, where you'll explore historic landmarks, bustling streets, and ascend San Cristobal Hill for panoramic views.
From Santiago, your voyage continues to the mystical desert oasis of San Pedro de Atacama, a land of surreal landscapes. Witness the beauty of the Moon Valley, explore high-plateau regions with captivating lagoons, and immerse yourself in the culture of Socaire village. Wake up early to witness the El Tatio geysers at sunrise, an ethereal spectacle amidst the Andean highlands. Discover the geological wonders of Rainbow Valley and Yerbas Buenas.
Journey across the border into Bolivia to explore Eduardo Avaroa National Park. Marvel at the emerald waters of Laguna Verde, the geothermal wonders of "Sol de Mañana" Geysers, and the vibrant red hues of Laguna Colorada. Your days will be filled with remarkable wildlife sightings, including flamingos, llamas, and vicuñas. After your adventure in Bolivia, return to La Paz for a captivating city tour and a cable car ride over the city, providing vistas of the Andes. Conclude your incredible journey with an exploration of the sacred islands of Lake Titicaca, where the rich traditions of indigenous communities and stunning landscapes come together to create lasting memories.
Speak to an expert
I created this trip - call me to create yours.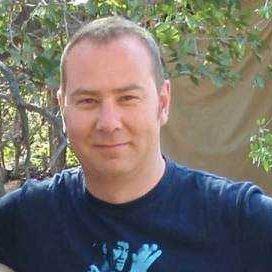 Alistair
Managing Director
The itinerary…
Day 1: Away we go!
Make sure you've packed a great camera for all of the incredible photo opportunities you are going to have, and board your flight to Santiago.
Day 2: Arrive in Santiago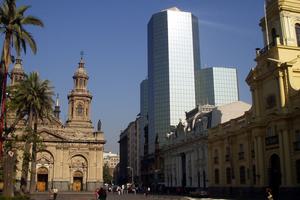 Upon your arrival at Santiago Airport, we'll warmly greet you and provide a comfortable transfer to Le Reve Hotel where you will spend 2 nights. Dive into Santiago's heart with a half-day tour, taking in its iconic landmarks. Explore the historic Plaza de Armas, the Cathedral, Ahumada Boulevard, and "La Moneda" Government Palace. Then, journey through Bellavista's charm and ascend San Cristobal Hill for panoramic views via a scenic bus ride. Descend by cable-car, explore modern Santiago, and return to your hotel for a restful night.
Day 3: Valparaiso & Casablanca Valley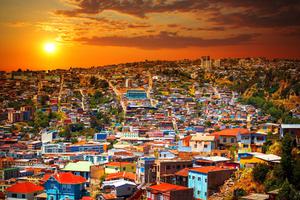 Kickstart the day with a delicious breakfast at your hotel. Embark on a full-day excursion to Valparaiso and the scenic Casablanca Valley. Traverse the picturesque Casablanca Valley, famous for its vineyards, en route to the enchanting coastal town of Valparaiso. This UNESCO World Heritage site offers a captivating blend of unique architecture spread across its hills. Meander through narrow streets, traverse charming stairways, and even take a funicular to reach the hilltops. Delight in the kaleidoscope of colourful houses that compose this photogenic city. Later, return to Santiago, stopping for a delectable lunch and a wine-tasting experience at Casas del Bosque vineyard.
Day 4: Visit Moon Valley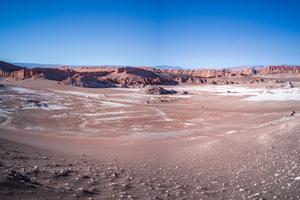 Relish a hearty breakfast at your hotel, then transfer to the airport for your flight to Calama. Once in Calama, you'll be greeted and transferred to the charming village of San Pedro de Atacama during which you will get stunning views of the Domekyo and Salt Mountain Ranges.
In the afternoon, join a half-day shared excursion to the incredible Moon Valley, an extraordinary desert valley characterized by unique geological formations sculpted by wind and water. Explore attractions such as the Amphitheater, the Salt Cave, and the Tres Marías formations. Capture the essence of this awe-inspiring landscape before returning to your accommodation Kimal Hotel for a restful overnight stay.
Day 5: San Pedro de Atacama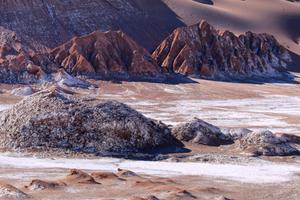 After breakfast, embark on a full-day shared excursion to the high-plateau region, where you'll be captivated by the unique flora, fauna, and scenic lagoons. The magnificent Miscanti Lagoon, the largest in the area, is bound to leave a lasting impression.
Afterward, visit the indigenous community in Socaire village, offering insights into their traditional Atacameñan way of life. A simple lunch awaits at a local restaurant before returning to Kimal hotel in San Pedro de Atacama.
Day 6: Tatio Geysers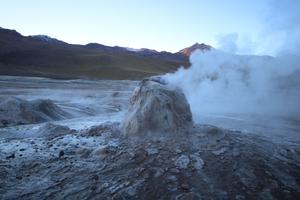 Witness the sunrise as you embark on an early morning journey to the Andean highlands. Traverse diverse altitude ecosystems, including the remarkable wetlands of Machuca and Putana, en route to the breathtaking El Tatio geyser field. Marvel at this natural spectacle, with its steamy geysers against the backdrop of the rising sun.
Afterward, explore the enchanting "Geyser Blanco," where the brave can enjoy the thermal waters and you can enjoy your provided breakfast. Return to San Pedro and spend the rest of the day at your leisure.

Day 7: Rainbow Valley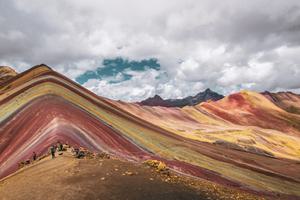 Enjoy a leisurely breakfast at your hotel. The morning is yours to explore the village, its charming church, and the local craft market.
In the afternoon, immerse yourself in the cultural and geological significance of the Rainbow Valley and Yerbas Buenas sites. Learn about the indigenous community in Rio Grande, followed by an exploration of Rainbow Valley, with its multicolored rock layers reflecting millions of years of history.
Conclude the day by admiring the stunning capricious morphology of the salt mountain range and the distant beauty of the Andes, then returning to your hotel.
Day 8: Cross to Bolivia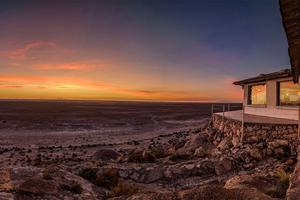 After an early breakfast, your unforgettable journey begins at Hito Cajon, the border between Chile and Bolivia. Travel into the mesmerizing Eduardo Avaroa National Park, a vast wilderness teeming with unique flora and fauna adapted to extreme conditions.
Discover Laguna Verde, a giant emerald lake, looked over by the towering Licancabur Volcano. Explore the "Sol de Mañana" Geysers, where you'll witness volcanic craters and fumaroles spouting steam and water up to 100 meters high. Continue your adventure through a surreal landscape to reach Laguna Colorada, a red-hued lake home to diverse wildlife, including flamingos.
End your day at Hotel Luna Salada, a hotel built out of salt, where you will spend three nights.
Day 9: Uyuni Salt Flats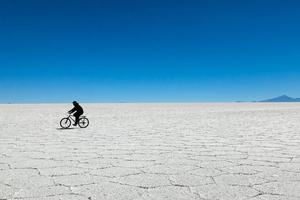 Start your day with breakfast, followed by a visit to the Uyuni Salt Flats, the largest on Earth, spanning 12,000 square kilometers. Experience the surreal beauty of the salt flats, where crystalline pentagons, endless skies, and giant cacti create a dreamlike landscape.
Explore "Incawasi," an oasis filled with unique algae and ancient fossils, surrounded by colossal columnar cacti. Enjoy a picnic lunch amidst this otherworldly scenery. In the afternoon, return to your hotel for dinner and another peaceful night.
Day 10: Tahua and Thunupa Volcano Exploration
Begin your day with breakfast before embarking on a full-day excursion to Tahua, a charming village nestled at the foot of Thunupa Volcano.
Wander through the village and hike to the Coquesa Mummies Cave, to witness the world's oldest known mummies. A delicious picnic lunch is provided, allowing you to savour the serene beauty of the surroundings. Return to your hotel for a delightful dinner and a peaceful night's rest.
Day 11: From Uyuni to Vibrant La Paz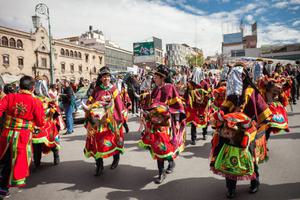 Enjoy breakfast before your transfer to the Uyuni Airport for your local flight to La Paz. Upon arrival in La Paz, you'll be transferred to your hotel Casa Grande where you will spend two nights.
Discover the magic of La Paz during a half-day city tour, including visits to the Indian Market, Witch Doctor's Market, and panoramic views of the majestic "Illimani" mountain. Explore the Moon Valley, a natural wonder resembling the lunar surface. Take an exhilarating cable car ride, known as the Teleférico, for an aerial view of the city. Return to your hotel for some leisure time.
Day 12: Sacred Islands of Lake Titicaca
After breakfast, embark on a journey from La Paz to Huatajata, a lakeside town on Lake Titicaca's shores. Visit the Andean Roots Eco Village, where you'll explore the Altiplano Museum, Handicrafts Village, Mud Igloos, and the mortuary towers of the Urus Chipayas. Meet the Limachi family, renowned builders of epic expedition vessels RA II and Tigris.
Enjoy a hydrofoil cruise to Sun Island, climb the Inca "Grand Stairs," and taste the sacred water from the Fountain of Eternal Youth. Lunch awaits at the Uma Kollu archaeological Restaurant, followed by a visit to a small Indian market. Continue your journey to Moon Island and the Sun Virgins Temple "Iñak Uyu" before returning to Copacabana. Arrive back in La Paz, admiring the majestic Andes along the way. Overnight at Hotel Casa Grande.
Day 13: Farewell Bolivia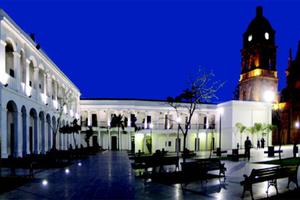 After breakfast, prepare for your departure as you're transferred to the airport for your onward flight to Santa Cruz and international flight. This marks the end of your incredible Bolivian adventure, filled with natural wonders, cultural discoveries, and unforgettable memories.
Day 14: Safe travels!
As you return to your home country, think about all the amazing, otherworldly adventures you've had, and start planning your next trip!
---
Duration: 13 nights
Location: Chile Holidays, South America Holidays
Price: £3200pp
From £3,200 pp based on two people sharing (excluding international flights)
The trip includes all internal flights, accommodation and activities specified above. Rooms and meals as below:
2 nights at Le Reve Hotel, Standard Deluxe room, breakfast and lunch included.
4 nights Kimal Hotel, Standard room breakfast, lunch included where mentioned.
3 nights, Hotel Luna Salada, breakfast lunch, dinner included where mentioned.
2 nights Hotel Casa Grande, breakfast and lunch included.
Also includes:
Internal flights and all transfers.
All private guides and entrance fees for tours.
This trip excludes:
Single Supplements.
International flights to/from your home country.
Meals not mentioned as included.
International flights to and from UK (expect these to cost from £1,600 pp for economy flights. Please note; that pricing can change significantly depending on the time of year and how far in advance flights are booked)
Our Favourite Tailor-Made Chile Trips
Popular Chile Holiday Ideas
When to visit Chile
Discover the best times to visit Chile with this guide
Jan
Feb
Mar
Apr
May
Jun
Jul
Aug
Sep
Oct
Nov
Dec
Speak to a Chile expert today.
Receive a detailed itinerary within 24 hours.
Alistair

Managing Director
Call an expert on
01768 603 715