Our Experts Say
Get away from the main areas of both Victoria Falls and Hwange to experience both locations from a totall different perspective.
Victoria Falls and Hwange is a classic combination of places to visit, but this itinerary puts a different twist on things, taking visitors away from the more well-known parts of both regions and giving a completely different range of experiences. The small handful of lodges that sit below Victoria Falls are a great spot to start the trip and especially good for birders, with black eagles and lanner falcons often seen. This will be followed by a few days in the more commonly visited Eastern side of the Hwange National Park before heading deep in to its Southern section where you will be the only visitors for miles and miles, making for an incredible wildlife and wilderness experience. The last leg will see you return to The Falls and head up to the beautiful Zambezi National Park for a few nights well-earned rest and relaxation.
Speak to an expert
I created this trip - call me to create yours.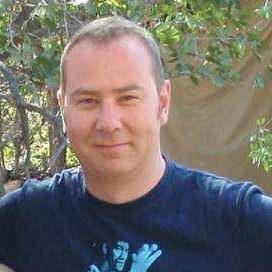 Ali Walls
Africa Specialist
The itinerary…
Day 1: Set off from London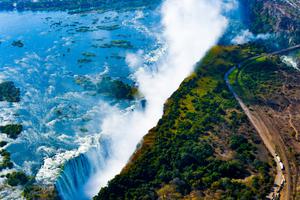 Fly overnight to Victoria Falls via Addis Ababa.
Day 2: Touchdown in Victoria Falls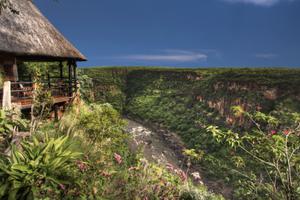 You will arrive in to Victoria Falls at lunchtime where you will be met and transferred down to the stunning Gorges Lodge - your home for the next two nights. Arriving in time for lunch you will have the afternoon to relax and enjoy the stunning views down to the Zambezi River below before heading off for a sundowner cruise along the river.

Day 3: Spot rare birds of prey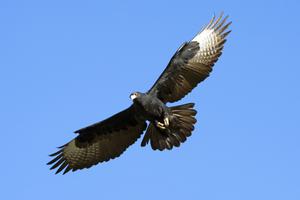 One of the beauties of staying at Gorges is that you can enjoy the traditional activities such as visits to The Falls but also enjoy activities few other visitors to the area will be able to. The most unique activity that they offer is the chance to see black eagles and lanner falcons who swoop along the edge of the gorge and come to feed from the deck of the lodge itself. Regardless of whether you are a birder or not, this is a truly memorable experience and one not to be missed.

Day 4: Road and rail to Hwange
This morning will be a chance for a lie-in and a late breakfast in camp before you are collected and transferred down to the Dete Railway Station where you will board the Elephant Express, an open-sided train carriage, for a 2 hour transfer down to the Ngamo siding with wildlife spotted in abundance along the way. From Ngamo it is a short transfer to Camelthorn Lodge where you will be spending the next three nights. After dinner there will be a chance for you to enjoy a night drive through the camp's private concession.

Day 5: Classical Hwange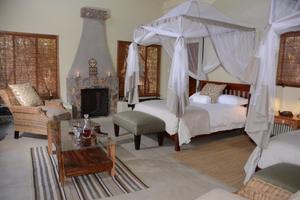 Your time in Hwange National Park will be yours to spend as you please, heading out on game drives and guided walks in the company of the outstanding guides for which Camelthorn is renowned. There are a number of waterholes in close proximity to the camp and these are a great spot to spend the late afternoons, complete with a cool box full of drinks to watch a huge variety of wildlife coming to drink as the heat goes out of the day.
Day 6: Views from the deck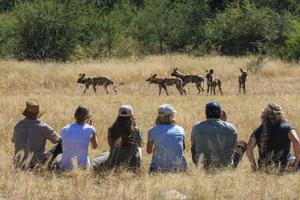 Whilst Hwange is full of incredible wildlife and you will doubtless want to head out as much as you can to explore, be sure to spend a good amount of time relaxing in camp and enjoying the wonderful ambience that Camelthorn has. The food is outstanding and the service very natural and relaxed. The rooms all have an "upper deck" where you can relax and take in the views out to the bush and spot the varied wildlife that often wanders by.

Day 7: Hwange's Deep South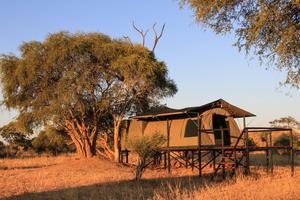 Today you will delve deep in the Hwange National Park, taking a full day drive down to Jozibanini Camp, where you will be spending 2 nights. During the drive you will be able to visit some of the workers who keep the pumps that fill Hwange's waterholes and are an integral part of the park's infrastructure. You will arrive in time to freshen up before dinner under the stars where you can marvel at the clear night skies and amazing stillness that this area offers.

Day 8: Explore away from the crowds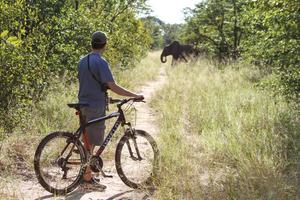 Jozibanini is gloriously isolated meaning that you can enjoy activities that simply aren't possible in other parts of the park. The morning can be spent exploring by mountain bike with your guide, before enjoying a delicious picnic lunch before making your way back to the lodge for a siesta. In the afternoon you can spend time in Jozi's specially designed photography hide which will be a great opportunity to take some incredible wildlife shots as the animals come to drink from the waterhole.

Day 9: A day in the park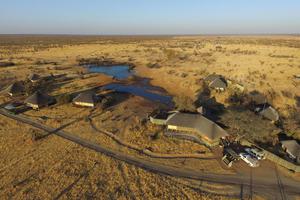 After an early breakfast you will enjoy a full day game drive back to the Eastern part of the park for an overnight stay in Nehimba Lodge. As the day will have been very wildlife-heavy you will be able to have the afternoon relaxing in the lodge should you wish and watch wildlife come to drink from the waterhole in front of the camp.
Day 10: From Hwange to Vic Falls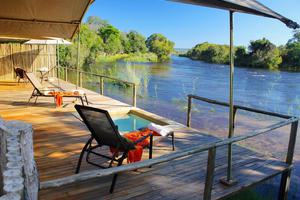 This morning you will be collected from Nehimba and transferred through the park and on past Victoria Falls until you reach the stunning Zambezi Sands River Camp, in the Zambezi National Park where you will be spending the next three nights. This is a long drive so the afternoon can be at leisure for you to relax and enjoy your private plunge pools and views out across the mighty Zambezi River.

Day 11: Zambezi Sunsets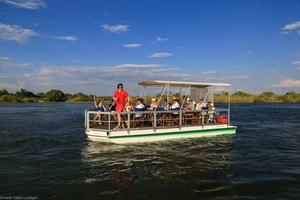 As you will have had the chance to see the Victoria Falls and explore the town earlier in your trip your stay up here as a chance to explore the Zambezi River, Zambezi National Park and relax after what will have been a busy safari trip. Sunset boat cruises, canoeing, game drives within the park, guided walks and even fishing trips are all on offer so there is plenty to keep you occupied during your stay.

Day 12: A park by the river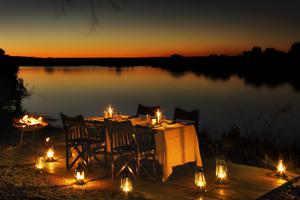 Your final full day can be spent enjoying whatever mix of activities suits your fancy. In addition to this, we would suggest dedicating plenty of time to relaxing in the camp and enjoying the outstanding facilities, warm hospitality and wonderful food for which it is renowned. The final evening can be spent enjoying sundowner drinks and dinner on the deck as the Zambezi gurgles by, offering a wonderful backdrop to your meal.

Day 13: Farewell Zimbabwe
This morning you will be collected from Zambezi Sands for a transfer back to Victoria Falls airport where you will commence your journey back to London, flying via Addis Ababa.

Day 14: Welcome home
Early morning arrival in your home country.
---
Duration: 14 Days
Location: Zimbabwe Safaris, Africa
Price: £6450pp
This Victoria Falls & Hwange Explorer starts from £6,450 per person and includes:
Regional flights
All applicable transfers
2 nights Fully Inclusive at Gorges Lodge - Standard Room
3 nights Fully Inclusive at Camelthorn Lodge - Safari Tent
2 nights Fully Inclusive at Jozibanini - Safari Tent
1 night Fully Inclusive at Nehimba - Safari Room
3 nights Fully Inclusive at Zambezi Sands - Luxury Tent
Tailor Made Holidays
Make this trip your own
Tailor this trip around your preferred dates, your budget and your ideas.