Our Experts Say
As well as the iconic Victoria Falls and Hwange you will be able to visit the beautiful Matobos National Park, one of the most scenic and culturally important parts of Zimbabwe.
Often Africa trips can be long affairs, with many destinations requiring a couple of weeks to do them justice, especially given the distances involved in travelling around. We are looking to break that mould with this trip, highlighting that not only can you enjoy shorter trips to Africa, but can still have a wonderful variety of diverse experiences during that time. This itinerary showcases three very different, but equally fascinating areas, all with their own unique features and attractions. From the cascading Victoria Falls where a huge range of activities can be enjoyed you will travel through the iconic Hwange National Park, home to a huge variety of wildlife and some stunning landscapes. The final leg of the trip takes you to the majestic Matobos National Park, the best spot in Zimbabwe to see rhino and home to truly breathtaking landscapes. Here you can also trek to ancient bushman rock art sites and visit local villages, so it offers a very rounded experience.
Speak to an expert
I created this trip - call me to create yours.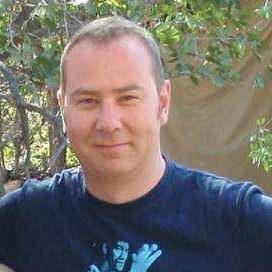 Ali Walls
Africa Specialist
The itinerary…
Day 1: Overnight to Africa
This evening you will fly from London to Victoria Falls, changing aircraft in Johannesburg along the way.
Day 2: Vibrant Victoria Falls
Landing in to Victoria Falls airport at lunchtime you will be met and taken on the short transfer in to town where you will be staying at the lovely Victoria Falls Safari Club for the next 2 nights. After settling in you can head down to The Falls to marvel as the Zambezi River crashes over the edge and in to Batonka Gorge. As the sun starts to set you may wish to take this opportunity to enjoy a cruise along the Zambezi River – a perfect way to end your first day in Africa.

Day 3: Time to explore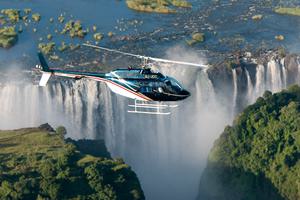 With so many activities on offer, you will be spoilt for choice on what to do today. Am early morning helicopter ride is always a good way to get things going, before descending to terra firma for some time exploring Victoria Falls town – home to a thriving art scene and some excellent restaurants. If you are feeling adventurous there are plenty of activities for you to enjoy around the Victoria Falls Bridge, including bungee jumps, gorge swings and zip lining. For something altogether more sedate, head to the Victoria Falls Hotel for afternoon tea.

Day 4: Big game and open plains
After breakfast you will be collected from the hotel and taken on a scenic road transfer to the Hwange National Park, a drive of approximately 2.5 hours. You will be staying at the fantastic Khulu Bush Camp for the next 2 nights and after lunch will head out for an afternoon game drive to explore their concession and enjoy the outstanding big game viewing for which Hwange is so renowned. Return to camp for drinks around the campfire before dinner.

Day 5: Game drives and great guides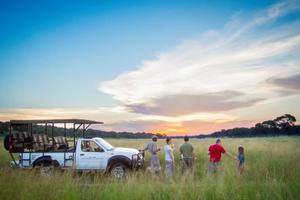 This morning you will be up early so as to enjoy a full day exploring the Hwange National Park with your guide. The activities programme includes game drives, guided walks, visits to the Painted Dog Conservation Centre, village tours and the chance to sit by a water pan and watch animals come to drink. With so much to do this will doubtless be a busy but exhilarating day, with lion, leopard, cheetah, elephant, buffalo and wild dog all among the common sightings in Hwange.

Day 6: Zimbabwe's hidden gem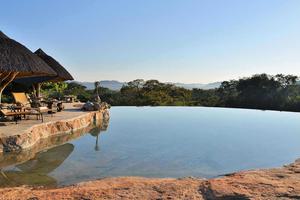 After enjoy a morning safari and breakfast by the campfire your adventure will continue as you head down to the stunning Matobos National Park, a real hidden gem of a place to visit. The drive takes approximately 4 hours meaning you will arrive at Amalinda Lodge in time for lunch. For your afternoon activity to can choose to go on a game drive with a big focus on seeing rhino and perhaps combine this with a walk to see some of the bushman rock art sites dotted around the reserve.

Day 7: Exploring the Matobos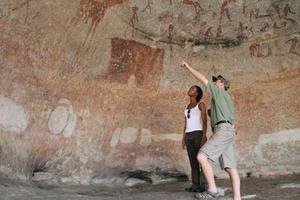 Whilst good wildlife spotting can be enjoyed in Matobos, it isn't on a par with Hwange so your full day here is a chance to enjoy some alternative activities. Biking trails can be enjoyed and combined with a visit to local villages which is always a great way to start the day. For those looking to be a little more active the camp can organise afternoon hikes to some stunning viewpoints, including to "The View of the World" – the final resting place of the great Imperialist Cecil Rhodes.

Day 8: The long journey home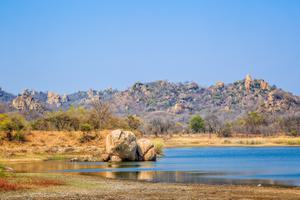 You will be able to enjoy a leisurely morning relaxing in the lodge and taking in the stunning views before being collected for the short transfer to Bulawayo Airport from which you will be flying to Johannesburg and then overnight back to London.

Day 9: Arrival in to Heathrow
Early morning arrival in to London Heathrow.

---
Duration: 9 Days
Location: Zimbabwe Safaris, Africa
Price: £4575pp
This Zimbabwe: The Best in the West itinerary costs from £4,575 per person and includes:
TAILOR MADE HOLIDAYS
Make this trip your own
Tailor this trip around your preferred dates, your budget and your ideas.