Our specialist says:
This is the perfect trip to start of married life, combining time at the iconic Victoria Falls with a two-centre safari offering a blend of Botswana's finest land and water based activities.
Botswana safaris combine so well with time at Victoria Falls, which is accessed via Kasane in the north-east of Botswana. This means you can enjoy a huge variety of experiences in a relatively short trip to this diverse and beautiful part of Africa.
Start off by flying to Victoria Falls on the Zimbabwean side of the mighty Zambezi River where you will have a few nights in a lovely boutique hotel in a secluded part of the town. Explore The Falls, take boat cruises along the river, try your hand at fishing and canoeing as well as taking the chance to fly over The Falls in a microlight or helicopter. This is also a great spot to relax by the pool and soak up the sunshine, as well as to explore Victoria Falls town to experience its unique ambience. From Vic Falls you will be transferred in to Botswana for a flight from Kasane down to the Moremi Game Reserve for your land-based game viewing time. From your camp explore the wildlife-rich plains of Moremi and enjoy the company of hugely experienced guides who will ensure your time here is captivating beyond words. The final leg of your trip will be spent in the legendary Okavango Delta in one of the area's renowned wet camps. Here you can enjoy boat and canoe safaris as well as guided nature walks. This offers a wonderful contrast to the time spent exploring by vehicle in Moremi and is a great way to round off your trip.
A truly iconic combination, including some of the best parts of Botswana, not to mention Victoria Falls, this trip is ideal as a Honeymoon, but works equally well for all visitors to the area, including families who love the variety that the areas offer.
Speak to an expert
I created this trip - call me to create yours.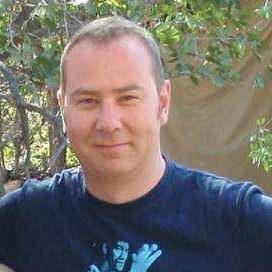 Ali Walls
Africa Specialist
The itinerary…
Day 1: Flying to Victoria Falls
This evening you will be flying overnight from London Heathrow to Johannesburg with British Airways.
Day 2: Some time to relax at The Falls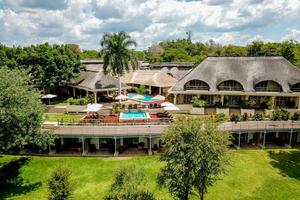 Arrive in to Johannesburg this morning and connect on to Victoria Falls, arriving in the early afternoon. From the airport a transfer will take you to Ilala Lodge, a beautiful boutique hotel in a quiet part of the town where you are staying for 3 nights. Spend this afternoon relaxing by the pool and enjoying the lovely surroundings of the hotel – you can also take a stroll down to The Falls should you wish and take a look at them from the many viewpoints that are accessed via the walking trails.
Day 3: Time to explore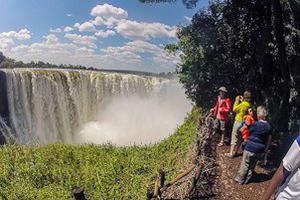 Victoria Falls is renowned as the adventure capital of Africa and there is so much to see and do whilst you are there. Visits to The Falls are of course a must-do, as are cruises on the Zambezi River, with Ilala Lodge offering their own private boat for sunset cruises which are immensely popular. Helicopter and microlight flights are on offer for the more adventurous guests, as are bungee jumps, gorge swings and, when appropriate, the chance to swim in the Devil's Pool on the very edge of the precipice.
Day 4: Waterfalls, wildlife and sunshine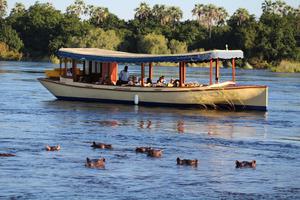 Of course, you will want some time to relax and enjoy yourselves whilst you are here and Ilala Lodge is a great spot for this, with a lovely swimming pool area complete with a shaded veranda if you are looking to enjoy the sunshine. If you want a taste of the wildlife viewing to come then we can arrange game drives in the Zambezi National Park or you can head to the world famous Victoria Falls Hotel to enjoy afternoon tea on the lawns with the waterfall offering a stunning backdrop.
Day 5: To Botswana and the Moremi Game Reserve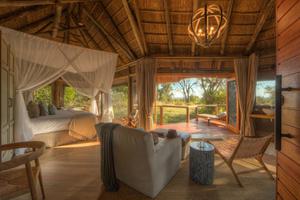 Enjoy breakfast in the hotel today before you are transferred across to Kasane in Botswana where a light aircraft will be waiting to fly you down to the Moremi Game Reserve for a 3-night stay. You will have some time to settle in before an alfresco lunch on the deck of the lodge. Spend the afternoon relaxing by the swimming pool or in the comfort of your suite before heading out on a late afternoon game drive where you can start spotting the area's abundant wildlife.
Day 6: Game drives from Camp Moremi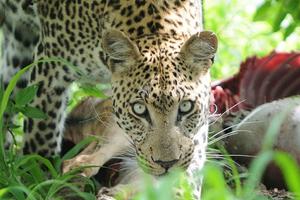 The wild surroundings of Camp Moremi are perfect for enjoying game drives, with your guide able to get you up close and personal with wildlife such as lion, leopard, wild dog, elephant, buffalo and giraffe to name but a few. The day is split between early morning and late afternoon game drives, with time in between to sit back, relax and enjoy the amazing surroundings of the lodge. This truly is a wonderful spot and it remains one of the most sought-after camps in the country.
Day 7: Enjoy some time to relax as well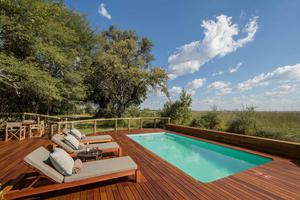 Whilst your focus will naturally be on being out exploring and wildlife viewing, there will be ample time to enjoy the camp as well. The pool area is a very popular spot to relax, but the lounge and bar area, both with views out across the fabled Xakanaxa Lagoon are also great places to spend the hours in between game drives. The food here is outstanding and the genial staff are always on hand to make sure you want for nothing at any point of your stay.
Day 8: Deep in to the Okavango Delta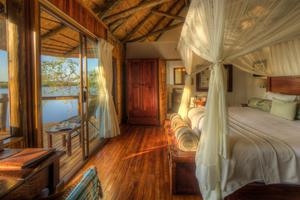 After a final morning game drive and breakfast on the deck of the lodge you will be collected and transferred back to the airstrip for a flight deep in to the Okavango Delta. You will be staying at Xugana Island Lodge, found in the heart of a permanent lagoon and a wider private concession of the Delta. This is perhaps the ultimate spot for a "wet" Okavango Delta experience with a huge range of water-based activities on offer from the lodge.
Day 9: A water-based adventure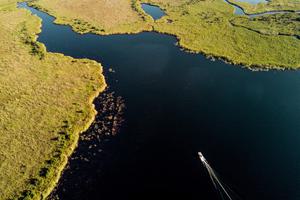 Head out from Xugana with your guide and enjoy all manner of water activities in this incredible part of the Delta. Boat trips will take you through the network of channels and islands of the concession whilst more active guests can explore by canoe. They also offer guided walks as well as day and night drives when water levels allow. Seasonal fishing can be enjoyed and we can also arrange helicopter flights over the Delta for an additional cost, which are an amazing way to spend some time.
Day 10: Relaxing and exploring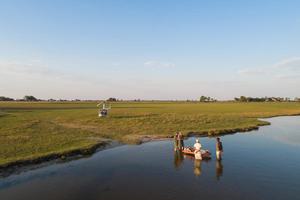 Long days exploring the Delta, where you will see wildlife such as lion, leopard and elephant, as well as hugely varied birdlife will leave you with an incredible feeling of being at one with nature. In between relax and enjoy the wonderfully laid-back surroundings of Xugana. The secluded pool area is a great spot to soak up the sunshine, whilst the floating deck on the lagoon in front of the lodge is the ideal place for a romantic farewell dinner on the last night of your safari.
Day 11: Fly home
There will be time for a final morning activity from Xugana, as well as a farewell breakfast. You will then be taken back to the airstrip for a flight to Maun and onward connection to Johannesburg. From there catch the overnight British Airways flight to London Heathrow, arriving tomorrow morning.
---
Duration: 11 days
Location: Botswana, Africa
Price: £6705pp
This Vic Falls & Botswana Honeymoon costs from £6,705 per person and includes:
International, regional and domestic flights
All applicable transfers
3 nights with Breakfast at Ilala Lodge - Deluxe Room
3 nights Fully Inclusive at Camp Moremi - Suite
3 nights Fully Inclusive at Xugana Island Lodge - Suite
Explore Botswana
Talk to me about this journey
Or... let's create something amazing just for you