Our specialist says:
Get away from the crowds to explore some of the less-celebrated, but stunningly beautiful parts of South Africa.
Ideal for repeat visitors to the Cape, or indeed for first-timers looking to do something a little different, this itinerary takes you away from the crowds and better-known tourist destinations, but still delivers an incredible experience. Starting in Cape Town at the beautiful Twelve Apostles Hotel, you will have plenty of time to relax, explore the Cape Peninsula and enjoy the laid-back cafes, restaurants and beaches of Camps Bay. From there you will be driving down to the coast for a visit to the renowned Grootbos Nature Reserve, for a stay at one of South Africa's most beautiful lodges. You can enjoy all manner of nature-related activities here, with the added bonus of being able to see Southern Right Whales during the July – November migration season. The next leg of the trip will take you up to the winelands town of Wellington – less well known than Franschhoek and Stellenbosch, there are some really wonderful wineries here and the scenery is stunning. The sleepy fishing village of Paternoester is up next, where you can enjoy a peaceful couple of days by the sea and some of best crayfish you will taste anywhere in the world. The final stop will be the breathtakingly beautiful Bushmans Kloof Wilderness Reserve, tucked away in the heart of the Cederberg Mountains with a whole host of amazing activities to enjoy, as well as incredible cuisine and wonderfully personable service. After your time at "BK" head back to Caoe Town airport for your overnight flight to London.
Speak to an expert
I created this trip - call me to create yours.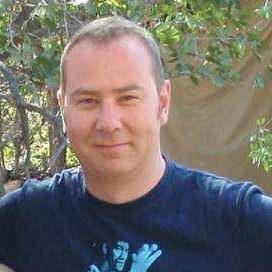 Ali Walls
Africa Specialist
The itinerary…
Day 1: Flying to Cape Town
This evening you will fly to Cape Town, arriving early tomorrow morning.
Day 2: Arrival in the Mother City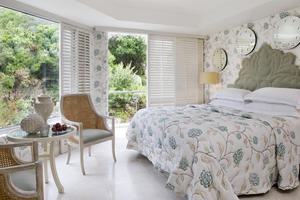 Landing in to Cape Town this morning you will be collected and transferred by road to the Twelve Apostles Hotel where you will be staying for the next 4 nights. The remainder of today will be at leisure for you to relax after your flight, perhaps taking the chance to enjoy a spa treatment or simply sit back with a good book and enjoy the stunning sea views that the hotel offers.
Day 3: Exploring Cape Town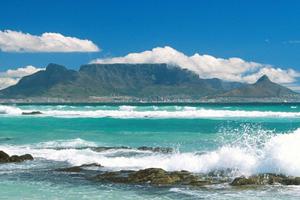 Although it feels very remote, in reality the hotel is just a short drive from Cape Town, with easy access to all of the key attractions including Table Mountain, Robben Island and the Kirstenbosch Botanical Gardens. The hotel has a shuttle in to the V&A Waterfront so if you are looking to go there it is very easy, although the laid-back vibe of Camps Bay makes this a popular spot to stop and enjoy lunch before some time relaxing on the beach.
Day 4: Peninsula and Penguins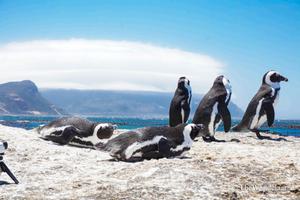 This morning your rental car will be delivered to the hotel in good time for you to set off on a day tour of the Cape Peninsula. Passing through the quaint villages of Nordhoek and Kommetjie you will feel a world away from bustling, cosmopolitan Cape Town, before you reach the Cape Peninsula. You will be able to head down to the Cape Point National Park, pose at the Cape of Good Hope sign and enjoy the stunning views from the lighthouse. Proceed on to Simonstown for lunch before taking a stroll along Boulder's Beach, come to a large colony of African "Jackass" Penguins that live there. En-route back to Cape Town you should pop in to the Kirstenbosch Botanical Gardens, a beautiful part of Cape Town tucked away against the back of Table Mountain.
Day 5: Rest and relaxation
After a busy few days exploring Cape Town you may well want to have some time to sit back and relax, with the Twelve Apostles being the perfect place to do this. There is a lovely spa here, two outdoor swimming pools, excellent restaurants and even a cinema where you can watch your favourite movie. If you are feeling a little more active then they can pack a picnic lunch for you to take on a walk along the network of walking trails that lead from the back of the hotel along the side of eponymous rock formations. There are some lovely vantage points to enjoy your lunch gazing down to the crashing waves of the Atlantic Ocean.
Day 6: Back to nature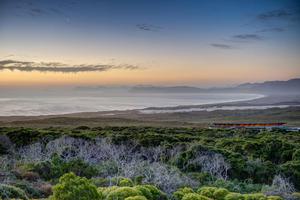 Setting off from Cape Town this morning you swill skirt the Cape Winelands and then head down to the coast, passing the popular holiday town of Hermanus and continuing on to the Grootbos Private Nature Reserve. With just two intimate lodges found in the 2500 hectares of fynbos-studded hillside overlooking Walker Bay this really is a nature lover's paradise. You will be spending 3 nights at Grootbos Forest Lodge and after lunch will be able to orientate yourselves with all of the activities on offer here and plan how you are going to spend your time.
Day 7: Time to explore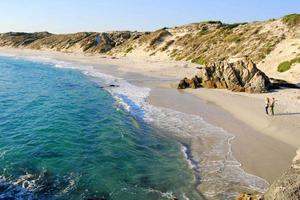 Grootbos includes such a varied range of activities including 4x4 botany tours, horse-riding, river cruises on their specially made boat, nature walks, boat safaris, whale watching tours (in seasons), fat-biking tours, quad biking and visits to their on-site farm that you will be spoilt for choice of what to do. They also offer a variety of spa and massage treatments which can be enjoyed either in the spa or the comfort of your own suite. The food here is outstanding, which combines with the range of experiences to make Grootbos one of the most desirable places to stay in South Africa.
Day 8: A chance to relax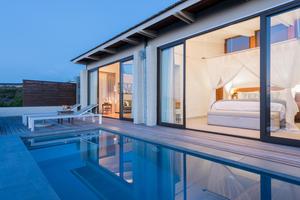 Given there is such a range of activities to enjoy at Grootbos, you will be very active during your stay, but with beautiful, wonderfully luxurious facilities in the lodge you will doubtless want to spend some time relaxing and today will be a chance to do just that. The food is a real feature of a stay at Grootbos, which much of the produce sourced from their on-site farm.
Day 9: Wellington awaits
After a final breakfast in the beautiful surroundings of Grootbos you will set off, passing through the Cape Winelands until you reach the small farming town of Wellington, where you will be spending the next 3 nights at the lovely Grand Dedale.
Day 10: Time for wine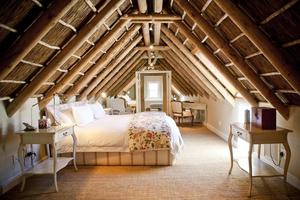 Grand Dedale is part of the lovely Doolhof Winery, renowned for its excellent Cabernet Sauvingnon and Malbec in particular. You can spend some time in their atmospheric tasting room before retiring to the terrace with a bottle of your favourite and sit back to enjoy the stunning views that Grand Dedale offers.
Day 11: Exploring Wellington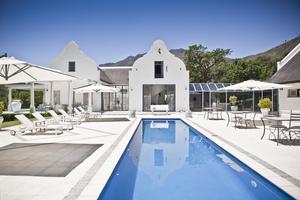 One of the beauties of a stay in Wellington is that there is so much to do in the surrounding area. Just 10 minutes from the estate is the Limietberg Nature Reserve, which offers no fewer than 9 hiking trails, which take you through the fynbos-studded hillsides to offer commanding views of the surrounding area. Horse riders will be able to enjoy trails in the surrounding area whilst the enigmatic manager of Grand Dedale – Angelo – loves mountain biking and will be able to help arrange rides for you.
Day 12: To the coast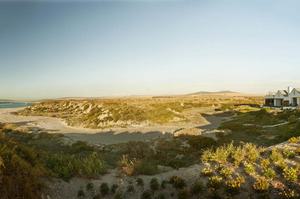 You will travel from one traditional town to another today, as you head up to the West Coast for 2 night stay in Paternoester and the beautiful Strandloeper Hotel. This lovely fishing village is reminiscent of Cornwall, albeit with more reliable weather, and is a superb spot to spend a couple of days. If you are looking to really treat yourselves why not try to get a table at Wolfgat – a unique restaurant recently voted the Best New Restaurant in the World. The team forage for ingredients on the beach and surrounding dunes daily, making dinner here a truly unique experience.
Day 13: A day in Paternoester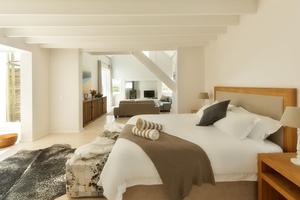 Take a stroll along the beach with a picnic lunch, head out birdwatching, go kayaking, visit the many craft shops and galleries of Paternoester or simply sit back, relax and enjoy the wonderful surroundings of your hotel. However you choose to spend your day you will do so in one of the most beautiful yet under-visited parts of the Western Cape.
Day 14: Into the wilderness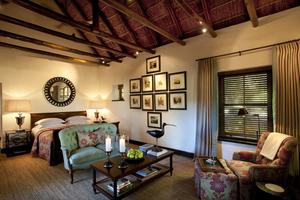 This morning you will leave the coast and head inland to the beautiful Cederberg Mountains where you will be spending the final 3 nights of your trip in the stunning Bushmans Kloof Wilderness Reserve. This truly iconic property sits on its own land meaning all of your activities and experiences are shared only with the other guests at the lodge. The food is outstanding and enjoyed in a number of inspiring locations, including open-air dinners and picnic lunches by the Oliphants River.
Day 15: Out and about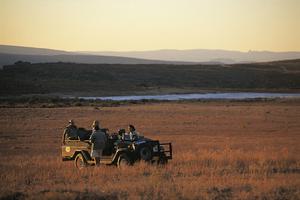 The list of activities that can be enjoyed at Bushmans Kloof is almost endless, so your days here will doubtless be filled with adventure. One of the signature activities is the visit to 10,000 year old Bushman Rock Art sites in the company of an expert local guide who will help you understand and interpret these ancient paintings. Wonderful nature drives can be enjoyed on the reserve, with good chances of seeing rare nocturnal wildlife including aardwolf, Cape Fox and porcupine. The lodge is also heavily involved with the Cape Leopard Trust and you will have the chance to learn more about the vital conservation work they are doing.
Day 16: And relax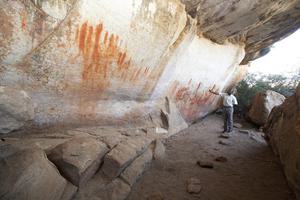 Of course when staying in a property as beautiful as Bushmans Kloof you will want to spend some time relax and enjoying the glorious surroundings of the lodge. There is an excellent spa here with a huge range of treatments, a sparkling swimming pool which is very welcoming in the heat of the day and an elegant lounge area where you can relax with a good book. The wonderful attentive staff will ensure that your stay here is a truly memorable experience.
Day 17: The journey home
After a leisurely breakfast you will depart Bushmans Kloof for Cape Town, arriving in time for lunch and some final shopping or sightseeing before driving back to the airport to drop off your car and catch your overnight BA flight back to London.

Day 18: London
Early morning arrival in your home country.
---
Duration: 18 Days
Location: South Africa, Africa
Price: £6500pp
This Off the beaten track in the Western Cape itinerary costs from £5,875 per person and includes:

Fully insured car rental for the 13 days
Arrival pack including airport meet and greet as well as full driving directions
Private transfer from Cape Town airport to Twelve Apostles Hotel & Spa
4 nights with Breakfast at Twelve Apostles Hotel & Spa - Mountain Room
3 nights Fully Inclusive at Grootbos Forest Lodge - One Bedroom Suite
3 nights with Breakfast at Grand Dedale - Luxury Loft Room
2 nights with Breakfast at Strandloeper Hotel - Courtyard Room
3 nights with All Meals and activities at Bushmans Kloof - Luxury Room
Tailor Made Holidays
Make this trip your own
Tailor this trip around your preferred dates, your budget and your ideas