Out specialist says:
Explore the beautiful deserts, waterfalls and coastal villages of Northern South Africa.
A much under-visited yet beautiful part of South Africa, the Northern Cape is a wonderful spot for repeat visitors to the country who are looking to experience something a little different.
Characterised by small farming towns, vast open deserts and surprisingly abundant wildlife, as well as the breathtaking Augbrabie Falls, the diversity this area offers is incredible. From the small outpost of Upington you will make your way through the deserts, taking in Springbok before making your way South to Clanwilliam – a great base for exploring the Cederberg Mountains and enjoying the spring flowers if you are there in August/September. A couple of nights in beautiful Langebaan, a charming coastal town will round off the trip before dropping your car off in Cape Town and flying home.
Speak to an expert
I created this trip - call me to create yours.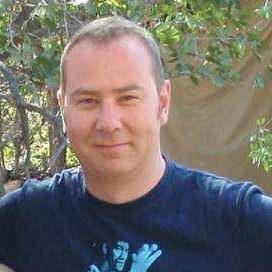 Ali Walls
Africa Specialist
The itinerary…
Day 1: Flying to South Africa
This evening you will be flying overnight from London to Johannesburg with British Airways.
Day 2: In to the Kalahari
Land in to Johannesburg this morning and connect on to a morning flight to Upington. There you will connect a rental car and proceed North, deep in to the Kalahari Desert where you will be spending the next 3 nights of your trip at Xaus Lodge. Found in the stark, beautiful Kgalagadi Transfrontier Park, which also stretches in to Botswana and Namibia, this wonderfully isolated lodge is an incredibly therapeutic place to start your trip.
Day 3: Exploring from Xaus Lodge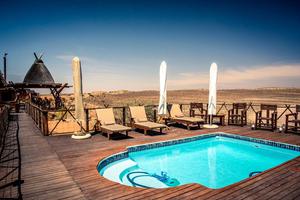 Xaus Lodge will offer you the chance to spend time with hugely experienced local guides, who will give you a fascinating insight in to the life of the San Bushmen who have lived deep in the deserts for centuries. They will also teach you about the surprisingly varied plant life of the area and how trees such as the Camelthorn survive, despite the almost complete absence of rainfall for most of the year. A sundowner drinks drive will allow you to stargaze from atop a sand dune once the sun has set – a magical experience not to be missed.
Day 4: The hunt for desert wildlife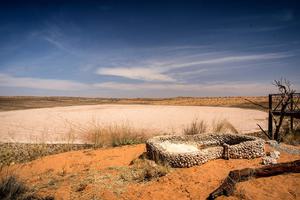 You will have the opportunity to head out with your guide in search of the varied wildlife that the desert supports. Much like the plant life, these species have adapted to life without water and you will keep a sharp eye out for spotted hyena, oryx, jackal and even black-maned Kalahari lions, as well as abundant bird life. A packed lunch will be taken with you so you can enjoy a full day out in the beautiful desert before returning to the lodge late in the afternoon to enjoy watching the sun set across the desert plains.
Day 5: A Vineyard in the desert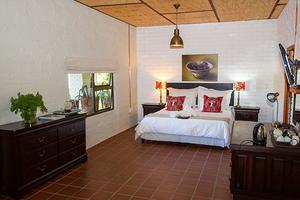 After breakfast you will depart Xaus and make your way back past Upington and on the African Vineyard, a charming property tucked away in a small vineyard and tropical gardens. Whilst the area doesn't have anywhere near the profile of the vineyards of the Western Cape, they produce some lovely wines and there will be a chance to enjoy a superb dinner paired with wines from the vineyard. The afternoon can be spent relaxing in the wonderfully tranquil surroundings of the lodge.
Day 6: Exploring Kanoneiland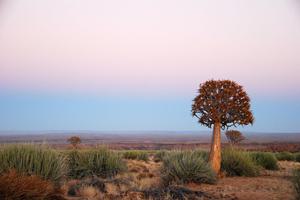 Despite its relative isolation, there is plenty to see in the area and for those looking to get a taste of traditional, local life, the small farming towns of Kakamas and Keimos along the Orange River and worth a visit. Another tiny town, Kakamas, is home to a superb lunch spot – Die Pienk Padstal, which serves a variety of delicious sandwiches and salads, before heading on to visit Currie's Camp – an outstanding women's community camp where you can learn more about what the founder – Oom Herman, has done for the local area.
Day 7: The Place of Great Noise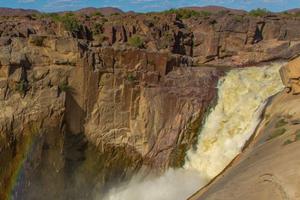 After breakfast you will set off for the Augrabies Falls National Park, where a spectacular waterfall is created as the waters of the Orange River are channelled through a narrow gorge, causing the local Khoisan people to name it "Ankoerebis" – translated to the place of great noise. As with most waterfalls, it is more spectacular during the rainy season, but a visit when it is dry still gives you an incredible perspective on the area. After your visit continue on to Dundi Lodge where you will have the afternoon at leisure to relax.
Day 8: To Springbok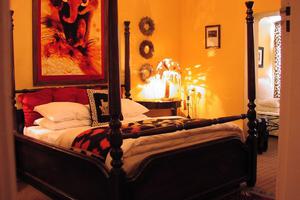 This morning you will depart Augrabies and make your way across the desert to the small outpost of Springbok where you will be spending the night before starting your journey South tomorrow. After checking in to Annie's Guesthouse you will be free to do some exploring this afternoon, perhaps heading down to the Namaqua National Park.
Day 9: Clanwilliam awaits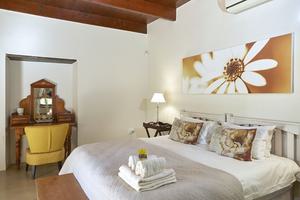 Having enjoyed breakfast at Annie's you will start the journey South, passing through some stunning scenery until you reach Clanwilliam in time for lunch. The area is especially beautiful when the spring flowers are in full bloom (usually August and September) with the roadsides carpeted in all manner of colours as you drive down. Your base for the next 2 nights will be the charming Yellow Aloe Guesthouse. The afternoon will be at leisure for you to relax and explore this quirky little town.
Day 10: Exploring the Cederberg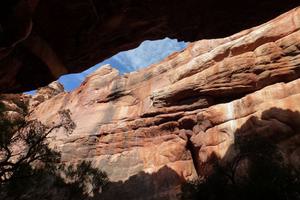 Whatever time of year you visit, the stunning Cederberg Wilderness area will be a highlight of this trip and well-worth dedicating a full day to. Ask the staff at Yellow Aloe to prepare a picnic lunch for you so you can enjoy a day marvelling at the stunning rock formations, enjoy a short walk on one of the many hiking trails and, if the flowers are in bloom, enjoying the wonderful array of colours they cover the area in. If you have a sharp eye then you may even spot some of the region's varied wildlife including honey badger, Cape Clawless Otter, aardvark and porcupine.
Day 11: On to the coast
After breakfast you will depart Clanwilliam and head across to the West Coast town of Langebaan where you will be spending the final 2 nights of your trip at The Farmhouse Hotel, a charming traditional hotel looking out across beautiful Langebaan Lagoon. It is a wonderful spot to relax for a couple of nights and explore this charming fishing village. Spend the afternoon relaxing by the swimming pool and soaking up the seaside sunshine.
Day 12: Some time in Langebaan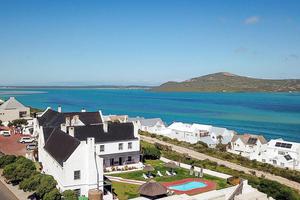 If you are looking to be active then Langebaan is a superb spot, with kitesurfing, wakeboarding, quad biking and stand-up paddleboarding all popular activities here. Boat tours on the lagoon are also possible but if you are looking to do something a little more sedate, then there are some outstanding restaurants to enjoy in the town, with seafood and most significantly crayfish, being amongst the best you will try anywhere in South Africa.
Day 13: The journey home begins
This morning will be at leisure for you to relax and enjoy Langebaan before setting off for Cape Town where you will have some time to do shopping in the Mother City before heading to the airport to drop off the rental car and catch your overnight British Airways flight back to London.
---
Duration: 13 Days
Location: South Africa, Africa
Price: £3550pp
This Adventure through the Norther Cape itinerary costs from £3,550 per person and includes:
International and domestic flights
Meet and Greet on arrival at Johannesburg airport
Fully insured car rental for the duration of your trip
3 nights with all meals and activities at Xaus Lodge - Chalet
2 nights with Breakfast at African Vineyard - Luxury Room
1 night with Breakfast at Dundi Lodge - Deluxe Room
1 night with Breakfast at Annie's Guesthouse - Standard Room
2 nights with Breakfast at Yellow Aloe Guesthouse - Longhouse Room
2 nights with Breakfast at The Farmhouse Hotel - Classic Room
Tailor Made Holidays
Make this trip your own
Tailor this trip around your preferred dates, your budget and your ideas