Our Experts Say
The ultimate in modern Zimbabwean luxury taking in some of the most spectacular parts of this beautiful country.
A huge part of Zimbabwe's success story as a destination re-born is the sheer amount of genuinely luxurious accommodation that has sprung up in the country over the last few years. This itinerary is an unashamed showcase of the very best of what Zimbabwe has to offer, both in where you would visit and where to stay. Stunning lodges in wonderfully isolated locations where you can enjoy outstanding food and warm, natural hospitality are the focus, but they are all in superb parts of Zimbabwe that could be part of any itinerary. With flights included to take between each area you will be able to see Zimbabwe's stunning landscapes from the air. If you are looking for a trip to celebrate a landmark occasion or find luxury in a country not previously known for it, this is the itinerary for you.
Speak to an expert
I created this trip - call me to create yours.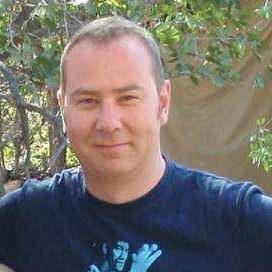 Ali Walls
Africa Specialist
The itinerary…
Day 1: Take to the skies!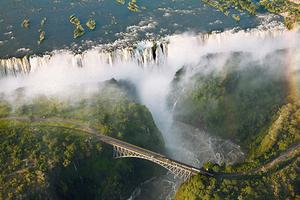 This evening you will be flying overnight to Victoria Falls, via Johannesburg.

Day 2: Destination Victoria Falls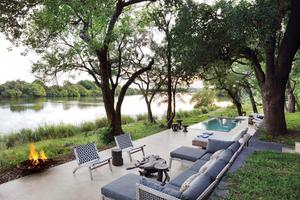 On arrival in to Victoria Falls you will be met and whisked up to the Zambezi National Park where you will be spending the first three nights of your trip at the glorious Matetsi River Lodge. After settling in you will be able to enjoy afternoon tea on the terrace overlooking the river before heading out for an afternoon game drive in the park, a wonderful way to round off your first day in Africa.

Day 3: Exploration and relaxation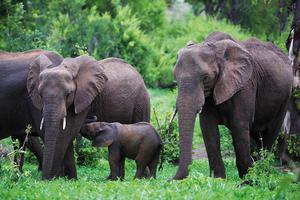 The wonderfully luxurious accommodation, couple with the fantastic range of experiences on offer help to make Matetsi one of the leading lodges in all of Zimbabwe. Naturally being in the Zambezi National Park means it is a superb spot for safari, with varied wildlife including lion, leopard, elephant and buffalo spotted regularly. In addition to this they offer trips down to Victoria Falls to see the iconic waterfall and explore the town, cruises along the Zambezi and canoeing trips for those looking to be a little more active.

Day 4: Wine and dine in the bush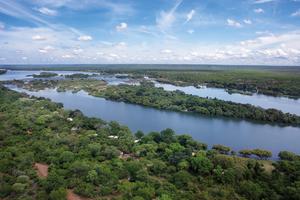 Of course with so many experiences on offer you will want to be out exploring as often as possible but it is important to sit back and take some time to enjoy the wonderful surroundings of the lodge. They can offer massages on the deck of your room overlooking the river or you can simply sit back and enjoy the peace and tranquillity that the area offers. The food here is especially good and the unique wine cellar can be requested for private dinners – surely there is no better way to round off your stay in one of Africa's most magical lodges.
Day 5: From the Zambezi to Hwange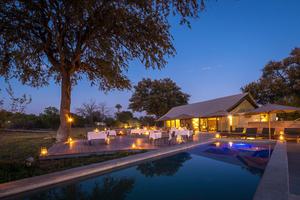 After a farewell breakfast on the deck at Matetsi you will be transferred down to Victoria Falls airport for a short charter flight to the Hwange National Park. From the airstrip it will be a game drive transfer through to the beautiful Linkwasha Camp, located in a private concession on the Eastern side of the park where you'll be staying for 3 nights. You will arrive in time for lunch and then have the afternoon to relax before your evening game drive.
Day 6: Big game on big plains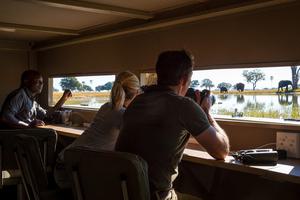 Being in a private concession means that guides at Linkwasha have plenty of scope to explore and can offer a wonderful range of activities to guests. The huge open plains of Hwange lend themselves very well to game drives as well as walking safaris and the fact you are in a private concession means night drives are possible to see nocturnal species, including the possibility of seeing the elusive pangolin. There will also be a chance to meet the local communities found close to Linkwasha and learn about their lives spent close to the park.

Day 7: Relax in serious style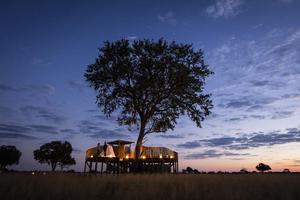 Linkwasha is undoubtedly one of the most stylish and luxurious camps in all of Hwange so you will doubtless want to spend plenty of time taking this in and enjoying the stunning views afforded from your private deck. However, if you want to have a truly unique way to enjoy the final night of your stay then they do offer a star bed experience. This allows you to enjoy a romantic dinner before a night spent sleeping under the stars on a specially designed platform.
Day 8: Back to the Zambezi
This morning you will be transferred back to the airstrip where an aircraft will be waiting to fly you up to the Mana Pools National Park in the far North of the country. From the airstrip it will be a short drive to the stunning Ruckomechi Camp, your base for three nights exploring Mana Pools. With stunning views out to the Zambezi River and escarpment beyond, this is the perfect place from which to explore this wild and wildlife-rich park.

Day 9: Time to explore on foot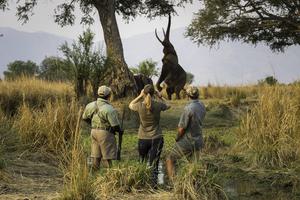 You will be up early this morning as sunrise is truly the most glorious time of day in Mana Pools. After coffee and a quick breakfast you will head out for your morning activity, either a drive or a guided walk, both of which will see encounters with Mana's varied wildlife, including lion, leopard, elephant and wild dog. Return to camp for lunch and a siesta before heading out for the afternoon safari, perhaps switching experiences from what you enjoyed this morning.
Day 10: Canoeing and big cats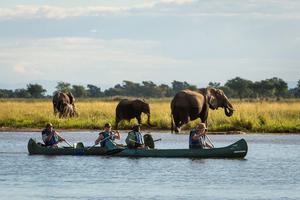 No trip to Mana Pools would be complete without a canoeing trip on the Zambezi, all enjoyed in the company of specialist canoeing guides who have been paddling the river their whole lives. These lend a totally different perspective to the park and are a wonderfully gentle way to spend some time. Of course, you will have plenty of time to relax and enjoy the surroundings of the camp and have drinks around the campfire – otherwise known as the Bush TV!

Day 11: Adventure to the far South-East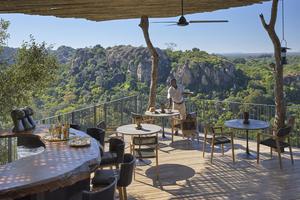 From Rukomechi you will be transferred to the airstrip for a flight down to Harare where you will connect on to another flight down to Buffalo Range in the remote South-East of Zimbabwe. From their you will be drive to the jaw-dropping Singita Pamushana in the Malilangwe Wildlife Reserve where you will be spending the final three nights of your adventure. After a long day travelling you may wish to just sit back and enjoy the stunning views that unfold from all parts of the lodge.

Day 12: Rhinos and rock art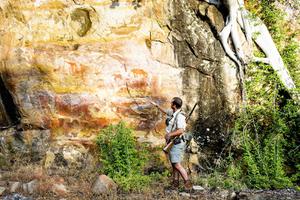 Spending a few nights at Singita Pamushana is like entering another world, one full of majestic wildlife and fascinating experiences, all enjoyed from one of Africa's leading lodges. Game drives, guided walks, hikes to bushman rock art sites, boat cruises, fishing and stargazing are all offered here so it will be a busy visit. In addition, they can also arrange trips to visit local communities where you can learn about the local Shangaan culture.

Day 13: A pool with a view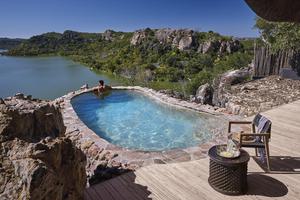 When staying in a lodge as beautiful as Pamushana you will probably want to spend plenty of time there and enjoy everything that it has to offer. The swimming pool may well boast the best view in all of Africa, whilst the superb food and incredible variety of wines wouldn't be out of place in top international restaurants. This is a truly magical place and a stay here will create memories that will last for a lifetime.

Day 14: The long journey home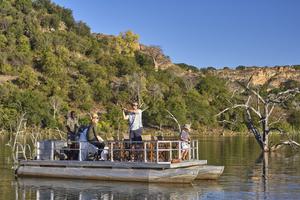 After a morning activity and a final chance to enjoy the lodge you will be transferred back to the Buffalo Range airstrip for a flight down to Johannesburg. Once at Johannesburg you will be transferred to International departures for your overnight flight back to London Heathrow.
Day 15: London awaits
Early morning arrival in your home country.

---
Duration: 15 Days
Location: Zimbabwe Safaris, Africa
Price: £15600pp
This Ultimate Zimbabwe Odyssey is available from £15,600 per person and includes:
Tailor Made Holidays
Make this trip your own
Tailor this trip around your preferred dates, your budget and your ideas.