Our specialist says:
Zambia is the home of the walking safari and this trip gets you off the beaten track in the South and North Luangwa National Parks to explore on foot. Enjoy this intimate and immersive safari experience in the company of some of the finest guides that the continent has to offer.
The chance to get off the vehicle and enjoy full days on walking safaris is one of the great attractions of a visit to Zambia. The remote northern part of the South Luangwa National Park, as well as its neighbouring North Luangwa National Park have a tiny handful of camps, operated by intrepid guides who make the walking experience a truly remarkable one.
Start off with a night in a safari style camp on the outskirts of Lusaka where you will have the chance to relax after your flights and prepare for the adventure that awaits you in the bush. From Lusaka fly up to Mfuwe and enjoy a leisurely game drive transfer through the park to your first camp, a remote but beautiful spot on the banks of the Luangwa River where you will be able to enjoy all manner of activities in the most beautiful setting imaginable. From there you will continue on foot to a remote bush camp deep in the South Luangwa where the focus is on walking safaris and a truly immersive bush experience. Dine under the stars, sleep in open-fronted reed-built rooms and enjoy the sights and sounds of the bush all around you. There can be few more tranquil spots in the whole park and it is a truly amazing place to spend a few nights. A scenic flight will take you from the South to the North Luangwa National Park, a beautiful part of the country which is only visited by a handful of people every year. Here you can enjoy a wonderfully varied safari with unique wildlife viewing experiences and outstanding guiding. This is a chance to really feel at one with nature and get a feel for how safaris were in times of old.
This incredible safari ticks all of the boxes an ardent safari goer could want to, adventurous, off-the-beaten-track and hosted by great guides. Ideal for those who are looking to enjoy something out of the box and that will create memories to last a lifetime.
Speak to an expert
I created this trip - call me to create yours.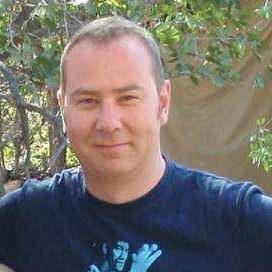 Ali Walls
Africa Specialist
The itinerary…
Day 1: Fly to Lusaka
This evening you will be flying overnight to Lusaka.
Day 2: Overnight in Lusaka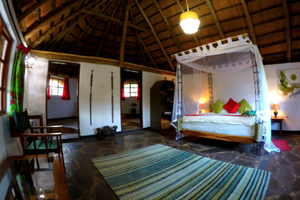 Arriving in to Lusaka this afternoon you will be collected and transferred to Pioneer Camp, a safari lodge on the edge of Lusaka and the ideal spot for you to acclimatise for the adventure that awaits you. They do offer game drives within their reserve, so you can enjoy one of these should you wish, or you could sit back by the swimming pool and relax in the sunshine before enjoying a delicious dinner and drinks around the campfire.
Day 3: On to the South Luangwa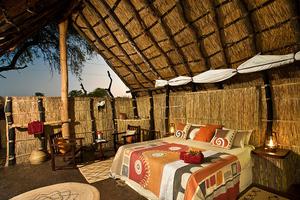 This morning you will be collected from Pioneer Camp and transferred back to Lusaka airport in good time for the morning flight to Mfuwe airport. From there a guide will drive you through the park to Tafika Camp, stopping along the way to enjoy the amazing wildlife you will doubtless see as you drive. On arrival enjoy a late lunch and some time to relax before heading out for an afternoon drive through the game-rich wilderness that surrounds Tafika.
Day 4: Exploring from Tafika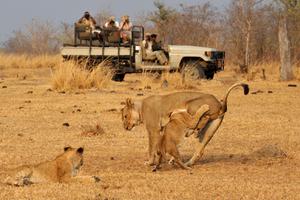 Tafika offers one of the most varied safari experiences in the South Luangwa, with guests here able to enjoy day and night game drives, guided walks and even mountain bike safaris. With lion, leopard, wild dog, elephant, buffalo and giraffe amongst the highlight species seen, as well as hugely varied birdlife, it is a superb spot for safaris. In between activities you can sit back, relax and enjoy the gloriously tranquil surroundings of the camp.
Day 5: Set off on foot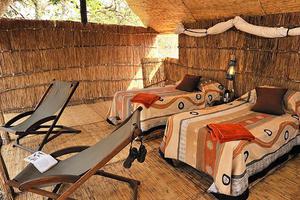 Enjoy breakfast in the camp before setting off on foot (your bags will be transferred by vehicle) for your next camp, the charming Chikoko Tree Camp your home for 2 nights. The walk takes around 4 hours and includes a quick canoe trip across the Luangwa River. Arrive in to camp in time for lunch and then take the afternoon to relax after what will have been an exhilarating but tiring morning walk. The views out across the plains from the elevated treehouse rooms need to be seen to be believed.
Day 6: Exploring from Chikoko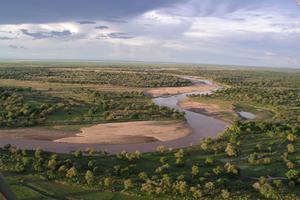 The area surrounding Chikoko is home to abundant wildlife including lion, wild dog, elephant, giraffe, eland, roan and kudu, so you will be spoilt for amazing game viewing opportunities. The focus here is on walking safaris, with the hugely skilled guides able to get you up close with all manner of wildlife but still keep you safe and out of harms way, thanks to an accompanying National Parks scout who is there to keep an eye on the animals and leave your guide to guiding.
Day 7: Walking the plains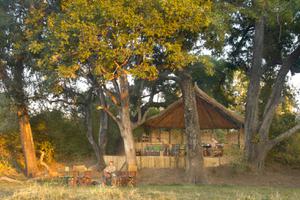 This morning you will set off for Chikoko's sister camp, Crocodile Camp. The walk takes around 4 hours with ample opportunity to stop en-route and enjoy the area's superb game viewing. Surrounded by a thicket of ebony trees and found on the edge of a large lagoon, the camp is the perfect spot for spending an afternoon relaxing in camp and watching wildlife come to drink from the water before enjoying dinner under the stars.
Day 8: The North Luangwa awaits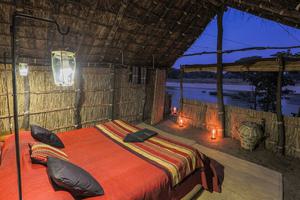 After breakfast you will be collected and transferred to the Luuzi airstrip for a flight up to the North Luangwa National Park. From the airstrip a short flight will take you to Mwaleshi Camp, a glorious spot on the banks of the gently flowing Mwaleshi River where you will be spending the final 3 nights of your adventure. Relax after lunch and then head out for an orientation walk through the region surrounding the camp where all manner of wildlife can be seen.
Day 9: Amazing walking safaris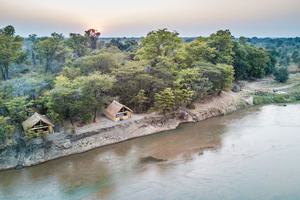 The area surrounding Mwaleshi is pure walking safari terrain, with all of your time spent on foot exploring with your guide. The camp is found within a rhino sanctuary, meaning it is one of the few spots in Zambia where you can see the Big Five – a truly unique experience with the chance to see them on foot not to be missed. The vast open plains of the park are ideal terrain for wild dog and you will have every chance of seeing these majestic predators as they hunt their prey.
Day 10: Majestic Mwaleshi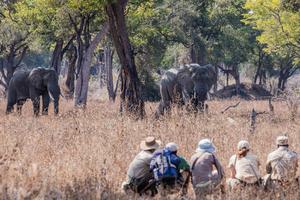 As one of three camps within the park, Mwaleshi offers a unique and truly intimate safari experience far away from the crowds, so is ideal for ardent safari goers who want to get away from it all. You can swim in the shallow, clear waters of the Mwaleshi River, enjoy visits to the Mwaleshi Falls and even enjoy a sleepout under the stars if the weather allows. This is a truly incredible spot and offers an experience that is hard to replicate anywhere else in Africa.
Day 11: To Lusaka and home
This afternoon you will be flown from Mwaleshi back to Mfuwe in time to catch the afternoon connection to Lusaka. There you will have a short layover before catching a connecting flight to your home country.
---
Duration: 11 days
Location: Zambia, Africa
Price: £7450pp
This Remote Luangwa Walking Safari costs from £7,450 per person and includes:
Tailormade Holidays
Make this trip your own
Tailor this trip around your preferred dates, your budget and your ideas.