Our specialist says:
A unique twist on a traditional African safari and beach combination, this trip includes a visit to the stunning South Luangwa National Park followed by time on the glorious beaches of Lake Malawi. Perfect for Honeymoons, family holidays or just a way of enjoying some of Africa's most iconic experiences.
Combining the quintessential Africa experience of big game viewing and time spent on its idyllic beaches, this trip comes with a little twist in that you don't actually round off the adventure on the coast, rather on the shores of Lake Malawi, the mighty Rift Valley Lake that runs down the east of the country.
Start off by flying overnight from London in to Lusaka where you will spend the first night of your trip. A modern, bustling African capital, Lusaka is the gateway to all of Zambia's National Parks and spending the night here allows you to relax after your flights and prepare for the adventure ahead. Early the following morning fly up to Mfuwe on the edge of the South Luangwa National Park where you will enjoy an iconic African safari experience. With an abundance of big game, dramatic landscape and a brilliant variety of activities on offer, this is a wonderful spot for your safari experience that will leave memories to last a lifetime. From Mfuwe you will fly to Lilongwe in Malawi where a vehicle will be waiting to transfer you to the glittering shores of Lake Malawi where you will enjoy your beach time. Relax on the soft sand beaches, swim in the warm waters of the lake, enjoy a variety of watersports and get an insight in to the local culture with visits to local villages. This is a truly magical spot and a wonderful place to spend a few days after what will have been a busy safari.
This is the perfect trip for those looking to enjoy the best of what these two captivating countries have to offer – wide open spaces, amazing wildlife, stunning lake views and unspoilt, quiet beaches. A wonderful way to spend your time in Africa and one that we heartily recommend.
Speak to an expert
I created this trip - call me to create yours.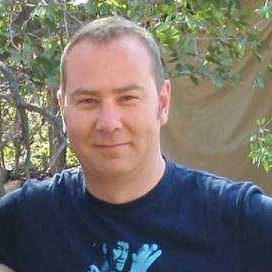 Peter
Malawi Specialist
The itinerary…
Day 1: Flying to Zambia
Fly overnight from London Heathrow to Lusaka with Ethiopian Airlines, via Addis Ababa.
Day 2: A stay in Lusaka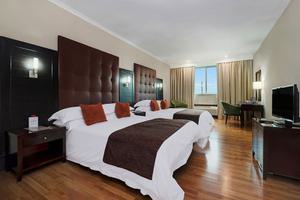 Arrive in to Lusaka today where you will be met and transferred by road to the Protea Hotel Lusaka where you will be spending the night. Sit back, relax and enjoy the leisure facilities at the hotel this afternoon as you prepare for the adventure ahead. There is a swimming pool at the hotel, an lovely restaurant and the Arcades Shopping Centre adjacent to it, so you can pick up any forgotten essentials before your trip starts in earnest tomorrow.
Day 3: On to the South Luangwa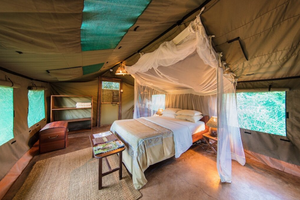 You will be collected from the hotel early this morning and transferred back to Lusaka airport for a flight up to Mfuwe, landing there in the middle of the morning. A driver will be waiting to transfer you to Flatdogs Camp, one of Zambia's most beloved safari spots on the very edge of the South Luangwa National Park. Enjoy lunch and some time by the pool before heading out with one of the camp's fantastic guides for an afternoon safari.
Day 4: Wildlife as far as the eye can see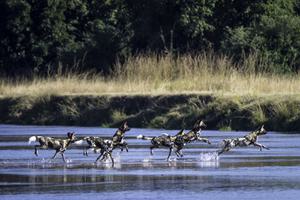 The South Luangwa is renowned as being one of the best big game viewing spots in Africa, with lion, leopard, wild dog, elephant, buffalo, giraffe, puku, hippo and crocodile amongst the "highlight" species see. Flatdogs offers its guests morning and afternoon safari activities, with a choice of game drives and guided walks, so you can enjoy a variety of experiences and different ways to explore the park during your stay which is always a bonus.
Day 5: Warm hospitality and relaxation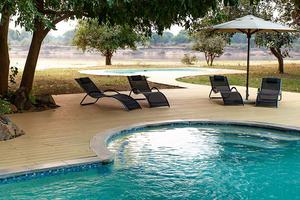 Of course, safaris are focused on wildlife viewing, but there is also plenty of time to sit back, relax and enjoy the beauty of where you are staying. Flatdogs is renowned as one of the most convivial safari camps in Africa which is helped by the owners living on site. Whether you are relaxing by the swimming pool, enjoying a drink in the bar or dining in the excellent restaurant, the charming staff will be on hand to ensure you are looked after as well as you could possibly wish for.
Day 6: On to Lake Malawi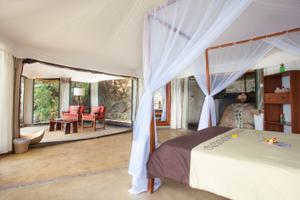 This morning you will be able to relax before being collected and transferred back to Mfuwe airport for a flight across to Lilongwe in Malawi. There you will be met and transferred by road and boat to Blue Zebra IslandBlue Zebra Island Lodge, a beautiful spot on the western edge of Lake Malawi. Sit back, relax and enjoy the gorgeous location of the lodge, which combines with the superb food and service to make it one of the most desirable spots to spend your time on the lake. You will be staying here for 5 nights.
Days 7-10: Relaxing by the lake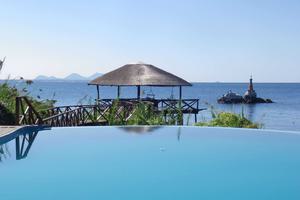 Your time on Lake Malawi will be the perfect complement to your busy days on safari as you sit back, relax and enjoy the sunshine. Of course, there are plenty of activities for you to enjoy from the lodge including swimming, snorkelling, kayaking and boat trips on the lake, as well as nature trails and birding trips. This really is an island paradise and you will be wonderfully well looked after by the genial staff as you relax in the wonderfully comfortable surroundings of the lodge.
Day 11: The journey home
After spending some time relaxing this morning you will be collected from the lodge and transferred back to Lilongwe to catch your flights back to London via Addis Ababa with Ethiopian Airlines.
---
Duration: 11 days
Location: Zambia, Africa
Price: £4945pp
This Luangwa and Lake Safari Adventure costs from £4,945 per person and includes:
Regional and domestic flights
All applicable transfers
1 night with breakfast at Protea Hotel Lusaka - Standard Room
3 nights with all meals and safaris at Flatdogs Camp - Standard Safari Tent
5 nights half board at Blue Zebra Island Lodge - Executive Chalet
Tailormade Holidays
Make this trip your own
Tailor this trip around your preferred dates, your budget and your ideas.