Our specialist says:
This is a truly unique opportunity to head in to the wilds of northern Zambia to witness the planet's largest mammal migration as 10 million straw-coloured fruit bats descend on the Kasanka National Park each November.
Kasanka is a little-known part of northern Zambia but is home to one of the world's most extraordinary natural events, the migration of 10 million bats each year. Combine a visit to Kasanka with some time in the iconic South Luangwa National Park which offers some of the best game viewing anywhere in Africa.
Start off a trip with an overnight stay in Zambia's bustling capital Lusaka where you will be able to relax by the pool and prepare for the adventure that awaits you. The next morning you will be transferred to Lusaka airport where you will join the rest of your group for a flight up to Mfuwe, the gateway to the South Luangwa National Park. Here you will spend 3 nights on safari, enjoying the amazing big game viewing that the park offers, as well as the outstanding birding which will be a great prelude to your time further north. From Mfuwe you will be flown up to Kasanka with your guide and head on to the remote lodge that will be your home for the next 3 nights. Spend time exploring with your guide, witnessing the incredible phenomenon that is the bat migration, as well as the other unique wildlife that Kasanka offers including sitatunga, Pel's fishing owl and Lichtenstein's hartebeest. This is a truly incredible area and one few people are privileged to visit over the course of the year. On the final day fly from Kasanka down to Mfuwe and then take an onward connection to Lusaka for your flights home.
There are few more captivating countries than Zambia and this combines two of its most alluring elements, the game rich plains of South Luangwa and a little secret spot that few people have heard of an even fewer get to visit over the course of the year. A magical journey and one that should be on everyone's bucket list.
Speak to an expert
I created this trip - call me to create yours.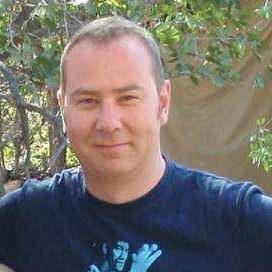 Ali Walls
Africa Specialist
The itinerary…
Day 1: Flying to Zambia
This evening you will be flying overnight to Lusaka.
Day 2: Destination Lusaka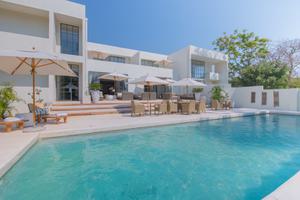 On arrival in to Lusaka you will be met and transferred to Latitude 15, a lovely boutique hotel in a leafy part of the city and the perfect spot for an overnight stay. There will be ample time for you to enjoy the excellent facilities the hotel boasts, including two swimming pools, outdoor relaxation areas and two excellent restaurants. The cozy bar area is a lovely spot to round off the evening as you prepare for the adventure in to the bush that awaits you tomorrow.
Day 3: To the South Luangwa National Park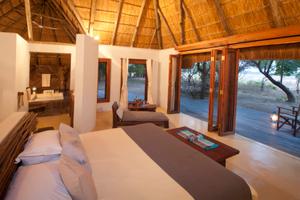 This morning you will be collected and transferred back to Lusaka airport to meet the rest of your group for the flight up to Mfuwe, the gateway to the South Luangwa National Park. From the airport you will be driven through the park to the lovey Luangwa River Camp where you will be spending the next 3 nights. Enjoy lunch by the swimming pool and some time to relax before a late afternoon game drives introduces you to the wildlife wonderland that is the South Luangwa.
Day 4: Wildlife galore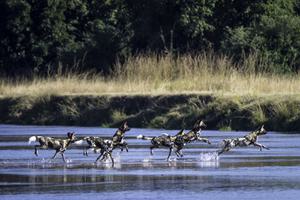 There are few, if any, better spots on earth for seeing predators than the South Luangwa so you will spend plenty of time searching for them. Lion stalk their prey on the plains whilst leopard survey their kingdom from the branches of trees and wild dog roam through the bush in their elegant and understated way. The park is also renowned for large herds of elephant and buffalo as well as boasting plenty of hippo and crocodile in the river, so you have plenty to see as you explore.
Day 5: Enjoy some time to relax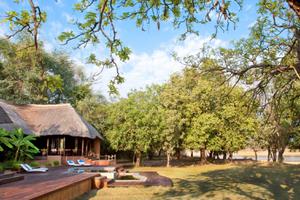 As well as being a superb base from which to enjoy safaris, Luangwa River Camp is also a great spot to relax and one where you will be very well looked after. The swimming pool is sited to offer incredible views out over the Luangwa River and the shaded decking area is a great spot to relax, enjoy long lunches and take in those amazing views. The staff are wonderful here and will really make your few days staying here a special experience.
Day 6: On to Kasanka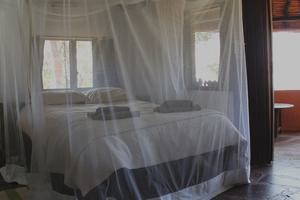 After breakfast you will be transferred back through the park to Mfuwe airport for a private charter flight up to the Kasanka National Park. From the airstrip you will be driven on to Wasa Camp, a charming and remote bush camp which is your base for exploring this captivating part of Zambia. Enjoy some time to relax this afternoon before heading out with your guide to orientate yourselves and start trying to spot the millions of bats you have come here to see.
Day 7: Witness the bat migration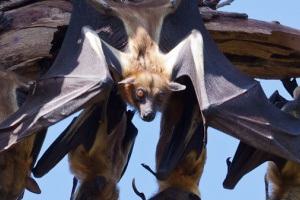 Your first full day in Kasanka will be the cue to start spotting the bat migration. Head out with your guide to the specially constructed and sited viewing hide where you will be able to see this scarcely believe collection of mammals taking flight. Your guide will explain their migratory patterns, why the come to Kasanka and the lifecycles of these fascinating creatures. After a busy but exhilarating day exploring head back to camp for drinks around the campfire and dinner.
Day 8: The wonders of Kasanka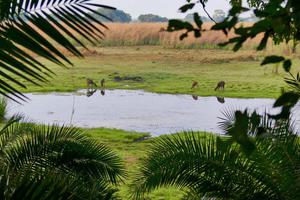 Although the prime reason for visiting Kasanka is to see the bat migration, there is plenty of other wildlife here and you will explore the plains of the park with your guide keeping an eye out for it. Keen birders will revel in the chance to see Pel's fishing owl, one of Africa's rarest birds, as well elusive but beautiful antelope such as sitatunga and Lichtenstein's hartebeest. The solitude of Kasanka is also one of its big draws and you can revel in the majesty and tranquillity of this beautiful park.
Day 9: The journey home
After a farewell breakfast in the camp you will be collected and transferred back to the airstrip for the flight back to Mfuwe and onward connection to Lusaka. From there you will connect to your flight home.
---
Duration: 9 days
Location: Zambia, Africa
Price: £5375pp
This Kasanka Bat Safari costs from £5,375 per person and includes:
All domestic flights
All applicable transfers
1 night with breakfast included at Latitude 15 - Original Side room
3 nights Fully Inclusive at Luangwa River Camp - Chalet
3 nights Fully Inclusive at Wasa Camp - Chalet
This trip departs end of Nov/early Dec and is open to a maximum of 6 people. Contact us for exact dates.
Tailor-made Holidays
Make this trip your own
Tailor this trip around your preferred dates, your budget and your ideas.