Our experts say
The best of Uganda's Mountain Gorillas, Forest Chimps and Big Game mixed with activities to explore the surrounding area on foot
This itinerary showcases Uganda's wildlife highlights, and in between offers some fantastic guided walking and exploring off the beaten track in this wonderful country. Great for all who are looking for that little bit extra.
Speak to an expert
I created this trip - call me to create yours.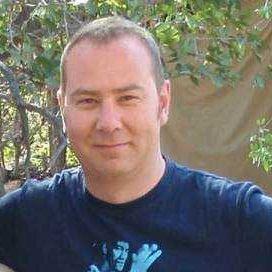 Alistair
Uganda Specialist
The itinerary…
Day 1: Fly to Uganda
This tends to be overnight via Addis Ababa.
Day 2: Arrival in Entebbe and Mabamba Swamps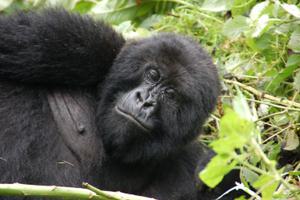 Arrival in Entebbe as per your international flights and transfer to Papyrus Guest House.
In the afternoon departure by car and local canoe to Mabamba Swamp, one of the best places for spotting the rare shoebill storks. Of course, some good fortune is needed but rarely do you leave the swamp without seeing one! Many other water birds have chosen this area as their home so birding is always very good.
Enjoy a relaxing sundowner on Lake Victoria and then return to the Papyrus Guest House to overnight.
Day 3: Flight to Kisoro, hike and canoe across Lake Mutanda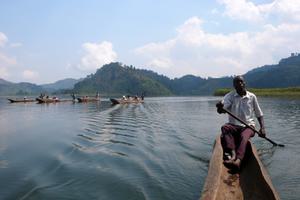 After an early breakfast, transfer to Entebbe International Airport for the flight to Kisoro across central Uganda, which offers superb views of the country's beautiful landscape of mountains, hills, cultivated terraces, tropical rainforest, bamboo forests and the majestic chain of the Virunga Volcanoes.
Upon arrival meet with the vehicle and your walking safari guide. You can either walk for approx. 90 minutes - 4km to Lake Mutanda Sheba's Camp - or drive 30 minutes to the lake. You then "settle" in a dugout canoe for 2-3 hours of gentle relaxed cruising across the lake, enjoying the beautiful landscape. After lunch at a restaurant on the lake shore, continue on foot to Rubuguri (9km – 2/3 hours) where you'll meet up with the vehicle and drive for another 10 km up to the lodge in Nkuringo (approx 1 hour). You can also be picked up by the vehicle at the lake and drive all the way up to the lodge. You decide!
Stay at Nkuringo Bwindi Gorilla Lodge
Day 4: Gorilla tracking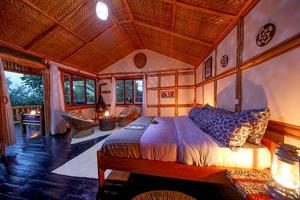 After breakfast, at around 7:45 am, with packed lunch and drinking water you will be transfered to the National Park Head Quarters for the briefing on the do's and the don'ts whilst with the gorillas. The area offers a dramatic, steeply forested landscape and is incredibly dense, but crisscrossed by numerous animal trails allowing access to tourists. The time taken and the terrain vary as per the movements of these great primates. The thrill of spending time observing these gentle and endangered giants is an awesome, exciting experience to be forever remembered. Many find it to be a rare and moving opportunity.
Upon your return relax at the lodge. At 5 pm those who wish to can either stroll to the community centre or drive up to the "Top of the World" - the name given to the football field, high up in Nkuringo which offers amazing views over the peaks and forests around Nkuringo. A great way to stretch your legs after the gorilla tracking and to enjoy a sundowner.
Stay at Nkuringo Bwindi Gorilla Lodge
Day 5: Community tour, Nombe and Buniga Forests (encounter with the Batwa)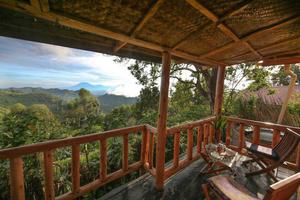 This morning after a hearty breakfast, enjoy birding in Nombe Pocket Forest – it was part of Bwindi Impenetrable National Park and the visit lasts about 2 hours.
Lunch at the lodge and at 2.00 pm departure to Buniga Forest Trail Walk, an informative project run by USAID and the local Batwa community. The Batwa tribe was forced to leave their home in Bwindi Impenetrable Forest National Park in 1991 when it was declared a UNESCO Heritage site for gorillas only. They had been living in the forest as nomadic hunter-gatherers for millennia, in perfect balance with the flora and fauna around. Moving out and suddenly living in communities with a completely different way of life has proved to be a huge challenge.
Day 6: Hike across Bwindi Impenetrable Forest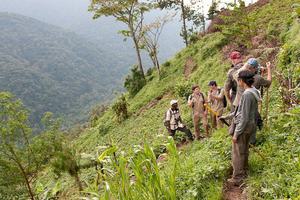 After an early breakfast, start your unforgettable hike (19 km - 7-9 hours) directly from Nkuringo Lodge, following the Kashasha River Trail. This is a full day walk where there will also be the opportunity to visit the Munyaga River Falls, hidden deep in the forest. However, you can also opt for a shorter trek. Once part of a much larger forest that included the Virunga Volcanoes in neighbouring Rwanda, today the park is an ecological island within a sea of villages and farmland, its conservation importance is immense. The trail is also an important footpath for local people, particularly on market days. There is no road through Bwindi so vehicles driving between the two locations have an incredible 170 km bone jarring journey taking 6 to 8 hours.
Upon arrival at the park headquarters in Buhoma, continue to your lodge on the outskirts of the national park for some relaxation and to enjoy the "other" side of Bwindi.
Stay at Mahogany Springs Lodge
Day 7: Queen Elizabeth National Park – Ishasha – Kazinga Channel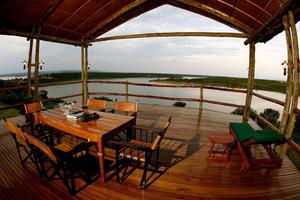 Game drive through the southern sector of the park to Ishasha. Ishasha is notably recognised for its resident 'tree climbing' lions that are an exceptional attraction and one of the highlights of all safaris in Queen Elizabeth National park. The Lions can sometimes be spotted hanging on branches of huge fig trees while the Uganda Kob graze on the plains below.
Arrive at Mweya Safari Lodge on the edge of the Kazinga Channel, the 36 kms waterway which connects Lake George and Lake Edward. Spend the afternoon on a boat trip on the channel viewing game and watching birds on the river banks whilst passing through pods of hippos. Crocodiles have only recently been seen in the Kazinga Channel, they disappeared for 8,000 years after they were eliminated from Lake Edward by toxic ash from local volcanoes. QENP contains 95 species of mammal, more than any other park in Uganda.
Stay overnight at Mweya Safari Lodge
Day 8: Queen Elizabeth and Kibale National Park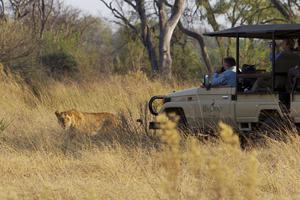 QENP is one of Uganda's oldest parks being formed officially in 1952. The park was initially known as 'Kazinga National Park' before it was renamed in 1954 to commemorate a visit by Queen Elizabeth II of Great Britain. QENP hosts 619 bird species, the second highest of any park in Africa . Game drive through the northern sector of Queen Elizabeth National Park to Kibale National Park to arrive at Primates Lodge.
Trek to the 'Top of the World' for fantastic views of the Rwenzori Mountains, crater lakes, tea plantations and local villages.
Stay overnight at Primates Lodge in Kibale National Park
Day 9: Chimpanzee trekking and Kibale National Park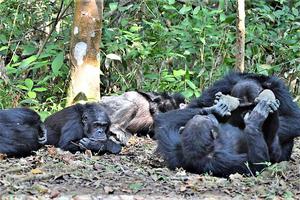 Morning chimpanzee trek. The density and diversity of primates in Kibale National Park is the highest in Africa. The most well-known are the chimpanzees, our closest relative. Additionally, Kibale is home to the uncommon I'Hoest's monkey as well as East Africa's biggest population of the endangered red colobus monkey. The black & white colobus, red tailed monkey, blue monkey, olive baboon, grey cheeked mangabey, bush baby and potto are among the other primates.
Afternoon excursion to the Bigodi Wetland Sanctuary, a great example of a community-based approach to natural resources management, which can be of good economic benefit to local residents living within this area as well as the tourism industry. Today, 138 species of birds have been recognized within the Bigodi Wetland Sanctuary. Among the major bird species within the sanctuary is the Great Blue Turaco.
Stay overnight at Primates Lodge Kibale National Park
Day 10: Kasese to Entebbe
Transfer to Kasese for the Aerolink flight to Entebbe and onward back to the UK.
Once in Entebbe enjoy a day room at Papyrus Guest House before being transferred to the airport for your flight home.
Day 11: Arrive back in the UK

Arrive home after a magical trip.
---
Duration: 11 nights
Location: Uganda, Africa
Price: £5495pp
This trip is available for £4,995pp, based on 4 people travelling. This includes all internal flights, pre-paid air taxes, accommodation, 1 gorilla permit, 1 chimp permit, conservation park fees, transfers by road and light aircraft, meals, drinks and activities as quoted.

Tailor-made Holidays
Make this trip your own
Tailor this trip around your preferred dates, your budget and your ideas.
A detailed itinerary in 24 hours
Start planning your original holiday to Uganda by contacting on of our experts
Alistair

Africa Specialist
Call an expert on
01768 603 715