Exhilarating trek up the 'mountains of the moon'
Join Holly Budge, an Everest Summiteer and the first woman to skydive Everest, on this 9 day trip around Uganda which will see you climb Mount Stanley and raise funds for 'How Many Elephants'. A true once-in-a-lifetime trip.
The trip will raise money for 'How Many Elephants', an award-winning NGO founded by Holly, which is educating a global audience about the devastating impacts of the African elephant ivory trade and raising vital funds for frontline rangers.

Holly summited Mount Stanley earlier this year and describes the experiences below:
"Mountains of the moon sounds like something that exists in a fairy tale book but this vision came alive right in front of my eyes.

I literally stepped into another world, full of exotic natural wonders. Candy floss trees, tall totem poles of pine cones, optical illusion plants perfectly formed in hot pinks, yellows and greens. It was magical.
We moved up steeply forested terrain, climbed big boulders and slithered over tree roots.
As our eyes grew wider in amazement, our lungs compressed with the altitude gain. Each step had to be thoughtful and with precision as the rains came down, making the going pretty challenging at times.
Three words: awe-inspiring, challenging, rewarding."
Speak to an expert
I created this trip - call me to create yours.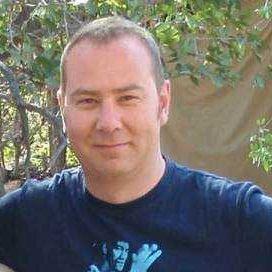 Alistair
Uganda Specialist
The itinerary…
Day 1: Friday 24th March 2023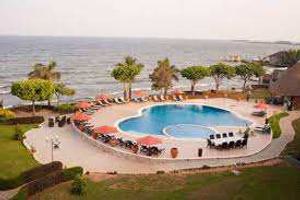 Arrive at Entebbe International Airport
On arrival, you will be greeted and transferred to your hotel, Protea Hotel Entebbe where you will stay on a B&B basis in a deluxe room.
The afternoon and evening are free to do as you please with lunch and dinner by your own arrangement.
Day 2: Saturday 25th March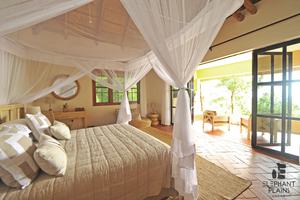 Fly to Kasese

After breakfast, you will be transferred to Entebbe Airport for your morning domestic flight to Kasese Airstrip. On landing, you will be transferred to Elephant Plains Lodge for dinner and an overnight stay
Day 3: Sunday 26th March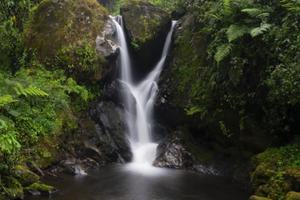 Hike to Sine Camp 2,596metres
The first day of trek will see you climb from Trekkers at 1,450 meters to Sine Hut at 2,596 meters.
A steady climb through the Afro Montane Forest Zone with a chance to see blue monkeys, Colobus monkeys and occasionally there are rare sightings of the L'Hoest monkey. There is a wide variety of plant species from forest trees to bamboo thickets, low shrubs, flowers and lichen-covered vines hanging from the tall trees. Enock's Falls are just 200 meters from Sine Hut - a beautiful and refreshing spot.
Day 4: Monday 27th March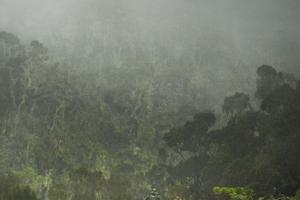 Trek to Mutinda Camp at 3,582 meters
Trekking starts at 8.30 am and almost immediately you enter the Bamboo-Mimulopsis Zone which is a steep climb with many high steps through a beautiful forest. Climb 551 metres in altitude to Kalalama Camp at 3,147 meters where you can take a rest and enjoy a quick cup of tea or coffee.
Continue on and the trail climbs up a deep valley, which is unique due to its many Giant Heather trees creating a beautiful atmosphere, often shrouded in mist. Arrive at Mutinda Camp at 3588 meters.

In the afternoon you may wish to climb up to the top of the Mutinda Lookout (1-2 hours up and 1 hour down), which has stunning views of the Rwenzori Mountains and is an excellent way to acclimatise and reduce the risk of high altitude sickness. Sleep at Mutinda Camp at 3.582 metres.
Day 5: Tuesday 28th March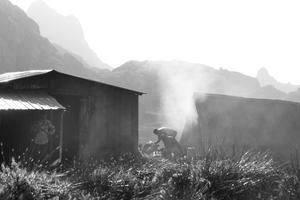 Hike to Bugata Camp at 4062 metres
The trail to Bugata Camp is boggy, particularly in the wet season but with a little skill, you can step from tussock to tussock to make the going easier.
First, you cross the Mutinda valley through the tussock grass and everlasting flowers interspersed with many Giant Lobelias before climbing a steep section up to the Namusangi Valley (3,840 meters), with sheer waterfalls. Looking back you get fantastic views of Mutinda Peaks. The Namusangi Valley is wide, with many ups and downs as the trail climbs steadily to Bugata Camp at 4,100 metres.
Day 6: Wednesday 29th March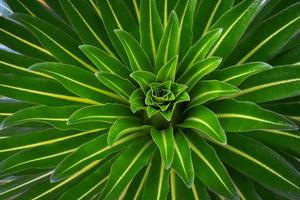 Hike to Hunwick's Camp 3974 meters
Ascend up to Bamwanjarra Pass at 4,450 meters where we have a hut in case the weather turns bad. From the pass on a clear day, you get excellent views of the three main peaks.
The trail then passes down the valley and around the edge of some bogs and thick evergreen vegetation. Here is possibly the best place in all the Rwenzori to observe the Malachite Sunbird as it feeds on the many lobelia flowers and is a known breeding site.
Next, there are some steep sections before a steady climb up to Hunwick's Camp which is situated on the top of a deep valley with excellent views of Mt Stanley.
Day 7: Thursday 30th March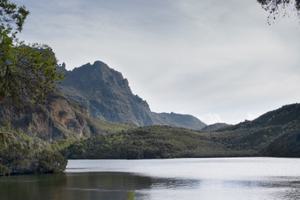 Option to Summit Weismann's peak or Visit the valley of Kitandara.

After an early breakfast, set off to either summit Weismann's peak and then down to Kiharo Camp or hike up higher to the valley of Kitandara lakes region and enjoy the stunning views of the Lakes before descending down to Kiharo Camp for the night.
Day 8: Friday 31st March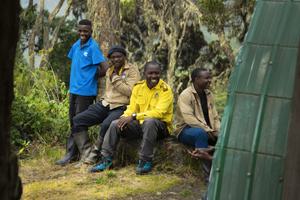 Descend down to basecamp.

The distance from Kiharo Camp to the park gate is 12.2km and then another 2.8km down to Trekkers Hostel. The time to walk is 5 to 8 hours.
The trail down the Nyamwamba Valley is mostly downhill and absolutely stunning with beautiful views, moss-covered rocks along the river, cascading waterfalls, deep valleys and forests that are possibly the best in the Rwenzori Mountains.
From basecamp, you will be picked up by your guide and transferred to Elephant Plains Lodge in Queen Elizabeth National Park for dinner and overnight stay.
Day 9: Saturday 1st April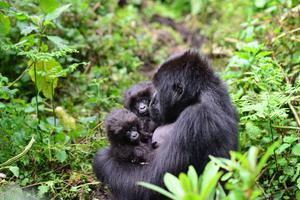 Fly to Entebbe
This morning you will transfer to Kasese Airstrip for your morning domestic flight to Entebbe Airport where you will connect with your International flight back home.
OPTIONAL ADD ON: GORILLA TREKKING
---
Duration: 9 days
Location: Uganda, Africa
Price: £4679pp
The per-person price of £4,679 is based on sharing in twin or double accommodation and excludes international flights. There will be a maximum of 8 people on this trip.
The price includes all accommodation, transfers, all meals and activities as indicated in the itinerary.
Single room supplement: £295.
Excludes international flights and insurance which is essential in the unlikely event of mountain rescue being required.
OPTIONAL ADD-ON: It is possible to add on a two-day extension to go gorilla trekking in Bwindi. Price £2,774pp. Please ask us for full details on this option.
MORE DATES TO FOLLOW.
TAILORMADE HOLIDAYS
Join this small group trip
Climb Mount Stanley with Holly Budge