Two wild and unspoilt islands just waiting to be explored.
From whales to turtles hatching, endemic birds and the world's smallest monkey, these remote and wild islands are packed full of surprising wildlife. Sometimes referred to as the 'African Galapagos' thanks to the high number of endemic birds in such as small area.
Two remote islands off the coast of West Africa, Sao Tome & Principe are quickly becoming an eco-destination of choice, and so it is no wonder that wildlife holidays are becoming more popular too. Whilst Sao Tome and Principe is home to a variety of unique and endemic wildlife, including several bird and reptile species, we would not suggest it is a developed wildlife destination, and as with all wildlife experiences guarantees are never given, however, whatever you do see you are likely to be on your own as tourism has not yet taken off here. Here's what you can expect to see on a wildlife holiday in Sao Tome and Principe:
Birdwatching: Sao Tome and Principe are home to over 28 endemic bird species, including the Sao Tome ibis, Sao Tome grosbeak, and the Sao Tome prinia. There is also a healthy population of African Grey Parrots. The best time to go birdwatching is during the dry season, from June to September, when the birds are most active.
Whale watching: particularly humpback whales, which pass through the waters around the islands on their annual migration from Antarctica to their breeding grounds in the warm waters of the Gulf of Guinea. When to go: The best time for whale watching in Sao Tome and Principe is from July to September, during the southern hemisphere winter, when the humpback whales are most active in the area. While sightings are not guaranteed, humpback whales are known for their acrobatic displays, including breaching, tail slapping, and spy-hopping, so you may be able to see some impressive behaviour, you may also be able to see other marine wildlife, such as dolphins, turtles, and sea birds.
Turtle watching: From November to April, you can observe nesting turtles on the beaches of both islands. The most common species are the Green and Hawksbill turtles. Turtle nesting sites can be found on several beaches around the islands, including Ilheu das Rolas, Praia Inhame and Praia Grande on Principe. Again, we would not guarantee this experience there are a lot of nests and all guides observe strict rules when nesting and hatchings are occurring.
Crabs: Most interestingly the endemic Giant African Land Crab, which is the largest land crab in the world. The best time to see land crabs in Sao Tome and Principe is during the rainy season, from September to November, when the crabs come out of their burrows to mate and migrate to the sea to release their eggs. They can be found in various habitats around the islands, including forests, mangroves, and along the coastline.
Primate spotting: The islands are home to the world's smallest monkey, the Sao Tome Collared Marmoset, which is only found here. You can also find the larger Sao Tome Island Fruit Bat, also endemic.
Nature walks: The lush forests and stunning coastlines of Sao Tome and Principe offer great opportunities for nature walks and hikes, where you can observe the islands' flora and fauna up close.
OUR FAVOURITE TAILOR-MADE SAO TOME & PRINCIPE TRIPS
Popular Sao Tome & Principe Holiday Ideas
Where would you like to go on holiday in Sao Tome & Principe?
Best Places to Visit in Sao Tome & Principe
were here to help
Call Us - 01768 603 715
Unsure where to start? Give us a call and speak to our team.
---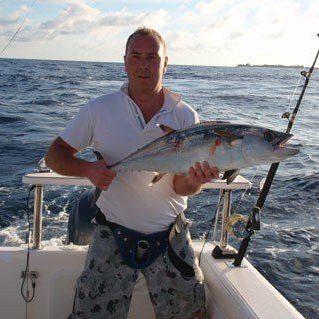 Alistair
Sao Tome and Principe Specialist
Enquire now
A detailed itinerary in 24 hours
Start planning your tailor made holiday with Far & Wild. We're open 08:00 to 19:00
Ali

Indian Ocean Specialist
Call an expert on
01768 603 715