Combine these destinations to create a wonderful action packed 2 weeks away
Unlike most tropical paradise islands São Tomé & Príncipe does often need not only an introduction but also someone to point out where these islands are. As they are an ex-Portuguese colony you have to fly via Lisbon to get there. So why not make the most of this amazing city as a decompression between the UK and these lush tropical islands? Enjoy the amazing food, super views and relaxed vibe.
Once you arrive on São Tomé you will have time to discover the tiny São Tomé City as well as trek the interior forests, discovering the remains of plantations from yesteryear.
After which we drive you down to the remote southern tip to stay at a locally family run eco lodge set on a beautiful turtle beach, offering a bit of laid back island living as well as the opportunity to get to the Ilheu das Rolas and stand on the Equator.
You then head to Príncipe and have 5 nights at a beautifully restored plantation house overlooking the infamous Banana Beach as well as several other amazing beaches. Take your pick.
Return to São Tomé and Omali Lodge to overnight and then catch your flight home via Lisbon.
Speak to an expert
I created this trip - call me to create yours.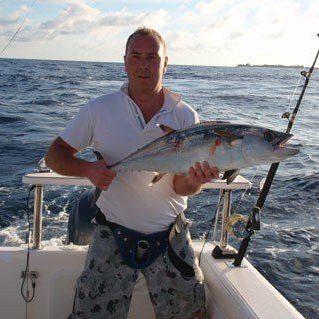 Alistair
Sao Tome and Principe Specialist
The itinerary…
Day 1 - 2: Fly from the UK to Lisbon.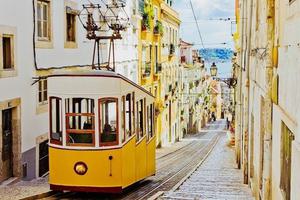 On arrival you will head to the old town or The Alfama District, famous for the cathedral and its views out over the city, trams and cobbled streets. Stay the next 2 nights at the Memmo Alfama Boutique Hotel with its amazing roof terrace and pool overlooking the mouth of the Tagus. Enjoy those sunsets! Maybe try The Time Out Food Hall just along the road with tastes from all over Portugal. Board bed & breakfast
Day 3: Fly to Sao Tome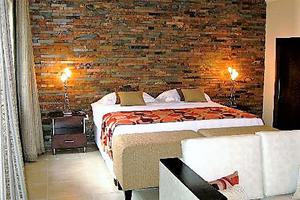 Up early to catch the 10h00 TAP Portugal flight to São Tomé. You arrive into Sao Tome at about 18h00 where you will be met and transferred to your hotel - Omali Lodge. Welcome to São Tomé & Príncipe. Board bed & breakfast
Day 4 - 5: Explore what São Tomé has to offer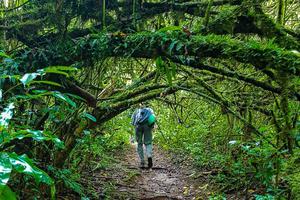 You have a further 2 nights at Omali Lodge so you have plenty of time to wander around the street of Sao Tome City (guided or at your leisure) or indeed take a trek into the interior forests of the island where you will encounter a large variety of birds (many endemic to the islands) as well as numerous endemic plants - especially orchids. A stop at the Botanical Gardens at Bom Successo is worth it. There are a variety of treks and the paths are marked but not particularly well kept. There are also a number of decommissioned plantation houses that have been reoccupied by the locals. Good lunch stops!
Day 6 & 7: Discover the South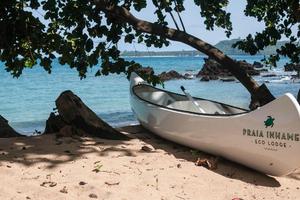 Head down to the very south of the island. Drive through amazing forest, incredible scenery and numerous fishing villages. You will reach Praia Inhame Eco Lodge on the southern tip. This amazing little spot has beautifully crafted wooden bungalows on stilts and is set right on an amazing turtle beach looking out towards the island of Ilheu das Rolas. From here you can discover deserted beaches, kayak the emerald coast or simply enjoy the empty beaches. The food is fantastic and if you get bored you can take a boat across to Ilheu das Rolas for the day. You are here for 2 nights, plenty of time to chill. Board: dinner bed and breakfast
Day 8: Drive back to Omali Lodge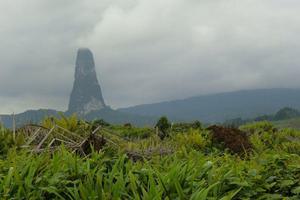 Transfer back to Sao Tome to overnight before your early morning flight to Principe the following morning.
Day 9: Fly to Principe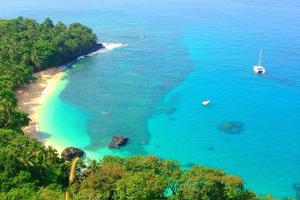 Today you have the short flight to Principe Island where you stay for 5 nights.
Day 9 - 14: Spend 5 nights at Roca Belo Monte Plantation House.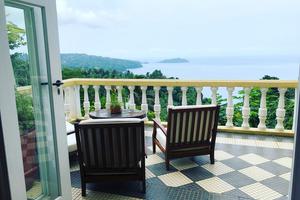 This beautiful hotel has been refurbished to a superb standard and provides exquisite food to boot. It sits up in the hills overlooking 4 superb deserted beaches. One of these is the famous Praia Banana (Banana Beach) and the others are all turtle beaches (in season) or just beautifully clean and empty beaches. Spend your days on the beaches or with a guide on a quad bikes taking in the rest of the island or hike up to a stunning natural waterfall and have a swim. There is plenty to do in these incredible surroundings. Board: Dinner bed and breakfast
Day 14: Fly back to Sao Tome.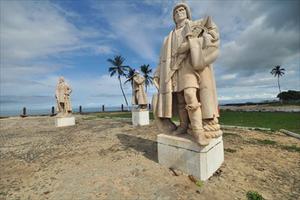 On arrival back in Sao Tome you will stay your last night at Omali Lodge once again. You have all day to enjoy another activity. Should PCR testing be required this can be done at the hotel. Board bed & breakfast
Day 15: Your last day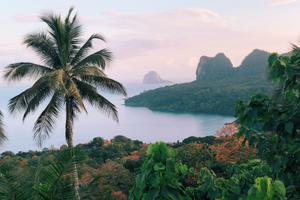 A late check out is organised for you so you can soak up the last rays of sun before heading to the airport to check in for your overnight flight back to the UK via Lisbon.
---
Duration: 16 nights
Location: São Tomé and Príncipe, Africa
Price: £3595pp
Price based on two adults travelling together and sharing double or twin room accommodation includes air taxes; tourist taxes; internal flights; all transfers; accommodation as outlined with meals & drinks as listed.
Tailormade Holidays
Make this trip your own
Tailor this trip around your preferred dates, your budget and your ideas.
Expert Knowledge
We'll help you plan your perfect honeymoon in Sao Tome & Principe...