Month by month guide of when to go to Sao Tome and Principe
As 2 micro dots of lush greenery surrounded by the far and wild Atlantic Ocean, the climate on these two islands as you might expect is unpredictable. Unlike the UK where unpredictable normally means bad, Sao Tome and Principe's weather is a 'good' varied where often rain comes in generally short bursts before clearing to reveal fabulous blue skies – mean temperature is about 27 degrees year round. Although there are wetter and dryer times, weatherwise we consider the destination to be a year-round holiday consideration and the best time to go really depends more on what your own interests are (whale watching, turtle hatching/nesting, deep sea fishing etc) as opposed to what the weather is going to do. Generally, the most rain falls in March and April and Principe tends to get more rain. The warmest months are January to March. During these 'hotter' months, the 'Harmattan' Haze is often present, having been blown across from the Sahara.
The Harmattan Haze is created by a cool dry wind that blows from the northeast in the western Sahara and is strongest in late November to mid-March. It usually carries large amounts of dust, which it transports hundreds of kilometres out over the Atlantic Ocean; the dust can sometimes interfere with aircraft operations and settles on the decks of ships. It also creates a 'haze' so whilst days are dry and hot the skies may not be bright blue. As with all of natures phenomena it varies daily.
One of the big draws to Sao Tome and Principe is its rich birdlife. This is consistently excellent throughout the year. Four varieties of sea turtles are lay their eggs between November and January (inclusive) and the eggs hatch between December and the end of March. Big Game fishing is best from the start of May right through to the end of the year, with Marlin being better in the first 4 months and Sailfish the last 4. Migrating humpbacks can be seen from July to December.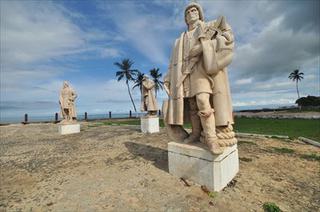 January
Definitely high season due to the warm weather and the possibility of seeing turtles nesting, as well as the end of the baby turtle hatching season. The waters of the Atlantic will be clear and offers good visibility for snorkelling and diving. It will be hot and humid, but clear skies are not a given due to the potential Harmattan Haze. All Saints Day and St Anthony's Day both fall in January and offer the chance of getting to be involved with a public festivity. All in all, a great time to be away from the cold and dreary post-Christmas blues in the UK and not within School holidays so a great spot for some winter heat and peace and quiet!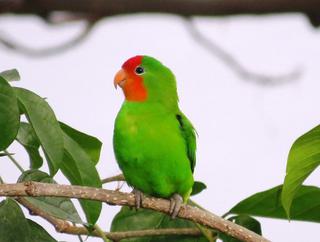 February
Still high season, although its likely that the turtle nesting season will have finished, so the chances of seeing a turtle on the beach are minimal. The sea will still be nice and clear with great visibility and the weather will still be hot and humid; there is the chance of haze. February can work for a nice ½ term break. The birdlife in both January and February will be sporting mating plumage and be in magnificent colour.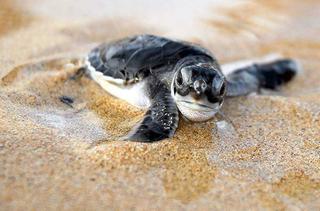 March
The start of what is considered to be the low season. The temperatures are still hot and the humidity will be higher until it breaks for a rain shower. These are likely to be short sharp blasts but when they do arrive you will know about it. Its unlikely to rain all day and baby turtles will still be hatching at this time. Diving and snorkelling will still offer good visibility, but it will be in decline.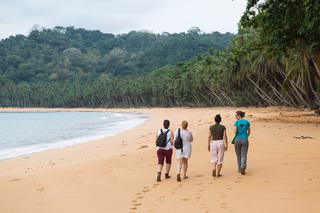 April
Along with March this tends to be one of the wetter months. It is also the time when there is the least specialist fauna to be seen. Its in-between seasons so is a time to come if you are keener to visit a new destination and are looking to explore the islands on foot or are happy with some solitude. The snorkelling and diving will still be on offer with reduced visibility. Whilst it is considered low season a lot of families travel at this time of year as the Easter Holidays provide a good window to travel, air fares are likely to be slightly cheaper as is the accommodation.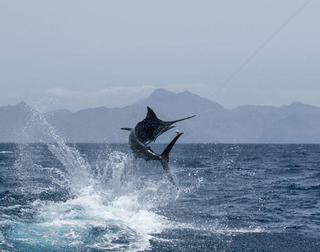 May and June
May offers a slightly dryer month but temperatures are cooler at this time. It's the start of the tag and release Marlin season so is an attraction to any fisherman.
June marks the start of the high season with temperatures warmer than May, offering sporadic showers and being the peak of Marlin fishing season.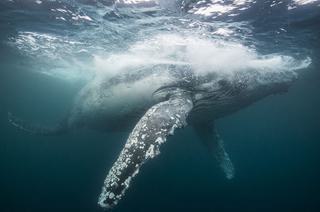 July
Higher temperatures and we are now into the high season. The migrating hump back whales start to arrive and the Marlin season is still in full swing. There will be the odd shower but when the sun is out the skies are a beautiful bright blue most certainly a lovely time to be here.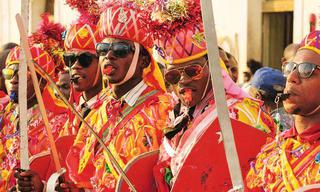 August
The whales should be in abundance and the fishing season will start to shift from the focus being on Marlin to Sailfish. If you can make it for the festival of Auto de Floripes you will see an amazing expression of public theatre acted out in incredible colour that takes over the whole of Santo Antonio on Principe. You may get a little rain but it is mostly dry.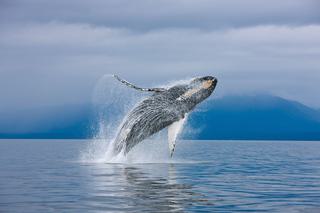 September & October
September is very similar to August but without the cultural aspect. It's likely to be quieter due to schools going back. - a really nice, quieter time to be here.
October is very similar to August and September with probably just a bit more rain. There is a chance you may catch the start of the turtle nesting season. Whales and Sailfish in abundance during both September and October.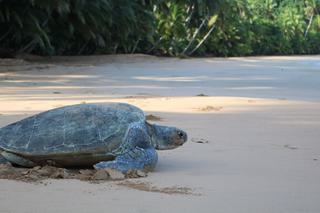 November
This is the tail end of the whales season although Sailfish are still very much in abundance, and now turtle nesting season should be well and truly under way. Temperatures will be increasing and there will be a bit more rain than in the past few months.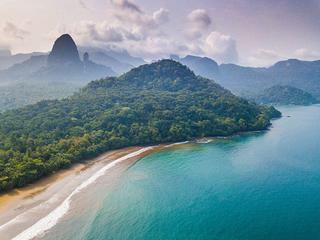 December
One of the best months to be here and a great way to enjoy the festive season. Whilst its unlikely that you will see any whales you will get the best of both worlds when it comes to Turtles (nesting and hatching likely). The temperature will be hot and the humidity starting to build, although hopefully the haze will not be present. The Sailfish fishing season comes to an end in December.
Start planning your dream holiday
Speak with a Sao Tome & Principe expert.
Alistair

Sao Tome and Principe Specialist
Call an expert on
01768 603 715
OUR FAVOURITE TAILOR-MADE SAO TOME & PRINCIPE TRIPS
Popular Sao Tome & Principe Holiday Ideas