Our specialists say:
Adventurous self-driving, trekking and beach explorations in Central and Southern Malawi
"Malawi is very suitable for a self-drive safari combining trekking in mountains, discovering prehistoric rock art in hills, wildlife viewing in valleys, boating on rivers, and of course snorkelling in the infamous Lake Malawi"
This itinerary combines the most adventurous side of camping that safari has to offer with sleeping in dome tents and on a fully equipped Toyota Double Cab vehicle, with intermittent stops at Guesthouses and Lodges for a splash of comfort and luxury. Though it's mostly self-catering, there are times when home-cooked food served in a dining room is just what you need… especially after spending 6 hours hiking the Mulanje Mountain Range with your guide.
Begin and end in Malawi's capital city, Lilongwe, but travel throughout the South and back up to Central Malawi. If you want to do more than just scratch the surface of Malawi and get involved with charitable projects, conservation efforts and community events, this is the itinerary for you. We can add Victoria Falls to the start or end of this tour. This itinerary is 19 nights, 20 days, excluding any international travel.
1 night Dedza Pottery Lodge, Dedza Mountain & Chongoni Rock Art
1 night Casa Mia Lodge, Blantyre
2 nights Thawale Lodge, Majete Nature Reserve
2 nights Fisherman's Rest, Bushcamp Hide, Majete Region
5 nights Mount Mulanje Trek Camping
1 night Likhubula Forest Lodge, Base of Mount Mulanje
1 night Zomba Forest Lodge, Zomba
2 nights Mvuu Camp, Liwonde National Park
4 nights Camping at Chembe Eagle's Nest, Lake Malawi
Speak to an expert
I created this trip - call me to create yours.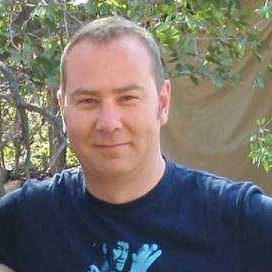 Peter
Malawi Specialist
The itinerary…
Day 1: Dedza Mountain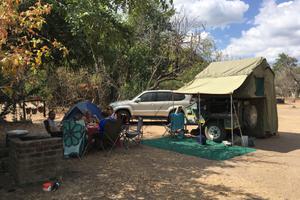 On arrival at Lilongwe from Mzuzu Academy you will meet a friendly Land & Lake Safaris representative, who will hand over your fully kitted car. A 1.5 hour drive will take you to Dedza Pottery Lodge, a self catered lodge for your first night.
If you are feeling active, only a few hours walk from Dedza Pottery Lodge will take you up to the peak of Dedza Mountain with panoramic vistas of Lake Malawi and Mozamibique to the east and Zomba Plateau and Mulanje Mountain to the south.
Day 2: Chongoni
Not to be missed in Chongoni are the rock paintings recognised by UNESCO World Heritage in the surrounding foothills. Accompanied by a trained guide from the Malawi Goverment Deparment of Antiques you can appreciate the 10,000 years old art work.
After visiting the caves (at your own expense) you will continue to drive down to Blantyre where you will stay at Casa Mia Lodge for 1 night on a bed and breakfast basis.
Day 3 - 4: Majete Nature Reserve and Safari Drive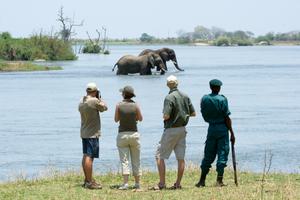 After breakfast you will depart for Majete Game Reserve, which is approximately a 3 hour drive. You will stay for 2 nights on a self catering basis with the ability to arrange your own preference of activity directly through the lodge.
After breakfast you will have a safari drive with the option of either a guided game drive or exploring in your self-drive vehicle. At the present moment 2,559 animals from 14 different species have been introduced notably the famous big five, leopard, elephant, buffalo, black rhino and lion.
Day 5 - 6: Fisherman's Rest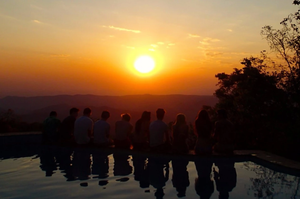 Today you will drive from Majete Game Reserve to Fisherman's rest spending the night in the charming thatched room in their Bushcamp Hide on a bed & breakfast basis. Surrounding Fisherman's Rest is an enchanting 500 acre forest with breathtaking views over the Great Rift Valley and their very own nature reserve.
Day 7: Mountain Trek Begins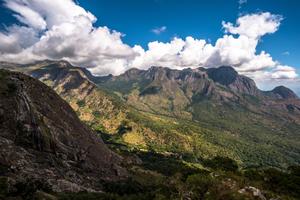 After a relaxing breakfast at Fisherman's Rest, you will drive to Mount Mulanje and drop off your car at the base of the mountain. There you will meet your friendly guide and start your 5 day mountain trek. Whilst on your trek all the meals are included to make hiking a more pleasurable experience; high above the clouds the views are mindbogglingly beautiful.
Day 8 - 12: The Grand Traverse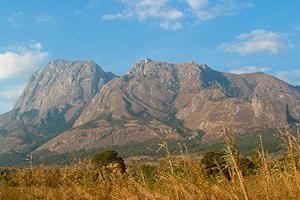 Guided on your mountain trek you will test your physical capacity and endurance hiking up the rocky terrain. This challenge makes the views all the more special since not many people have the opportunity to witness this majestic landscape. Along the route there are many huts to rest and recuperate.
Day 13: Mountain Mission Complete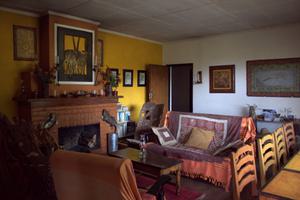 After descending from the mountain you will reach your car to head to Likhubula Forest Lodge where you will camp for 1 night on a self catering basis. The following day you will drive 3 hours to the ancient capital of Zomba. You will stay at Zomba Forest Lodge for 1 night on a full board basis. It's the perfect place to unwind after your mighty efforts up Mount Mulanje thanks to its cosy lounge with a fire that adds to its homely atmosphere.
Day 14 - 15: Liwonde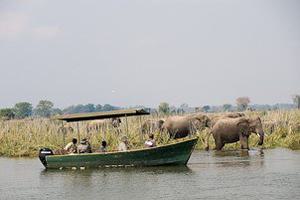 After a 2 hour drive, enjoy a game drive through Liwonde, which is home to Malawi's largest remaining elephant population and the endangered Black Rhino. Spend the night at Mvuu Campsite overlooking a broad stretch of the River Shire. The Mvuu Campsite is not fenced so wild animals are able to amble through the camp.
The following day participate in more game viewing activities and relax in your wonderous surroundings. Maybe you'll catch a glimpse of the elusive Black Rhino on your safari.
Day 16 - 19: Lake Malawi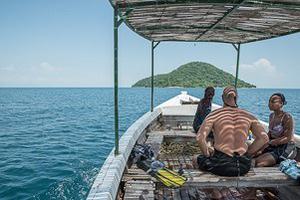 On the final leg of your holiday it's time to discover Lake Malawi a must see destination; interesting fact, it is the ninth largest lake in the world. For 4 nights you will camp at Chembe Eagle's Nest in Cape Maclear on a self catering basis. The campsite has idyllic beach views with kayaks and snorkelling gear available to explore the island and snorkel with the tropical sea life.
Day 20: Lilongwe - End of tour
Leave the shores of Lake Malawi, and return to Lilongwe where your holiday adventure will sadly come to an end.
---
Duration: 20 days
Location: Malawi, Africa
Price: £4590pp
The price of this trip is £4,590 this includes: all vehicle hire, pre-paid air taxes, accommodation, conservation park fees, transfers by road, meals, drinks and activities as per above itinerary, based on 1 adult.
Tailor Made Holidays
Make this trip your own
Tailor this trip around your preferred dates, your budget and your ideas
Plan with an Expert
Have a look at our original holiday experiences and then contact us with your brief, or call 01768 603 715
A detailed itinerary in 24hrs
Our experts will send you a detailed holiday itinerary within 24 hours. It's our service promise to you.
Value Guarantee
Tailor-made doesn't mean expensive! Ask about our price promise and book with financial security.
Expertise
You talk to someone who's been there

We listen first. Our expertise, but always your holiday.

Quick. A holiday plan tailored to you in 24 hours.

Safe. Licensed and regulated by the CAA.
Service
Simple. These best rates and the best routes delivered in a clear and simple way.

Personal. From the start you'll only ever deal with one consultant.

Our service charter explains what you can expect from us. 
Your Holiday
We keep the focus on your holiday. In fact it's the sole objective of everything we do at Far & Wild.

Delivering you an outstanding and original holiday experience means...

..location connections, expert guides, hand-picked experiences and creating the space for magic to happen.
Book with Confidence
Transparent. Prices, information – we'll break it down anyway you like.

Financial Security. Our Civil Aviation Authority's ATOL bonding consumer protection scheme.

24/7 emergency support on the ground wherever you travel.
A detailed itinerary in 24 hours
Start planning your tailor made holiday with Far & Wild. We're open 08:00 to 19:00
Ali

Indian Ocean Specialist
Call an expert on
01768 603 715