Flavours of India
​Join the 'Queen of Spice', Monisha Bharadwaj, for 6 amazing days in Mumbai sampling the best traditional cuisine and exploring what this mega city has to offer.
Staying at the 5-star Nariman Point in downtown Mumbai, Monisha will guide you to undiscovered local restaurants, private members clubs and food markets all serving amazing local dishes which are all curated by her. You will also have time to see some of Mumbai's sites as well as soak up the local atmosphere or relax in what is one of India's most famous hotels.
This small group tour (max 12 people), gives you a unique opportunity to spend time with Chef Monisha Bharadwaj who will accompany the group throughout the trip.
Who is Monisha Bharadwaj?
Chef Monisha Bharadwaj is an award-winning author, food historian and food writer. She runs a successful cookery school, is frequently a judge at the 'Great Taste Awards', and has numerous cookbooks under her belt. In 2020, her book 'Indian in 7- recipes using 7 ingredients or fewer' won the Gourmand World Cookbook Award 2020 for the Best Indian Cookbook in the World. She has been a guest lecturer at the University of London, giving a series of talks on 'The History of India through its Food', she worked with Kew Gardens giving talks on healing Indian ingredients, and with the British Council on 'How The British Fell in Love With Curry – a historical perspective from 1200-2017'.
Speak to an expert
I created this trip - call me to create yours.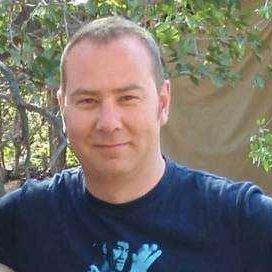 Alistair
Africa Specialist
The itinerary…
Day 1 - Tuesday 28th November: Arrive in Mumbai
On arrival in Mumbai, you will be met and taken to your hotel Nariman Point where you will be spending 5 nights. This luxury hotel is perfectly placed to explore the city and you have the afternoon to relax and recover from your journey.
Day 1 continued: Indian Food Talk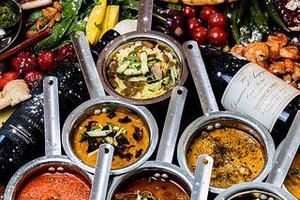 Mumbai (formerly known as Bombay) is the commercial hub of India and a vibrant, colourful and bustling metropolis. It is also an important centre of theatre, art, music, dance, and of course, food. As a megapolis, Mumbai is not only a microcosm of Indian food, but different regions of the city also have their own, inherent, and very diverse local food culture. Although steeped in tradition and with a rich historical past, Mumbai is a city where traditional and modern business practices flourish simultaneously.
In the evening you will be introduced to Indian food in an informal talk – covering the vast diversity of Indian food, its various strands, origins and foreign influences. The talk will be followed by a welcome dinner – at an authentic Indian restaurant (Gaylords).
Meals Included: Dinner
Day 2 - Wednesday 29th November: Explore Mumbai
After breakfast at the hotel, you will be taken to explore a bit of Mumbai. Your tour will start with a visit to the 'Gateway of India', the bold basalt arch of colonial triumph that faces out to Mumbai harbour and continue to the famous Dhobi Ghat (washermen colony), a well-known open-air laundromat, where the washers, locally known as dhobis, work in the open to wash the clothes from Mumbai's hotels and hospitals. Afterwards, visit the busy Crawford Market and get a feel of the local fruit and vegetable market – you will be amazed by the variety of products sold here.
Day 2 continued: Chowpatty Beach & Chetana
End your morning excursion with a little walk around one of the oldest parts of the city - the historic district of Kala Ghoda with its many Gothic buildings and numerous art galleries. The walk will end at Leopold Café – a very Mumbai local joint – for a light lunch.

After lunch, you will be taken to your hotel and have the afternoon to relax.
Early in the evening, you will be taken to Chowpatty Beach to see the street food stalls and learn about the unique culture of outdoor eating. Dinner tonight will be a specially curated, private, Mumbai street-food feast at one of the city's most popular restaurants - Chetana.
Meals included: Breakfast, lunch and dinner.
Day 3 - Thursday 30th November: Elephanta Caves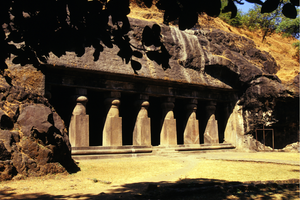 This morning you would be taken on a day trip to Elephanta Caves. Accessible only by motor launch, Elephanta (closed on Mondays) is a small island that rises near its centre into two conical hills. The excavations for which Elephanta is so celebrated are situated about two-thirds up the higher of the two hills. These Rock Temples, marked by a large number of beautifully carved sculptures of Hindu gods and goddesses, were hewn out of the hill sometime in the eighth century. The exterior of the main cave consists of a columned verandah, 30 feet wide and six feet deep, approached by steps flanked by sculptured elephants.
Day 3 continued: Biryani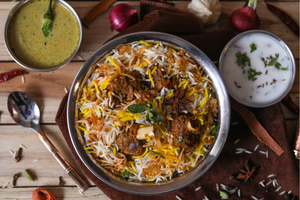 In the evening, there will be a talk about the Islamic influence on Indian food and the history of biryani, a much-loved dish the world over. The talk will be followed by a kebab and biryani dinner at Jaffer Bhai's Delhi Darbar.
Meals Included: Breakfast, Dinner
Day 4 - Friday 1st December: Temples & Talks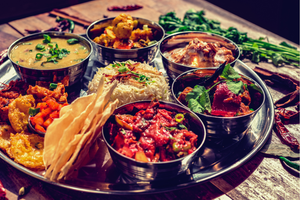 This morning you will be taken to visit the Banganga Tank and the nearby Hindu temple. According to a local legend, Rama, the exiled hero of the epic Ramayana, stopped at the spot in search of his kidnapped wife, Sita. Feeling thirsty, Rama asked his brother, Lakshmana, to bring him some water, and Lakshmana shot an arrow into the ground, and water gushed out – hence the name Bana (arrow), Ganga (the Ganges or a body of water). Continue to a local Jain temple and learn about their unique religion, which professes extreme non-violence and has their own variety of vegetarian food.
The morning's visit is a great setting for a talk on the history of vegetarianism in India and Jain food. Fittingly, the lunch will be a vegetarian 'Gujarati Thali' at one of Mumbai's best Gujarati cuisine restaurants - Shree Thaker Bhojanalaya.
Return to your hotel for a leisurely afternoon. Tonight you will be taken for a European (colonial-inspired) dinner at a private, members-only club – The Malabar Hill Club.
Meals Included: Breakfast, Lunch, Dinner
Day 5: Saturday 2nd December: Mumbai at dawn and royal opera house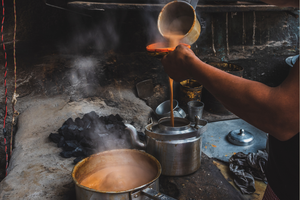 Early this morning you will be taken to explore 'Mumbai at Dawn'. Watch hundreds of newspaper vendors sorting out papers in multiple languages; auctioneers frantically gabble fish prices, and organised chaos breaks out with the arrival of over 100 tonnes of vegetables, fruits and meat at the markets. The scenes in wee hours truly define the mercurial character of Mumbai; and best of all, as you walk the same lanes a few hours later, you find no evidence of the morning's hustle. The early morning tour will end with tea and snacks at a local tea shop.
Return to your hotel in time for breakfast and be at leisure for the rest of the forenoon. Later in the afternoon, you will be taken to visit the Royal Opera House (perhaps the only surviving Opera House in India) and the National Centre for Performing Arts (a cultural centre, which aims to promote and preserve India's heritage of music, dance, theatre, film, literature, and photography).
Early in the evening, you will meet an internationally celebrated author to talk about, the very unique to Mumbai, Parsi culture and their food. The talk will be followed by a Parsi Wedding Feast dinner at the famed Jimmy Boy restaurant.
Meals Included: Breakfast, Dinner

Day 6: Sunday 3rd December: Onwards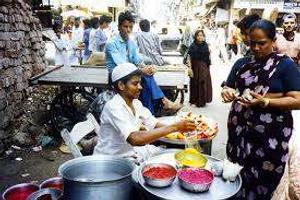 After checking out from your hotel this morning (by 1100hrs), your cuisine tour ends and you will either continue onto an add-on trip such as the golden triangle or Kerela, or head home.
---
Duration: 6 days
Location: India, Indian Subcontinent
Price: £2450pp
Price £2,450pp (no single supplement).
THE PRICES INCLUDE:
Accommodation in the mentioned hotel and room category or similar
Meals as mentioned in the itinerary
Transport in air-conditioned Mini Bus for the mentioned services.
Entry fee during sightseeing
Services of English-speaking escort/Indian fixer for the entire duration of the trip
All currently applicable taxes
THE PRICES DO NOT INCLUDE:
Items of personal nature like tips, laundry, telephone calls, drinks, etc (no drinks have been included for any of the meals, which are payable directly)
Any other meals than those mentioned above
International airfare
Any VISA fee
Camera charges at monuments
Any other item not specifically mentioned above as included
GENERAL TERMS AND CONDITIONS:

The prices are valid for travel in November 2023
The prices are based on the current tax structure and will change in case of revision of taxes
All hotels are subject to availability at the time of booking. The usual 'Check In' time is 1300hrs and 'Check Out' time is 1100hrs though it may differ from hotel to hotel. We always try for 'early check in' and 'late check out' but that is entirely at the discretion of the concerned hotel and is applicable only for a couple of hours of extended time
SPEAK TO AN EXPERT
Join this small group trip
Discover the taste of India with Monisha Bharadwaj