Jungle waterways, hot springs, nocturnal wildlife and beaches
Discover the secret waterways of Tortuguero, bathe in the Tabacon hot springs, take a nightwalk through the mysterious Monteverde cloud forest and relax on pristine, sandy beaches.
This 11-day coast-to-coast trip takes you across one of the most biodiverse countries in the world and is jam-packed with highlights.
Cruise through the remote jungle waterways of Tortuguero on the eastern Caribbean coast of Costa Rica, before heading for a completely different, thrilling river experience - white water rafting at La Virgen de Sarapiquí. Next, you will marvel at the spectacular Arenal Volcano, hike to La Fortuna waterfall and bathe in the spa waters at Tabacon in the midst of a forest.

Head high to the mountains, to quite literally be amongst the clouds at Monteverde cloud forest. Discover the extraordinary biodiversity that calls the cloud forest home as you explore by walking on hanging bridges and taking a magical, mysterious nighttime tour of the forest to see the nocturnal animals come alive.
Finally, head to the unspoilt and undeveloped Carrillo beach in Guanacaste to relax on its soft sands and snorkel amongst the colourful fish found on this coral reef.


Speak to an expert
I created this trip - call me to create yours.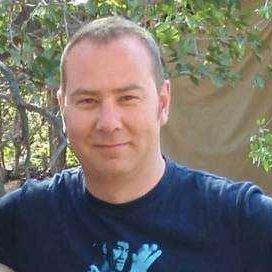 Alistair
Africa Specialist
The itinerary…
Day 1: Arrive in San Jose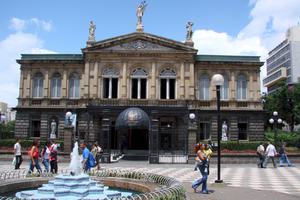 On arrival, you will be taken by private transfer from Juan Santamaria International Airport to Grano de Oro hotel & restaurant in the capital city of San Jose, approximately 40 minutes away. Situated just off one of San Jose's main boulevards, Hotel Grano de Oro is an ideal base for exploring the capital city's many museums, bars and restaurants.
Day 2: Boat to Tortuguero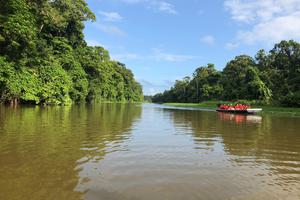 An early departure, stopping on route for a traditional Costa Rican breakfast as you head to remote Tortuguero which is only accessibly by a small plane or by boat along the famous Tortuguero Canals.
After around 4 hours of driving, you will board Mawamba's boat for your one-hour ride to Tortuguero where you will stay at Mawamba Lodge.
In the afternoon, you will have the opportunity to visit the village of Tortuguero along with your guide, giving you the chance to learn about the ways of life of the local residents of Tortuguero, a small town of approximately 1,300 people.
Spend two nights at Mawamba Lodge.
Day 3: Tortuguero National Park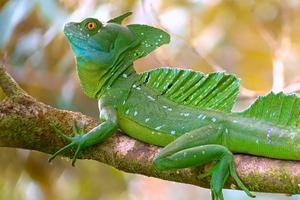 Today you will take a canal tour in Tortuguero National Park, one of the areas with the greatest biological diversity in the country so you are sure to spot plenty of wildlife and incredible plants.
The name Tortuguero relates to the Spanish word for turtle as this is an important nesting site for the green turtle. Other species of sea turtles like the leatherback and hawksbill also nest on the wide beaches of the park.
Day 4: White water rafting & hot springs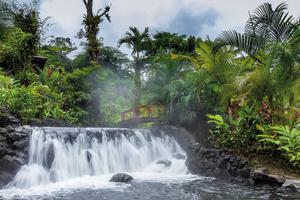 Travel to Arenal National Park stopping on route for some thrilling white water rafting down Class II and III rapids at La Virgen de Sarapiquí. Gaze up at the impressive rainforest which towers over the banks of the river, as you hurtle through the clear water, your heart pounding.
Check into the Arenal Manoa Hotel before heading to the Tabacon hot springs for some soothing bathing and dinner. The Tabacon hot thermal mineral springs form natural pools and cascades in the middle of the forest along a beautiful walking trail - they are unique to the area and offer the perfect spot relax immersed in nature.
Day 5: Visit La Fortuna waterfall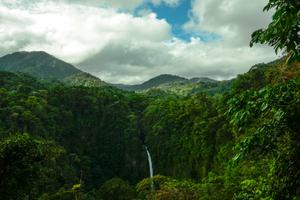 La Fortuna is a stunning 70m high waterfall, located in the Arenal Volcano National Park. Take a walk through the rainforest to these magnificent falls where you can take a dip in La Fortuna's cool, refreshing waters and enjoy the peaceful surroundings.
Next, it is onto Don Juan's farm to learn about sustainable agriculture and traditional sugar processing. Local farmer Don Juan will take you through his plantation and garden, sharing fruit you may never have come across before and giving you a chance to sample a local sugar cane liquor called "guaro". At the end of the tour, guests enjoy a delicious, healthy lunch prepared with fruits and vegetables found on the farm by Don Juan's family.
Day 6: Monteverde cloud forest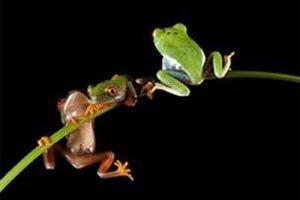 It's time to leave Adrenal National Park and head towards the Tilaran mountains to Monteverde cloud forest around 3 hours drive away.
This is one of the country's most famous places and a world-class example of conservation by a local community; its protected areas cover nearly 30.000 hectares of private reserves, including the Monteverde Cloud Forest, the Santa Elena Reserves and the Children's Eternal Rainforest.
Spend two nights at El Establo Hotel, tucked away in the cloud forest and known for its night walking tour. At nightfall, a new world awakes in the cloud forest and the wildlife becomes more active. From frogs to the mysterious nocturnal bats, a night walk in the reserve led by experienced local guides will give you an immersive experience and the chance to fully appreciate the nocturnal biodiversity of the tropical forest.
Day 7: Sky walk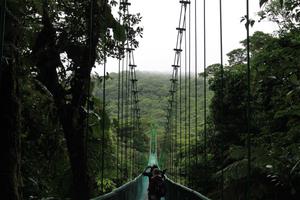 Explore the Monteverde cloud forest from above with a sky walking tour which combines trails with suspension bridges high above the canopy. Your guide will teach you about the flora and fauna of the area from orchids and bromeliads to trees draped in mosses and ferns, and for birders, keep an eye out for the stunning hummingbirds that frequent this area.
Day 8 - 10: Beach time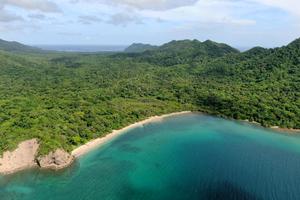 Leave the cloud forest behind and head to the sandy beaches of Playa Carrillo, on the Peninsula of Nicoya in Guanacaste, around 3 hours away. From the beach, you can see a gorgeous mountain range in the distance.
Spend 3 nights chilling at Nammbu hotel. Wake up to views of the white sandy beaches and turquoise waters below, head out snorkelling to explore the spectacular coral reef, swim in the warm sea waters, float gently in the infinity pool or enjoy a relaxing massage at the spa - pure bliss.
Day 11: San Jose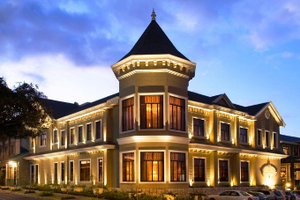 Return back to San Jose, the capital, before you head home tomorrow. The journey will take around 4 hours and you will then have the evening to explore the city's nightlife.
Stay at Grano de Oro Hotel & Restaurant where you spent your first night.
Day 11: Return home
Today you will be picked up from your hotel and transferred to Juan Santamaria International Airport for your flight back home.
---
Duration: 11 days
Location: Costa Rica Holidays, Central America Holidays
Price: £3896pp
From £3,896pp excluding international flights.
The trip includes all accommodation and activities specified above. Rooms and meals as below.
1 night at Grano de Oro Hotel - standard room, breakfast included
2 nights at Mawamba Lodge - standard room
2 nights at Arenal Manoa Hotel - junior suite room, breakfast included
2 nights at El Establo Hotel - deluxe room, breakfast included
3 nights at Nammbu Hotel - deluxe room, breakfast included
1 night at Grano de Oro Hotel - standard room, breakfast included
TAILOR MADE HOLIDAYS
Make this trip your own
Tailor this trip around your preferred dates, your budget and your ideas.