Machu Picchu ancient ruins and Uyuni Salt Flats
Adventure through Peru and Bolivia, unveiling ancient wonders of Machu Picchu and exploring captivating landscapes.
Embark on an exhilarating journey through the heart of Peru and Bolivia, where exploration and adventure await! Begin in Lima, Peru's vibrant capital, discovering historical gems like the Santo Domingo Convent and Lima Cathedral.
Fly to Cusco, the historic Inca capital, and venture into the captivating Sacred Valley, marveling at the archaeological wonders of Pisac, Chinchero, and Ollantaytambo. The pinnacle of the journey awaits at Machu Picchu, the legendary Lost City of the Incas.
Back in Cusco, witness the grandeur of Sacsayhuamán, explore bohemian San Blas, and visit the majestic Cathedral and Koricancha.
Continue your adventure, uncovering Tipon's hydraulic marvel and the Andahuaylillas chapel. Cruise Lake Titicaca to Moon Island and Sun Island before reaching La Paz, Bolivia's mesmerizing capital.
Get ready for a surreal adventure in Uyuni, which is home to the world's largest salt flat. A trip to Bolivia's mesmerizing Salt Flats takes you on a journey through a vast expanse of blinding white that stretches as far as the eye can see. After rainfall, the Salar de Uyuni transforms into a dreamlike realm that seems to blend earth and sky, making it an unforgettable encounter with nature's raw beauty. It's also a paradise for photographers.
Conclude with leisure time in La Paz, enjoying this incredible city with its stunning scenery and amazing cable car ride across its skyline.
Speak to an expert
I created this trip - call me to create yours.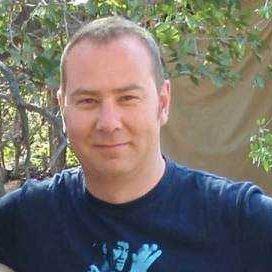 Alistair
Managing Director
The itinerary…
Day 1: Arrive in Lima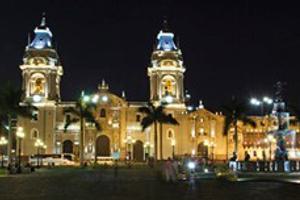 Welcome to Lima, the capital city on the shore of the Pacific Ocean. Upon your arrival, you will be met and at the airport and transferred to Villa Barranco where you will spend two nights.
Day 2: Explore the City of Kings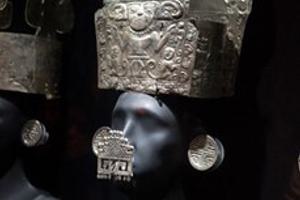 Begin your adventure by visiting the magnificent Santo Domingo Convent, a place rich in history, once transited by all the major Saints of Lima. From there, cross Lima's Main Plaza, featuring the Government and Municipal Palaces and the impressive Lima Cathedral. Next, head to the renowned Larco Museum, boasting an impressive collection of ceramic pieces depicting various aspects of ancient Peruvian life. A tasting menu and demonstration class with ceviche tasting is a particular highlight of the day.
Day 3: Head to Cusco and the Sacred Valley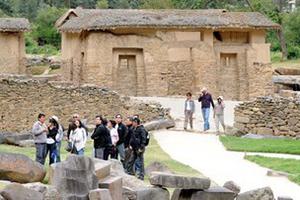 A flight to Cusco, the historic capital of the Inca Empire. Upon arrival, you will be escorted to your hotel Andenia Hotel Boutique in the enchanting Sacred Valley where you will be staying for two nights. On our way, stop at the majestic Inca site of Pisac, perched high above the village bearing the same name then continue to the traditional Pisac market, a delightful place to explore.

Day 4: The Sacred Valley of the Incas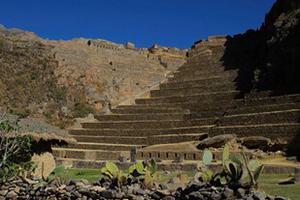 Today's adventure takes us to Chinchero, a charming and picturesque town in the Sacred Valley. The journey continues to Moray, an intriguing Inca archaeological site with colossal concentric terraces, resembling a grand amphitheater. There is also a visit to Maras, renowned for its salt mines. Indulge in a delightful lunch accompanied by a demonstration of Paso Horses and the Marinera dance.

Day 5: Machu Picchu, The Lost City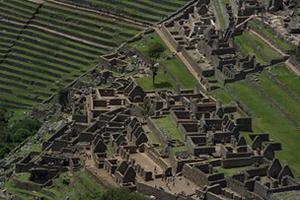 Leave by train to visit one of the Seven Wonders of the World - Machu Picchu, the Lost City of the Incas. The train ride will take you to this incredible ancient site, where terraces, stairways, ceremonial precincts, and urban areas will transport you back in time. After Machu Picchu return to your hotel in Cusco, X.O Art House hotel where you will spend two nights, where your bags will already be waiting for you.
Day 6: Cusco City
Today visit Sacsayhuamán, an impressive ceremonial fortress surrounded by beautiful landscapes in perfect harmony with its surroundings. Then, explore the Inca shrine of Qenqo, an ancient temple associated with sacrifices. Next, visit the Puca Pucará watchtower and Tambomachay, an architectural marvel and a significant part of the Andean worldview.
During an exclusive city tour, explore the artistic district of San Blas—a fascinating blend of Inca and Spanish culture. Also visit notable places like Plazoleta Nazarenas, the Cathedral with its colonial treasures, and the Koricancha, known as the Golden Temple for its lavishness.
Day 7: Tipon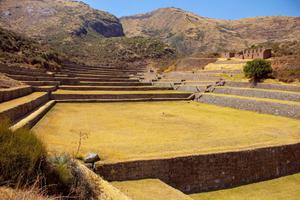 Visit the royal precincts and gardens of Tipon, a testament to the Incas' skillful water engineering. Witness fountains and canals that continue to carry water from underground channels. The area is still revered, and ancient water-related rituals are performed here.
On to the archaeological site of Pikillacta, a pre-Inca citadel with a variety of architectural structures. Finally, visit Andahuaylillas Chapel, known as the "Sistine Chapel of the Andes" due to its wall paintings and gold leaf decorations.
Day 8: Journey to the Andean Antiplano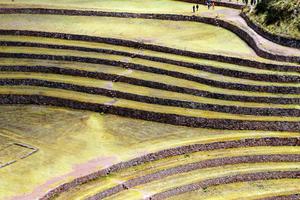 Depart to the airport to Puno, the "folkloric capital of Peru." Upon arrival, we'll escort you GHL Lago Titicaca Hotel where you will spend two nights. The afternoon is yours to relax.
Day 9: Sillustani: Pre-Incan Tombs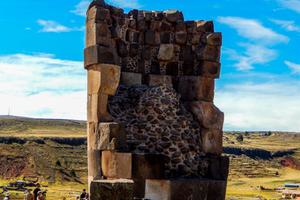 The day begins with a visit to Sillustani, the pre-Inca cemetery of the Hatun Colla chiefs, located on the shores of Lake Umayo. The funerary towers or Chullpas, reaching up to six meters in height, are a sight to behold. Explore the surprises that Lampa has in store for us, including the beautiful Temple of Santiago Apóstol, unique replicas of Michelangelo's Pieta, and a stroll through the town's charming streets, mansions, and municipality.
Day 10: Crossing Titicaca Lake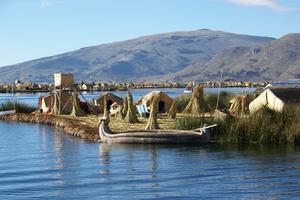 Journey by bus from your hotel to the picturesque village and harbour of Copacabana. There, visit the shrine and the Dark Indian Virgin, as well as the local market. Our hydrofoil cruise will then take us to Moon Island, to visit the Sun Virgins Temple, an important sacred place on Lake Titicaca. Continue to the Sun Island, explore the Inca "Grand Stairs" and the Sacred Fountain of eternal youth and happiness. Finally, cruise to Cocotoni Bay and take a short overland drive to Huatajata. From there, journey from Huatajata to your hotel Casa Grande in La Paz where you will spend three nights.
Day 11: Tiawanaku, Cradle of the Inca Empire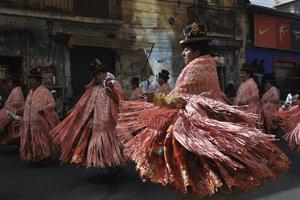 In the morning, visit the pre-Inca civilization of Tiawanaku, known as the cradle of the Inca Empire. Here, marvel at the remains of the Kalasasaya temple, monoliths, and the Sun Gate—magnificent stone structures with intricate reliefs and figures, showcasing their splendid grandeur.
In the afternoon, explore the indigenous, colonial, and modern areas of La Paz, including the Indian Market, Witch Doctor's Market, and breathtaking panoramas framed by the majestic Illimani mountain. We'll also visit the Moon Valley, a clay formation resembling the face of the Moon.
Day 12: Uyuni, the World's Largest Salt Flat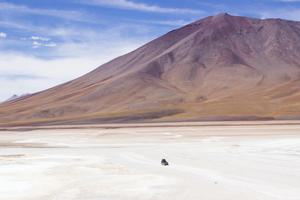 Today, transfer from your hotel to the airport for your flight to Santa Cruz. Upon arrival, staying at Luna Salada, kick off a fabulous excursion to the Uyuni salt flats and Incahuasi Island. Spanning an astonishing 12,000 square kilometres, the Uyuni salt flats create a surreal landscape where the sky and land seemingly merge, playing with your sense of perspective and imagination.
Day 13: La Paz at Your Pace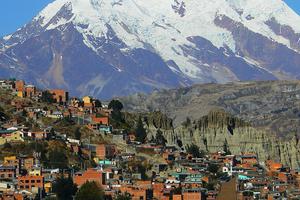 Today, you'll have the morning at your leisure to further enjoy the Uyuni Salt Flats. Later, we'll transfer you to the airport for your flight to La Paz, the rest of the day is yours to explore and relax.
Day 14: Departure from Bolivia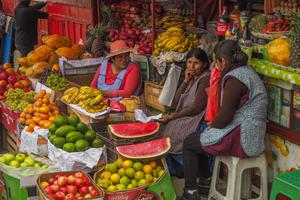 After breakfast, you have the morning to do any last-minute souvenir shopping in La Paz! As your extraordinary journey comes to an end, transfer to the international airport for your overnight flight back to the UK.
Day 15: Arrive home
As you land back in the UK, reminisce about all the incredible experiences you've had across Peru and Bolivia and start planning your next amazing adventure.
---
Duration: 14 nights
Location: Peru Holidays, South America Holidays
Price: £4795pp
From £4,795pp based on two people sharing excluding international flights.
This trip includes:
2 nights at Villa Barranco - deluxe room breakfast and lunch included
2 nights at Andenia Hotel Boutique - Superior room with breakfast and lunch included
3 nights at X.O Art House - Superior room with breakfast included
2 nights at GHL Lago Titicaca - Junior Suite with breakfast included
3 nights at Casa Grande - Executive room with breakfast included
1 night at Luna Salada - Standard room with breakfast and dinner included.
Includes internal flights and transfers.

Transfers, visits and excursions mentioned on the program are based on private services, including English-speaking local guides, except for:

The train and bus round trip to Machu Picchu
The Bus transfer from Puno
The Cruise Aliscafo
Tailor Made Holidays
Make this trip your own
Tailor this trip around your preferred dates, your budget and your ideas
Our Favourite Tailor-Made Peru Trips
Popular Peru Holiday Ideas
When to go to Peru
Peru is a country that can be visited year-round, as it has a diverse climate and a range of activities to suit every season. Here's a short month-by-month guide to help you decide when to visit:
Jan
Feb
Mar
Apr
May
Jun
Jul
Aug
Sep
Oct
Nov
Dec
Speak to a Peru expert today
Receive a detailed itinerary within 24 hours.
Alistair

Managing Director
Call an expert on
01768 603 715