Galapagos tortoises and spectacled bears galore
Discover unique endemic species like the blue-footed booby and the Galapagos tortoise, then head to Ecuador for a once-in-a-lifetime opportunity to spend several days with the famous spectacled bears.
The Galapagos islands offer endless opportunities to witness a unique clutch of animals and sea creatures in a setting unlike any other on the planet. This is one of the few places on earth that allows such close and intimate contact with wildlife. The Galapagos' relative isolation from other landmasses means there are a wealth of endemic species to be seen - from Galapagos tortoises to pale land iguanas to the islands' unique species of penguin. Experience guided viewings of these brilliant animals and then use your flexible time to spend on your own and explore the sand beaches and trails in the Galapagos forest.
Then, onto Ecuador, home to multiple different ecoregions with some of the most biodiverse and spectacular geography on the planet. Hike through the Bellavista Cloud Forest Reserve to spot as many incredible native birds and animals as you can. Spend the day with an indigenous family in the Amazon, learning about their customs, food, knowledge, and lifestyle. Head to Otavalo for a unique wildlife experience as you stake out and observe the spectacled bear in its natural habitat, and then watch the Andean Condor soar through the skies as they hunt.
This tour also provides many benefits to local communities and is socially and environmentally responsible.
Speak to an expert
I created this trip - call me to create yours.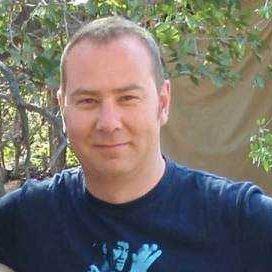 Alistair
Managing Director
The itinerary…
Day 1: Arrive in Quito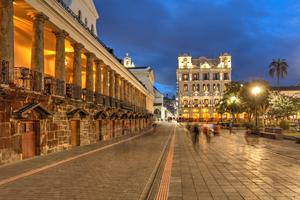 Welcome to Quito, located on the equator in a valley at the foothills of the Pichincha volcano. Declared a UNESCO World Heritage Site in 1978, it is considered to be amongst the largest, best-preserved colonial cities in South America. Depending on arrival time, you can drop your things off at the Wyndham Hotel where you will spend the night and then explore the old town of Quito and the surrounding area.
In the evening, you will meet your guide who will talk you through your adventure and answer any questions.

Day 2: Snorkelling around San Cristobal Island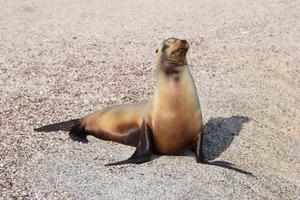 Journey to the Galapagos Islands where Charles Darwin came up with his theory of the evolution of species. After a morning flight from Quito to the island of San Cristóbal, you will be transferred to the hotel Blue Marlin Inn where you will stay for two nights in the town of Puerto Baquerizo Moreno.
In the afternoon you will head to La Loberia beach, home to large Galapagos sea lions. You will also get to see yellow warbler birds, blue-footed boobies, and several species of Darwin's finches along the beach.

Day 3: Española Island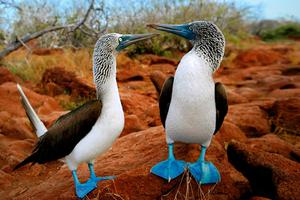 Today you will head to Española Island. Despite being uninhabited, it is home to a fascinating array of endemic species, including the Hispaniolan mockingbird, marine iguana, albatross, and pinnipeds.
At the western tip of the island, Punta Suarez offers a two-kilometre tourist trail dominated by blue-footed booby nests, so be careful of your step!
See the colony of Galapagos albatrosses and visit the Hollow Blower - a water phenomenon created by pressure, caves, and ocean tides that resemble a geyser.

Day 4: Isabela Island and Tintoreras

In the morning, hop to Isabela Island, the largest island in the archipelago. Explore the beautiful coastline where you can spot a wide variety of wildlife including flamingos and amazing swimming marine iguanas.
Visit the Arnaldo Tupiza Tortoise Breeding Centre, which preserves and breeds five native subspecies of Galapagos Giant Tortoises that are threatened by other animals and volcanic eruptions.
Finally, head to Tintoreras Islet, home to white-tipped reef sharks, Galapagos Penguins, marine turtles, and sea lions.

Day 5: Explore the Lava Tunnels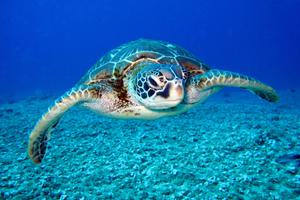 Explore the amazing formations of lava created by the last eruptions of the volcanic island along the seashore. It is a labyrinth of lava arches comprised of crystal-clear water full of sea turtles, eagle rays, sea lions, sharks, and more. The turtles navigate their own highway from the mangroves to the open sea through "Los Tuneles". Here, we will have the best snorkelling opportunity with all these beautiful animals, including the curious Galapagos penguins playing around.

Day 6: Santa Cruz Island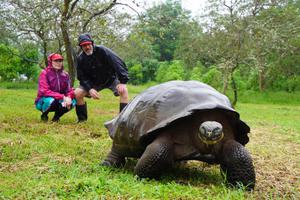 Off to Santa Cruz Island to visit the Charles Darwin Research Station to learn about the ongoing conservation and management efforts in the Galapagos.
Then, head to the 'El Chato' reserve in the highlands of Santa Cruz, home to the famous Galapagos tortoises.
Try to spot various highland birds such as pintail ducks, egrets, and flycatchers, which gather to wash the salt off their feathers at a fresh water lake.

Day 7: Santa Fe Island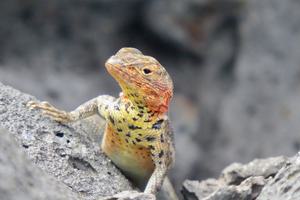 Heading to Santa Fe island, you will journey along the northwest point, where you will see a beautiful turquoise bay with two white sand beaches populated by sunbathing sea lions.
Look out for: Santa Fe lava lizards, Darwin finches, Galapagos doves, Galapagos snakes, rodents, and sometimes the Galapagos hawk as it hunts for prey. The star of the island is the pale land iguana, which is only found on Santa Fe.

Day 8: North Seymour Island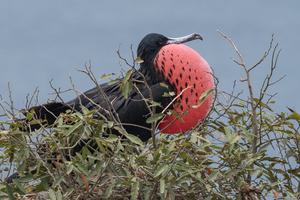 Today there is the rare opportunity to observe a colony of frigate birds nesting in the bushes near the trails of North Seymour Island. During mating season, male frigate birds inflate their vibrant red gular sack to attract females.
Further along, you can see blue-footed boobies incubating eggs and nurturing their chicks, while the juveniles undergo flying and fishing training.
You may also see land iguanas, Darwin finches, lava herons, and sally light foot crabs.

Day 9: Return to Quito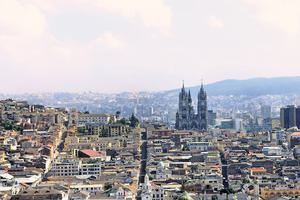 After your final breakfast on the Galapagos Islands, take some photos of sea lions. Then, you will transfer to Baltra's airport in time to catch the flight back to the mainland.
Head to the five-star Swissotel to relax or if there is time, you can spend the afternoon exploring the city.

Day 10: Bellavista Cloud Forest Reserve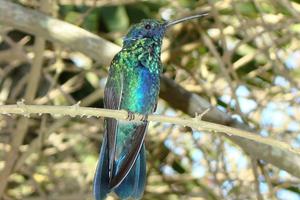 Head for the Antisana volcano. You can take a short walk to try and spot the massive Andean Condors in their natural habitat.
After this, off to the cloud forest for another hike for excellent birdwatching opportunities.
Head back to the lodge where you will stay two nights to have lunch and take off on a second hike to look for more animals, including the relatively newly discovered olinguito, a relative of the racoon.

Day 11: Bellavista Cloud Forest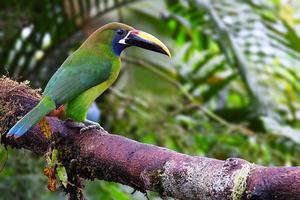 For those who are birdwatching fans, this is the perfect location to see some amazing birds and unique mammals. You should also be able to spot a Kinkajou, a possum-like creature or the equally unique Tayra, which is similar to a weasel or a marten.
Visiting the Bellavista Cloud Forest Reserve for two days gives you the opportunity to observe and photograph a variety of rare animals and birds that you will likely not find anywhere else.

Day 12: Sacha Warmi to the Cuicocha Crater Lake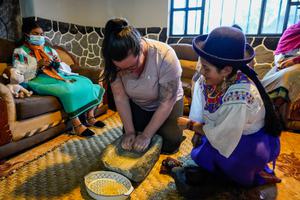 Off to Pijal, a small village located in the heart of the Andes to visit with the operators of a project called Sacha WarmiKuna (women from the mountain). This is one fantastic effort developed by the local women with the main purpose to support their families and elevate the position of the women in the local society, providing them an alternative income and work beside housekeeping.
Once at the project you will experience an unforgettable cultural encounter, immersing yourself in the true spirit of the South-American woman and their skills for textiles and a deep culinary knowledge coming from the past generations. Later head over to the magnificent Cuicoch Lake.

Day 13: Spectacled Bear watching begins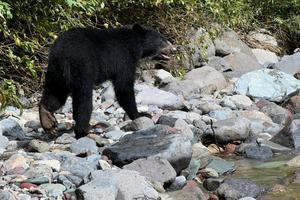 After breakfast, you will head to the cloud forest to start your adventure of watching and tracking the spectacled bear population. You will go to a viewpoint to try and spot them from the distance, as we know where they feed, this will be more likely to happen when the fruit season start and the bears head to the trees.
Note: This day is a full-day experience of walking. It is important to be patient while waiting for the bears to appear so you can get the best possible sighting of them without scaring them off! After this, you will head to a homestay where you can enjoy your dinner and rest.

Day 14: Spectacled Bear watching continues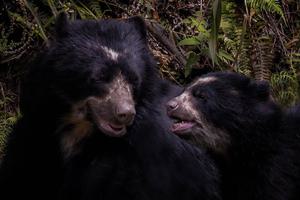 Once again, you will wake up early in the morning, enjoy your breakfast and head down the path to get close to the bears, up to 100 metres (328 ft) away. You will have the chance to watch them eat, climb trees and be part of their daily activities for a few hours before heading back with the great memories of being one of the lucky people that have had the chance to spend time with this magnificent and charismatic mammal.
This will be your last night at the homestay where you can share experiences of this amazing bear-watching experience.

Day 15: Spectacled Bear watching final day then Otavalo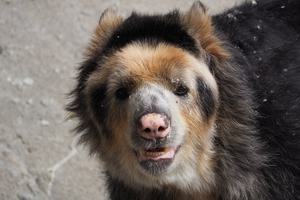 It is the last day of your bear-watching adventure so you will once again wake up early in the morning, enjoy your breakfast and head down to a path to get close to the bears, repeating the activities of yesterday.
Later, it is time to go to Otavalo where you will stay at Hacienda Zuleta for two nights.

Day 16: Andean Condor Project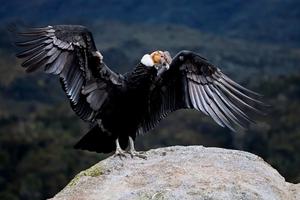 Today you will have the opportunity to watch the official bird of Ecuador, the Andean Condor. You will find this magnificent bird close the Hacienda where they have a project to protect the species. You may see them flying around the forest or even standing on a tree.
This condor holds the title for having the largest wingspan of any bird in the world, reaching up to 3.2 metres (10.5 feet). Additionally, it is known for being one of the longest-living bird species, with some individuals reaching an impressive age of over 70 years. Their size makes them easy to spot as you look around.

Day 17: Fly home
Today you will catch your flight home, taking with you memories and photos of this enchanted land.

---
Duration: 16 nights
Location: Galapagos Holidays, South America Holidays
Price: £8347pp
From £8,347 pp based on two people sharing excluding international flights to Quito.
The trip includes all accommodation and activities specified above. Rooms and meals as below:

1 night at Wyndham Airport Hotel - standard room, breakfast included

2 nights at Blue Marlin Inn - standard room, breakfast and lunch included.
2 nights at Isamar Hotel - standard rooms breakfast and lunch included.
3 nights at Ikala Galapagos Hotel - standard room, breakfast and lunch included.

1 night at Swissotel or similar - standard business room, breakfast included.

2 nights at Bellavista Cloud Forest Lodge - standard room, all meals included.

1 night at Hacienda Piman - standard villa, breakfast and lunch included.
2 nights at a homestay, all meals included.
2 nights at Hacienda Zuleta - standard room, breakfast included.

Also includes
Internal flight from Quito to Galapagos and transport around Galapagos and Ecuador.
Certified English-speaking expert adventure leader and local guides in Galapagos National Park.
This trip excludes:
Single Supplements.
International flights to Quito.
INGALA transit card: USD $20 per person, cash only (subject to change).
Park fees.
Tailor Made Holidays
Make this trip your own
Tailor this trip around your preferred dates, your budget and your ideas
Tailor-Made Galapagos Holidays
Popular Galapagos Trip Ideas
When to go to the Galapagos Islands
Find out the best time to visit the Galapagos with our month by month guide.
Jan
Feb
Mar
Apr
May
Jun
Jul
Aug
Sep
Oct
Nov
Dec
A detailed itinerary in 24 hours
Start planning your tailor made holiday with Far & Wild. We're open 08:00 to 19:00
Ali

Indian Ocean Specialist
Call an expert on
01768 603 715