Explore an endemic wildlife haven
Discover incredible, unique wildlife from Galapagos penguins and land iguanas to Darwin's finches, blue footed boobies and giant tortoises.
This compact Galapagos trip gives you all the highlights whilst staying onland in the comfort of your hotel. You will have the opportunity to swim with Galapagos penguins, snorkel with turtles in the lava tunnels, spy land iguanas soaking up the sun, hike active volcanoes and stroll along pristine sandy beaches. You will see an incredible variety of birds and will be surprised by how fearless the wildlife on this archipelago is.
You will visit the Charles Darwin Research Center where you can learn about the conservation and management of the Galapagos Islands and can visit the giant tortoise breeding centre. A final highlight is visiting the wild and uninhabited Bartolome Island famed for its pinnacle rock.
As well as exploring the wildlife haven that is the Galapagos, you will also get to discover the old town of Quito, a UNESCO World Heritage Site.
Speak to an expert
I created this trip - call me to create yours.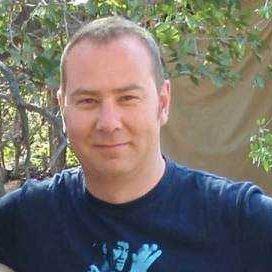 Alistair
Managing Director
The itinerary…
Day 1: Bon voyage!
Prepare for the trip of a lifetime as you board your international flight to Ecuador and begin your journey to the inimitable Galapagos Islands.
Day 2: Arrive in Quito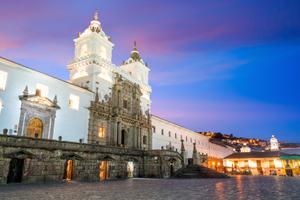 On arrival at Quito, you will be met and taken to your hotel, Plaza Grande Hotel.
Depending on your arrival time, you can spend the day exploring the old town of Quito which is a UNESCO World Heritage Site, and considered the cultural capital of South America.
In the evening you will meet your guide and have a chance to ask any questions about your upcoming trip.

Day 3: The Galapagos Islands!
Today you will head to Isabela Island in the Galapagos. You will board a morning flight from Quito to the island Baltra, where you will then take a boat to Isabela Island, the largest of the archipelago and where more volcanic activity is reported. You will spend three nights here in the Iguana Crossing Boutique hotel, Isabela's newest and most innovative hotel which is located directly on Isabela's expansive white sandy beaches with an ocean-view pool.
The afternoon is yours to explore the island - there is a wonderful giant tortoise breeding center within walking distance from the hotel.
Day 4: Snorkel at Lava Tunnels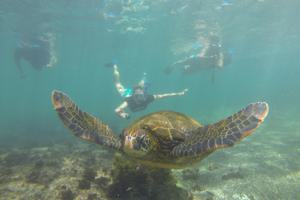 Today you will explore the amazing formations of lava created by the last eruptions of the volcanic island along the seashore. This magical place has been filmed by the BBC and National Geographic for their documentaries. It is a labyrinth of lava arches filled with crystal clear water full of sea turtles, eagle rays, sea lions, sharks and more - a snorkelling heaven. The turtles navigate their own highway from the mangroves to the open sea through "Los Tuneles". You might also spot the Galapagos penguins playing around.
You will also have the time to explore the island by bike or relax on Isabela's white sandy beaches.
Day 5: Hike, Kayak and Snorkel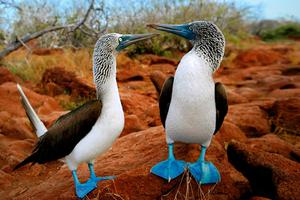 Today you hike through a young forest ecosystem to the rim of Sierra Negra Crater, an active volcano which last erupted in June 2018. You will be greeted by breathtaking views and have a chance to explore the circumference of the massive, lava-filled crater; a caldera that is over six miles across at its widest point. There will be the option to continue hiking to Volcan Chico, a secondary crater that has a wild landscape of puffing fumaroles and colourful lava formations; great examples of the dramatic geological events that have formed the Galapagos Islands over millennia.
In the afternoon you will visit Tintoreras Islet by kayak, located a short distance from Puerto Villamil and home to a great variety of wildlife. Its turquoise, crystalline waters are inhabited by white-tipped reef sharks, Galapagos Penguins, marine turtles and sea lions. One of its beaches is surrounded by mangroves and is one of the few sites where marine iguanas can reproduce successfully.
Day 6: Santa Cruz Island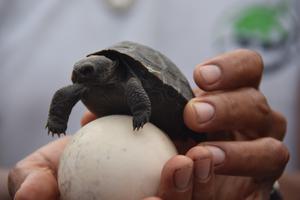 In the morning, you will travel from Isabela to Santa Cruz Island where you will check into Finch Bay for two nights. Finch Bay is designed to blend in seamlessly with its surroundings and is a wonderful place to relax.
You will then visit the Charles Darwin Research Station to learn more about many of the endemic species seen in the wild, as well as the ongoing conservation and management efforts on the Galapagos Islands.
In the afternoon, you will head to the 'El Chato' reserve in the highlands of Santa Cruz, home to the famous Galapagos tortoises. Hiking through El Chato's beautiful landscape with these lumbering giants is an unforgettable experience. You will also spot wildlife such as pintail ducks, egrets, flycatchers, finches and frigatebirds, which gather to wash the salt off their feathers at a freshwater lake. Afterwards, return to Puerto Ayora to spend the evening in Galapagos' most populous town.
Day 7: Uninhabited Bartolome Island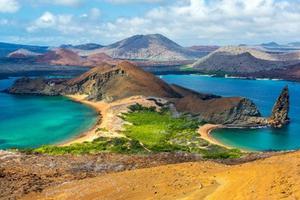 An early morning set off to board the yacht to Bartolomé island. Bartolome Island has the most spectacular scenery around the Archipiélago and is the most photographed island. Upon arrival, you climb a wooden staircase to the summit where you will be greeted by views of two beautiful bays and fascinating formations of lava and volcanic cones.
The biggest attraction of this island is the Pinnacle Rock. This is a huge black lava formation that has eroded over time. It was created as a result of a volcanic eruption and when the fiery lava reached the ocean, it cooled forming a striking rock composed of thin layers.
Bartolome Island is the perfect place to observe Galapagos penguins swimming in turquoise waters. You will also find sea turtles nesting, Galapagos sharks and mating green sea turtles (Jan-March).
Day 8: Goodbye Galapagos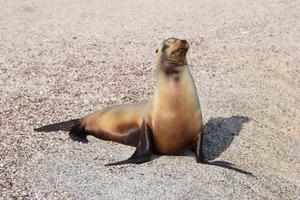 After our final breakfast on the Galapagos Island and the last photos taken of sea lions, you will take a boat back to Baltra's airport in time to catch the flight back to the mainland. Spend the night in Plaza Grande Hotel in Quito.
Day 9: Leaving Ecuador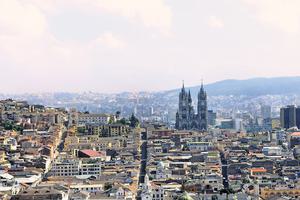 After breakfast, spend any free time exploring Quito and finding trinkets to take home. Transfer to the airport and board your international flight back home.
Day 10: Hometime
As you journey back to your home country, revel in the incredible once-in-a-lifetime adventure you have taken.
---
Duration: 9 nights
Location: Galapagos Holidays, South America Holidays
Price: £5725pp
Price from £5,725pp including domestic flights. Excluding international flights.
Includes all activities as listed and all meals as follows:
Day 2: Breakfast
Day 3: Breakfast & lunch
Day 4: Breakfast & lunch
Day 5: Breakfast
Day 6: Breakfast & lunch
Day 7: Breakfast
Day 8: Breakfast
TAILOR MADE HOLIDAYS
Make this trip your own
Tailor this trip around your preferred dates, your budget and your ideas.