Our Specialists Say:
Action packed honeymoon exploring the best of Oman's Hajar Mountain Range
A luxury honeymoon staying at one of the finest hotels in the country, Alila Jabal Akhdar, a unique property 2000 metres above sea level in Oman's Hajar Mountain range. This property captures the hearts of newlyweds with the incredible views and luxurious surroundings, creating a paradise in the rugged desert terrain. You will enjoy action-packed days exploring the oldest and most historical destinations the mountains have to offer, as well as time to unwind in the opulent poolside surroundings. If you want a luxury honeymoon off the beaten track away from the traditional beach side clichés, and have an experience of a lifetime, then this is the holiday for you.
Speak to an expert
I created this trip - call me to create yours.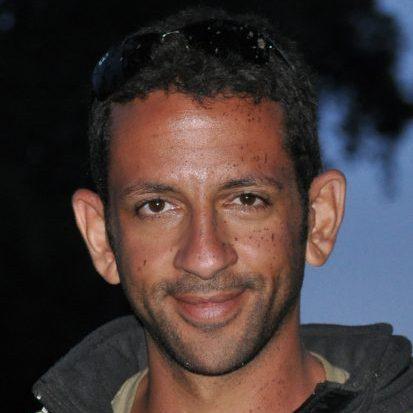 Ben
Middle East Specialist
The itinerary…
Day 1: Take to the Skies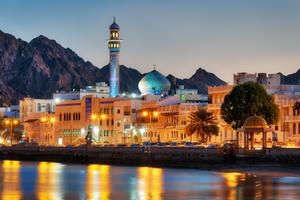 Board your overnight departing flight to Muscat, via Doha.
Day 2: Into the Hajar Mountains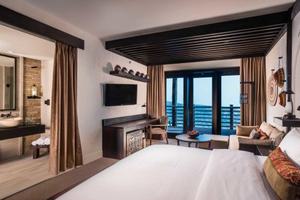 Arrive into Doha and get your connecting flight to Muscat.
On arrival in Muscat you will be greeted by your English-speaking local driver-guide for a 4x4 transfer to Alila Jabal Akhdar in the stunning Hajar Mountains. You'll travel via Nakhl, Wadi Bani Awf and Bilad Sayt, a beautiful journey surrounded by rugged landscapes.
You'll be staying here for the next five nights in a large mountain view suite, perched 2000 metres above sea level. Take the rest of the day to relax and recuperate from your journey.
Day Three: Fortresses and Castles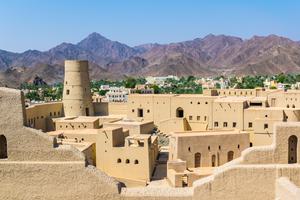 For the next two days you'll have a private guided tour of the historic sites in the mountains. Today it's Bahla Fort, one of the oldest and biggest forts in Oman, and the only one in the whole country to be listed as a UNESCO World Heritage Site.
This afternoon you'll visit Jabreen Castle, a very different experience from the typical Omani fort you saw this morning. Jabreen was built in peacetime by a ruler who was passionate about science and art, and this has made it the most beautiful historic castle found in the Sultanate. The perfect romantic location to finish a day of exploration.
Day 4: Remote Mountain Villages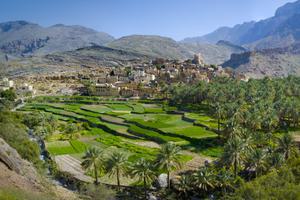 On your final guided tour day you will be guided around the mountain highlights, exploring the history of Omani people. First stop is the Misfah area which has a 300-year history of human settlement and agriculture, best known for its incredible mud architecture.
In the afternoon you'll visit Wadi Bani Awf, a large area covering several villages and lots of unique attractions, including the well known Snake Canyon, a natural water park with smooth rock slides, deep pools to jump into, and waterfalls. If you're more of a land-lubber Wadi Bani Awf offers the best off-road driving you'll experience in the country, with beautiful scenery, stunning cliffs and canyons.
To wind down after your adventurous day, you'll visit Balad Sayt to discover the true essence of Arabia. Nestled at the foot of the Hajar Mountains, this remote fairy tale village is one of the most picturesque settlements in the country.
Day 5: Butterflies and Via Ferrata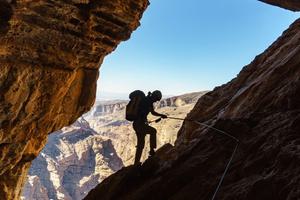 Today you might like to relax and explore the surroundings close to Alila Jabal Akhdar. The 3km butterfly trail is a popular option, taking in interesting geology, and great for fossil hunting, bird watching and butterfly spotting. If you still have energy to burn, try the 'Introduction to Via ferrata' and see the ridges and mountains from a completely different perspective.
In the evening you may like to sit and learn about the constellations and ancient stories of the night time sky, as you gaze at the stars, planets and galaxies in one of the world's clearest skies free of light pollution. Observe the sky from the cliff top on your final night in paradise, romance at its finest.

Day 6: And Relax...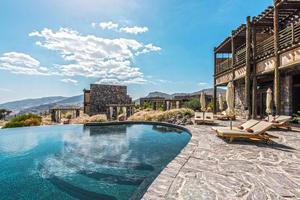 Your final full day, this is your chance to relax in the luxurious surroundings as honeymooners. Sip on cool cocktails as you lounge in the infinity pool, taking in the serene panoramic views, before heading to the spa for a spot of pampering.
Day 7: From Mountains to Muscat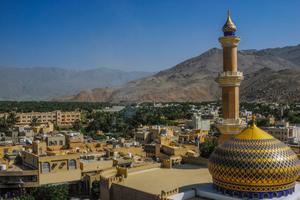 After breakfast at Alila Jabal Akhdar, you'll make the scenic road journey back to Muscat. If you choose you can take a detour to Nizwa Fort, exploring the ancient city, its majestic fort and winding souks.
Arrive at Muscat, check in for your flight to London via Doha and say your final goodbyes to Oman.
Day 8: Welcome Home Newlyweds
After arriving at Doha early morning, you will depart on your evening flight home as a happily honeymooned couple.
---
Duration: 7 nights
Location: Oman, Middle East
Price: £2270pp
Our 'Oman Honeymoon' includes internal domestic flights, accommodation, daily meals and drinks, road transfers, tours as indicated. International flights are excluded.
Tailor-made Holidays
Make this trip your own
Tailor this trip around your preferred dates, your budget and your ideas.
OUR FAVOURITE TAILOR-MADE TRIPS AND EXPERIENCES
Explore our innovative and best value bespoke holiday ideas...
Our favourite Oman hotels
Plan your holiday to Oman with these Far & Wild favourites
Plan with an Expert
Have a look at our original holiday experiences and then contact us with your brief, or call 01768 603 715
A detailed itinerary in 24hrs
Our experts will send you a detailed holiday itinerary within 24 hours. It's our service promise to you.
Value Guarantee
Tailor-made doesn't mean expensive! Ask about our price promise and book with financial security.
A detailed itinerary in 24 hours
Start planning your original holiday to Oman by contacting one of our experts

Call an expert on
01768 603 715