Month by month guide of when to go
For the majority of those visiting the 'land of a thousand hills' the main attraction is the opportunity to spend an hour with one of our closest relatives, the mountain gorillas who live in Volcanoes National Park. Rwanda is a year-round destination and trust us, there is plenty to see and do in this small yet incredibly remarkable country. With three beautiful national parks to explore with plentiful wildlife, a remarkable culture to experience and a quickly growing tea and coffee industry to indulge yourself within.
Rwanda has four seasons which can be distinguished by; a short dry season, a short wet season, a long dry season and a long wet season.
Long dry season – June to October
Short dry season – December to February
Long wet season – March to June
Short wet season – October - December
Although gorilla trekking is a year-round activity, it is by far more popular during the marked short and long dry seasons as the mountain forests are a more manageable hike. But don't let this deter you from visiting in other months. Gorilla trekking permits are more readily available (although still need to be booked in advance) and lodges will have more availability – with the possibility of offering some great offers.
Below is a summary of when to visit, but for a more detailed month by month guide keep scrolling and speak to one of our Rwanda experts.
Best time to go gorilla trekking – June to September & mid-December to February
Best time to go chimpanzee trekking – February to June & September to December
Peak season – June to September/October – generally dry seasons
The long dry season in Rwanda with beautiful weather. Gorilla trekking is very popular during these months and permits may have to be organised way in advance to secure the correct dates and accommodation in the best lodges. Big five wildlife viewing in Akagera National Park is best during this time as game will congregate around reliable water sources.
This is the perfect time to combine a primate safari in Rwanda and experience the wonders of the Great Migration in the Serengeti and Masai Mara - Find out how
Shoulder season – December to February and May
The short, dry months – yes, there can be rain – this is a country located on the equator after all so be prepared for rain throughout the year regardless. The national parks and forests will be much quitter compared to the peak season with primate trekking permits, the best accommodation more readily available and if you're a keen photographer you may even prefer the mixed weather as the skies can produce some remarkable lighting.
Low season – March, May & October, November – generally wet seasons
Rains can be heavy making these the wetter months to visit. Gorilla trekking is more muddy and can lead to much longer hikes compared to the long dry season. But don't let this put you off completely as permits can be more readily available (perhaps even at a discount) and lodges will have more availability. These are better months for chimpanzee trekking as the primates don't tend to wander as far, making it easier for the expert guides to locate them.
OUR FAVOURITE TAILOR-MADE RWANDA TRIPS
Popular Rwanda Holiday Ideas
Speak with a Rwanda expert
Start planning your dream holiday today.
Alistair

Rwanda Specialist
Call an expert on
01768 603 715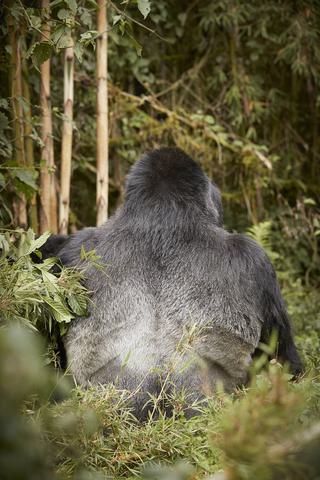 January
January is part of the shorter dry period between December and continuing into February and is a great time for gorilla trekking and reasonable for chimpanzee trekking. Generally, weather will be warmer, drier and sunny but don't discount refreshing light rainfall.
Remember gorilla trekking occurs in a rainforest, weather can be unpredictable so rain can come at any time.
For those looking for active past-times, Lake Kivu in northern Rwanda has a plethora of hiking trails, biking routes as well as activities in hippo free waters such as kayaking.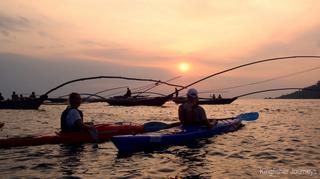 February
February is much like January weather-wise, and is coming to towards the end of the shorter dry season. Gorilla and chimpanzee trekking is very good at this time of year making for a great primate safari combination.
There is also good big-five game viewing in Akagera National Park as the wildlife begins to congregate around waterholes.
The dry terrain makes exploring, trekking, climbing, cycling and canoeing great experiences around the Lake Kivu region.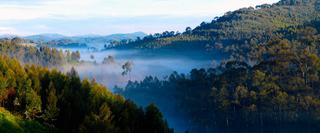 March
If chimpanzee trekking is high on your bucket list, March is an exceptional time to visit Rwanda's Nyungwe Forest as the primates tend to wander the forest less making locating them a little easier.
It's the start of the 'long rains' which can be heavy and persistent but can stop as suddenly as it starts. With the rains, the rainforests flourish, flora blooms but remember, with rain comes mud. Hiking can be difficult and some of Rwanda's unpaved roads will be tricky to navigate. It's not the best month to travel but if you willing to accept that it will probably rain, there are plenty of reasons to still travel. Gorilla trekking may be a muddy affair in Volcanoes National Park, but the gorillas will tend to stick to lower slopes meaning less distances to hike.
Weather will tend to still be warm, but certainly more humid with evenings being cool and refreshing.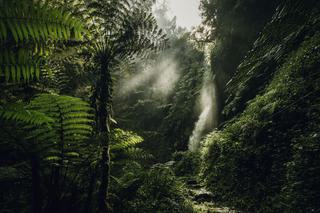 April
The peak of the long-rains. This is probably the only month where we would not advise to go gorilla trekking for everyone except the most adventurous and determined. For those still wanting to go, expect tough, muddy and slippery conditions. On the plus side, trekking permits are readily available as is accommodation at Rwanda's stunning lodges.
Chimpanzee trekking, although muddy, is at its best at this time of year with the chimps sticking close to the forest floor and feeding on an abundance of fruit. It's also a great time to visit the plethora of tea plantations around the Nyungwe region – imagine having the perfect cuppa after spending the morning in search of chimpanzees, marvellous.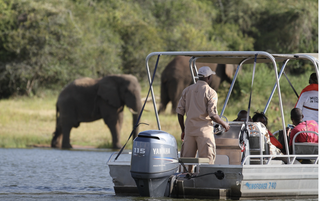 May
The long-rains begin to ease, forests and national parks are lush, vibrant with newly born animals a plenty especially in Akagera National Park, making it a great time to try a more traditional 'big five' safari in Rwanda. Read more about Akagera National Park.
Hiking during gorilla trekking experiences can be shorter as the gorillas tend to stick to lower slopes where it is warmer and food is more available. Chimpanzee trekking is also good as they tend to stick to the forest floors gorging on tasty fruits and figs.
Rain can and will occur during May so be prepared.

June
June marks the beginning of the long-dry season and the peak time to travel. But don't be deceived, a dry season in Rwanda isn't the same as a dry season in the Masai Mara. You're in a mountainous, equatorial country awash with beautiful rainforests so be prepared for a little rain whenever you travel to Rwanda.
June is the start of prime gorilla trekking season with paths becoming easier to traverse, it is warmer with more hours of sunshine than not. Temperatures will be warm, it will be bright and sunny but with any country located on the Equator, there can still be a chance of rain.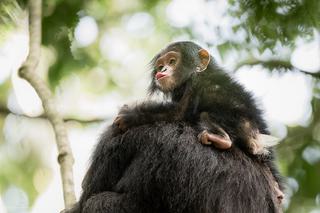 July
Is this the best month to visit Rwanda? Maybe, just maybe. Gorilla trekking has become much easier, the national parks begin to dry so wildlife congregates around water sources.
It's the peak of the peak season, across Europe and North America it's the start of summer and summer holidays, so if you want to travel at this time of year, planning well in advance is highly advisable with primate trekking permits and the best accommodation often being booked up to 18 months in advance.
At Far and Wild, we're experts at creating a seamless safari experience – between July and September is the perfect time to combine primate trekking in Rwanda and experiencing the famed river crossings of the Great Migration in the Serengeti and Masai Mara.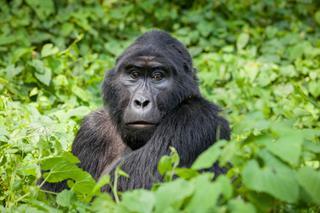 August
It's warm, mostly dry and like July is a very popular time of year to travel – it's the best time of year to see mountain gorillas in Volcanoes National Park as trekking is over firmer ground and big game in Akagera National Park congregate around water holes in higher concentrations.
Chimpanzee trekking can be difficult and long during the peak months as the chimps will often travel to high slopes in search of food, which can make for exceptionally long hikes.
As with July, August can be busy so to avoid disappointment, speak with us soon to arrange your awe-inspiring gorilla trek to Rwanda.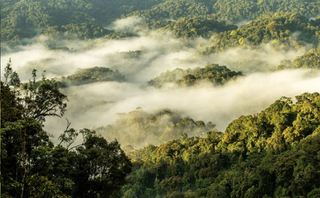 September
We're coming towards the beginning of the end of the long, dry season. Temperatures remain warm but humidity will be increasing as the chance of rain also increases, but this is still peak season so planning sooner rather than later is still highly advisable.
September also sees the naming ceremony for young gorillas, known as Kwita Izina. It's a ceremony which happens annually, recognising Rwanda's remarkable conservation efforts and celebrating the birth of the next generation of wildlife.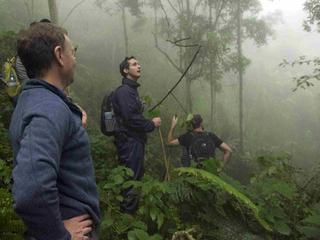 October
The beginning of the short rains, marked by short burst which clear quickly, making it an excellent time for photographers who like to work with different light and capture evocative images with moody skies. Spectacular mists drift slowly through rainforest valleys, trees and plants flower which means that bird and butterfly activity is stunning at this time of year.
Gorilla trekking is still excellent at this time of year and expect it to be less busy than during the peak season due to higher chances of rain but also expect slightly more difficult trekking conditions. Photographers can be well-rewarded with stunning images of gorillas in the rain… or even in the mist…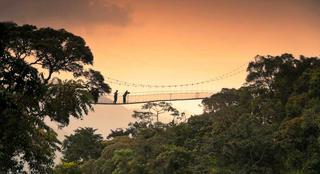 November
The continuation of the short rains and very similar to October. But rains can come at any time of year so be prepared regardless of which month you travel. As with October, travelling as a photographer during November can be exceptionally rewarding; vivid, green foliage making stunning contrast with the fuzzy black gorillas... and just like humans, humidity effects gorillas so you may capture images of them with stunning, frizzy hair. Trekking during November can be tricky, so be prepared for muddy conditions.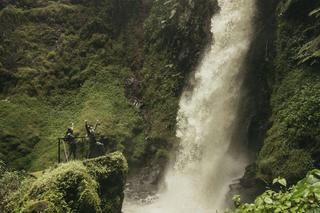 December
The beginning of the short dry season, rainforest paths become easier to navigate meaning more ground can be covered in search of both gorillas in Volcanoes National Park and chimpanzees in Nyungwe Forest. It's also a splendid month to visit the sandy beaches of Lake Kivu and see the singing fisherman head out on their nightly forays on the lake – a sight not to be missed. December can be considered a peak month so plan early to avoid disappointment but what better way to spend Christmas than in the company of gorillas.
Start planning your dream holiday
Speak with a Rwanda expert
Alistair

Rwanda Specialist
Call an expert on
01768 603 715