Our specialists say
The Rongai route approaches Kilimanjaro from the north and is far less busy than the more well established routes.
The Rongai route is the only trail that approaches Kilimanjaro from the north, close to the Kenyan border, and has gained popularity due to the low volume of traffic it gets compared to other routes. It is also a good route to choose if you plan to climb the mountain during the wet season as the north side of the mountain generally receives less rain than the south.
Although the scenery is not as varied as the western routes, Rongai makes up for this by passing through true wilderness areas for days before joining the Marangu route at Kibo camp. This route descends down the Marangu trail. Rongai is a moderately difficult route, and is highly recommended, especially for those with less mountain trekking experience.

Speak to an expert
I created this trip - call me to create yours.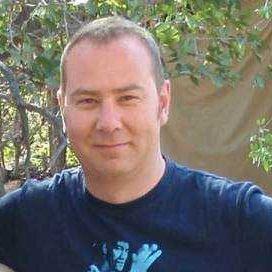 Ali
Tanzania Specialist
The itinerary…
Day 1: Time to fly off on your adventure
Overnight flight to Kilimanjaro
Day 2: Arrive at Kilimanjaro International Airport where your adventure begins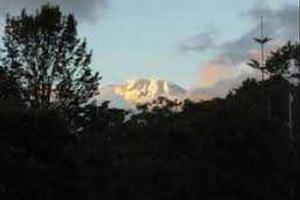 At the airport you will be greeted by one of our representatives who will proceed to drive you to Moshi and the Protea Aishi Hotel. Here you can spend the rest of the day relaxing after your flight, enjoy a swim in the pool and get a good nights sleep before you head off on your climb the following day.
Day 3: Rongai Gate to Rongai Cave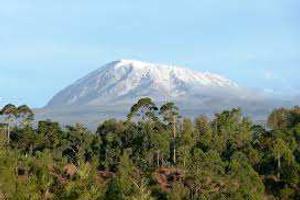 After an early breakfast you will be taken to Marangu Gate in Kilimanjaro National Park to collect permits and then on to Rongai Gate where your trek starts. The path winds through farmland and then climbs gently through the a pine forest which is home to a variety of wildlife, including the black and white colobus monkey. You will reach the first campsite by late afternoon at the edge of the moorland zone at about 9'300ft (2600 meters)
Elevation: 6,398 ft to 9,300 ft
Distance: 8 km/5 miles
Hiking Time: 3-4 hours
Habitat: Rain Forest

Day 4: Climb to Kikelewa Cave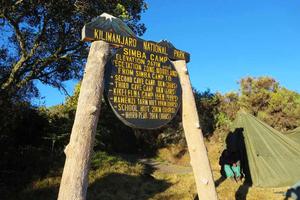 The morning walk is a steady ascent up to 'Second Cave' with superb views of the Eastern icefields on the rim of Kibo, the youngest and highest of the three volcanoes that form the entire mountain. After lunch, we leave the main trail and strike out across the moorland on a smaller path towards the jagged peaks of Mawenzi, the second of Kilimanjaro's volcanoes. Our campsite, which we reach in late afternoon, is in a sheltered valley near Kikelewa Caves.
Elevation: 9,300 ft to 11,811 ft
Distance: 6 km/4 miles
Hiking Time: 7-8 hours
Habitat: Heath
Day 5: Kikelewa Cave to Mawenzi Tarn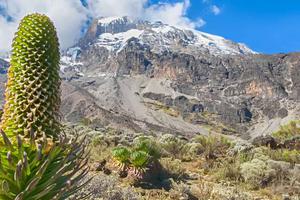 This is steep climb up grassy slopes but you are rewarded by stunning views across the wilderness over the Kenyan plains to the north. As you will leave the moorland zone and enter the alpine zone the landscape changes dramatically. The afternoon will be free to rest or to explore the surrounding area as an aid to acclimatization.
Elevation: 11,811 ft to 14,160 ft
Distance: 5 km/3 miles
Hiking Time: 3-4 hours
Habitat: Alpine Desert

Day 6: Mawenzi Ridge
This day is an acclimatization day where you trek from Mawenzi Tarn to Mawenzi ridge which is a 1-2 hour trek through the alpine wilderness with some spectacular views.
Day 7: Marwenzi Tarn to Kibo Hut
The climb is gradual before crossing the lunar desert of the "Saddle" between Mawenzi and Kibo. The camp, Kibo Hut, sits at the bottom of the Kibo crater wall. This is a short day with the afternoon spent resting in preparation for the final ascent early the next morning.
Elevation (ft): 14,160 ft to 15,430 ft
Distance: 8 km/5 miles
Hiking Time: 5-6 hours
Habitat: Alpine Desert

Day 8: Summit Day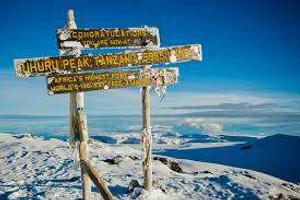 The ascent to the summit starts around midnight and is by far the steepest and most demanding day of the trip. Walking with torches it will be very cold and slow going across loose volcanic scree until the cater rim at Gillman's Point is reached. We will rest here and watch the spectacular sunrise over Mawenzi before pushing in to Uhuru Peak at 19,341 ft and the summit of Mount Kilimanjaro.
We'll only stay on the summit a short time due to the extreme cold so after a warming cup of tea we descend back down the mountain to Horombo at 12,250 ft. It is a very long and arduous day with between 11 - 15 hrs of walking at high altitude.
Elevation (ft): 15,430 ft to 19,341 ft
Distance: 6 km/4 miles
Hiking Time: 6-8 hours
Habitat: Arctic
Uhuru Peak to Horombo Hut
Elevation (ft): 19,341 ft to 12,250 ft
Distance: 16 km/10 miles
Hiking Time: 4-5 hours
Habitat: Heath

Day 9: Horombo Hut to Marangu Gate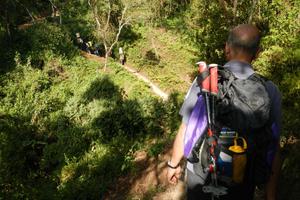 On our last day, we have a long trek mostly downhill through the tropical rainforest. Once at the park headquarters at Marangu gate, we collect our summit certificates. A vehicle will meet us here and drive us back to the Aishi Hotel in Moshi for a long hot shower, a three course dinner and a really great nights sleep.
Elevation (ft): 12,205 ft to 6,046 ft
Distance: 20 km/12 miles
Hiking Time: 5-7 hours
Habitat: Rain Forest

Day 10: Time to fly home
Spend the day resting and recovering at the Aishi Hotel utilizing their facilities. After lunch you will be collected by our driver and taken to Kilimanjaro Airport for your international flight home.
---
Duration: 10 day
Location: Kilimanjaro Climbs, Tanzania
Price: £3410pp
This 10 day trip takes you on the quieter Rongai route which is to the north of the mountain and has a nice gradual climb and therefore suited to those with less experience. Price is based on 2 people sharing.
Tailor made Holidays
Make this trip your own
Tailor this trip around your preferred dates, your budget and your ideas
Our favourite Kilimanjaro Trips and Experiences
Explore our innovative and best value bespoke Kilimanjaro holiday ideas...
Our Favourite Hotels near Kilimanjaro
Find the best places to stay before and after your Kilimanjaro trek...
Plan with an Expert
Have a look at our original holiday experiences and then contact us with your brief, or call 01768 603 715
A detailed itinerary in 24hrs
Our experts will send you a detailed holiday itinerary within 24 hours. It's our service promise to you.
Value Guarantee
Tailor-made doesn't mean expensive! Ask about our price promise and book with financial security.
A detailed itinerary in 24 hours
Speak to a Tanzania expert to start planning your adventure
Alistair

Tanzania Specialist
Call an expert on
01768 603 715