Our specialists say
This popular route is a more gradual climb up Kilimanjaro, staying in huts along the way.
Marangu Route is the oldest and most well known of the Kilimanjaro routes. It is one of the most popular trails and is the only route where hikers can stay in wooden huts as opposed to tents. This offers a little more comfort than camping as the temperatures do drop below freezing. Marangu also has a gradual climb with a direct path to the summit making this route the shortest in terms of distance and days on the mountain.
The ascent starts at Marangu Gate in Kilimanjaro National Park and takes you first through rainforest where black & white colobus monkeys can be seen, then onto moorland, with its unusual and exotic moorland plants, before moving into alpine desert where the terrain gets rocky.
The Marangu route is less scenic than the other routes because the ascent and descent are along the same path and it is also the most crowded route for that reason.

Speak to an expert
I created this trip - call me to create yours.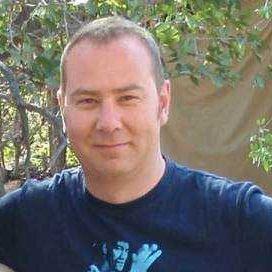 Ali
Tanzania Specialist
The itinerary…
Day 1: Time to fly
Overnight flight to Kilimanjaro Airport
Day 2: Arrive in Tanzania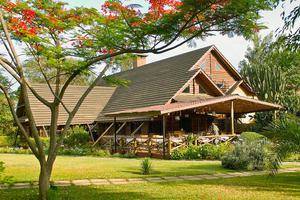 You will be met off your flight and driven to Arumeru Lodge outside Arusha, which has views of Kilimanjaro. Enjoy the day resting in the beautiful gardens and refreshing swimming pool. In the evening you will be served an excellent three course dinner before retiring to bed for a good night's sleep before the start of your climb the following day.
Day 3: Marangu Gate to Mandera Hut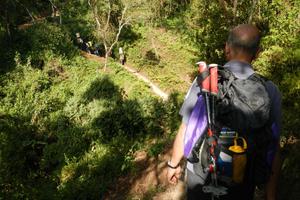 After an early breakfast you will be driven to Kilimanjaro National Park and Marangu Gate where you will meet your guide and porters who will accompany you up the mountain.
The ascent then begins through the rain forest which can be quite damp and muddy at times. Be on the look out for wildlife along the way including black & white colobus monkeys. It takes 3-4 hours to reach Mandera Hut which sits at 2700 meters where you will enjoy dinner a good sleep in one of the wooden huts.
Duration: 3 to 4 hours
Distance: 12 kilometers
Terrain: - Montane Forest
Day 4: Mandera Hut to Horombo Hut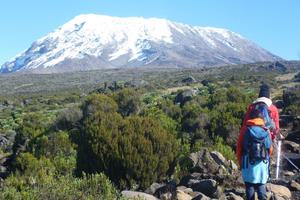 Following breakfast you will begin the ascent out of the rainforest and into the heather moorland passing the Maundi Crater where it is possible to climb up to the rim for a spectacular view of Kibo Crater. On the way there are a number of exotic plants to see in the moorland habitat. These include giant lobelia and groundsel. After 6 hours of hiking, you will reach Horombo Hut at 3720 meters. Similar to the first night, the porters will prepare drinking and washing water for you. You will enjoy evening snacks then dinner cooked by the chef. Be prepared for a cold night as temperatures drop below freezing at this site.
Duration: 6 hours
Distance: 15 kilometers
Terrain: - Moorland
Day 5: Horombo Hut - Acclimatization Day
At Horombo Hut, you will spend the day allowing your body to adjust to high altitude. You will have the option of doing a day hike to Mawenzi Hut (4600m) for further acclimatization with your guide. Breakfast and dinner will be at the hut and lunch will either be packed or at the hut depending on your preference for the day.
Day 6: Horombo Hut to Kibo Hut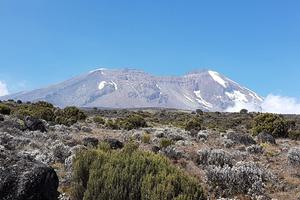 Following an early morning breakfast, you will continue your ascent into the alpine desert habitat. Hikers have the option of 2 trails that lead to Kibo Hut (4700m). The upper route (located to the right of the fork) is the same trail used the previous day for the day hike to Mawenzi Hut. The lower route (located to the left of the fork) is the more popular route because it is a shorter hiking distance (1 hour shorter).
Kibo Hut is located in the "Saddle," which refers to the area located between the peaks of Mawenzi and Kibo in an alpine desert. An early dinner will be served so hikers can rest before attempting the summit the same night. Your guide will brief you in detail on how to prepare for summit night so an early night is recommended.
Hiking time: 6 hours
Distance: Approximately 15 kilometers
Habitat: Alpine desert
Day 7: Push to the summit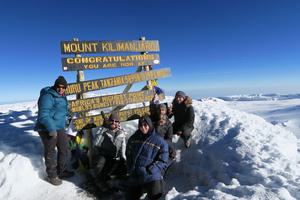 Your guide will wake you around 23:30 with tea and biscuits ahead of your ascent to the summit. The trail is rocky up to Hans Meyer Cave (5150m) which can be a bit of a scramble. The ascent continues steeply over rocky ground to Gillman's point (5681m) which, together with the high altitude makes this section quite a challenge. Gillman's is located on the crater rim. From this point, you will usually experience a snow covered trail until you reach the summit, Uhuru Peak (5895m). Reaching the summit of Mt. Kilimanjaro will be a momentous feeling and a real achievement.
You will be able to spend a short time at the summit taking photos, and having a cup of warming tea before the trek back to Kibo Hut which takes 3 hours. At Kibo Hut, you will rest and enjoy a hot lunch in the sun. After eating, you will continue descending down to Horombo Hut where you will have a welcome dinner, be able to have a good wash, and rest soundly at the hut after a long an exhausting day.
Kibo hut (4700m) – Uhuru Peak (5895m) – Horombo Hut (3720m)
Hiking time: 8 hours to Uhuru and 6 hours to Horombo
Distance: Approximately 6 kilometers ascent and 21 kilometers descent
Habitat: Stone scree and ice-capped summit
Day 8: Horombo Hut to Marangiu Gate
Following a well-deserved breakfast there will be a small celebration with the staff before your descent back to Marangu Gate (1980m) taking about 6 hours. At the gate those who reached Gillman's Point (5681m) receive green certificates and those who reached Uhuru Peak (5895m) receive gold certificates. After receiving certificates, you will be driven back to Arusha for long overdue showers and more celebrations.
You will be met by a driver and taken back to Arumeru Lodge and dinner and overnight.
Hiking time: 6 hours
Distance: Approximately 27 kilometers
Day 9: Night flight back home
Enjoy a well earned day of rest at Arumeru Lodge before heading home on an overnight flight from Kilimanjaro Airport to your home country.
---
Duration: 8
Location: Kilimanjaro Climbs, Tanzania
Price: £3045pp
6 day trek to the summit of Mt Kilimanjaro using the Marangu Route, staying in huts along the way - price based on 2 people, excluding international flights.
Tailor made Holidays
Make this trip your own
Talior this trip around your preferred dates, your budget and your ideas
Our favourite Kilimanjaro Trips and Experiences
Explore our innovative and best value bespoke Kilimanjaro holiday ideas...
Our Favourite Hotels near Kilimanjaro
Find the best places to stay before and after your Kilimanjaro trek...
Plan with an Expert
Have a look at our original holiday experiences and then contact us with your brief, or call 01768 603 715
A detailed itinerary in 24hrs
Our experts will send you a detailed holiday itinerary within 24 hours. It's our service promise to you.
Value Guarantee
Tailor-made doesn't mean expensive! Ask about our price promise and book with financial security.
A detailed itinerary in 24 hours
Speak to a Tanzania expert to start planning your adventure
Alistair

Tanzania Specialist
Call an expert on
01768 603 715