A very rare opportunity in today's world
Spend time with the Hadza tribe gathering berries, digging for tubers, harvesting honey, making arrows and learning to hunt during this incredible, immersive experience.
The Yaeda Valley is home to Hadzabe hunter-gatherer people. This incredible 4-day immersive trip gives you a unique opportunity to learn from the Hadza tribes by taking natural history walks with them, hunting with them and by visiting their camps.
This trip has been carefully set up to allow you to spend genuine time with the Hadza community - it is structured, but not staged! What the Hadza people would like, is for you as a visitor to take home an appreciation of their culture, not as an antiquated tradition disconnected from the modern world but as a valid part of it. This is particularly important to the Hadza tribes as they often experience severe prejudice and discrimination because of their lifestyle. During your trip, you will learn about how the Hadza survived gathering berries and honey, hunting and about their ancient traditions.
The Yaeda Valley where this Hadza tribe is based is a pleasing mosaic of open valley grasslands and rocky ridges punctuated by thousands of baobab.

***We are able to offer shorter versions of this trip and to add this to a safari or beach holiday***
Speak to an expert
I created this trip - call me to create yours.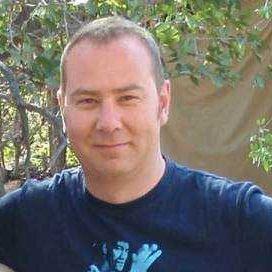 Alistair
Tanzania Specialist
The itinerary…
Day 1: Head to the Yaeda Valley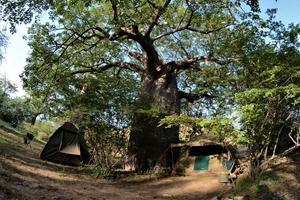 Your adventure starts today! You can depart from either Arusha, Karatu or Tarangire, and Manyara or Haydom Airstrip are also an option.
Your driver will collect you in a safari-kitted LandCruiser. Today you will have a long but interesting travel day through the rift valley, up the escarpment, over the Mbulu plateau and into the Lake Eyasi basin to camp in the Yaeda Valley. You will see an incredible range of scenery and animals enroute.
On arrival, you will be introduced to your Hadza hosts who will be in the camp with you for your entire stay. You will be staying in a comfortable, mobile camp which has minimum impact on the environment.

Day 2: Forage with the Hadza tribe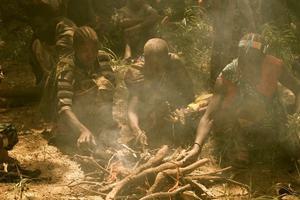 After breakfast in your camp, you will walk about an hour to a nearby Hadza camp with your Hadza hosts.
On arrival, you will receive introductions and take a brief tour of the camp before you head off with the women to dig for tubers and pick berries and baobab fruit (when in season). During this foray, you will be accompanied by the men who will be harvesting honey. Head back to camp for lunch. Afternoon activities include making arrows with the Hadza men, target practice and an optional short hunt. You'll also have sundowners with stunning sunsets and views!
Day 3: Hunt with the Hadza tribe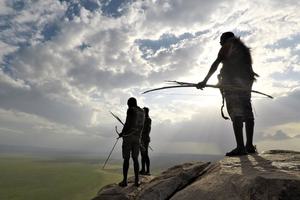 Today is focused on going out for longer hunts, whilst also always being opportunistic looking for honey and berries. An early up as you will leave by 6.30 or 7 am while it is still cooler and animals are more active to maximise hunting opportunities.
Lunch back in camp. In the afternoon, you will have the option to go on another hunt or to harvest honey from stinging and stingless bees.
Day 4: Morning Hadza hunt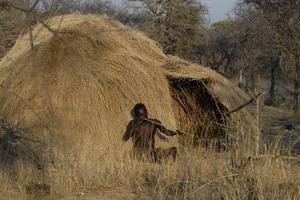 Today you will have the option to experience another early morning hunt with Hadza before you have a late breakfast and say goodbye to your Hadza hosts.
Depart from the Yaeda valley to either Arusha, Karutu or Tarangire. You can also catch a charter from Haydom airstrip which is about a 2-hour drive or Manyara airstrip is also 2.5-3.5 hours depending on the road conditions.
---
Duration: 4 days
Location: Tanzania, Africa
Price: £3336pp
From £3,336pp based on 2 people sharing one vehicle and one double. Excludes international flights & transfers to Arusha.
From £2,059pp based on 4 people sharing two doubles and one vehicle. Excludes international flights & transfers to Arusha.
This cost includes:
All accommodation and meals, local spirits.
All park fees, community fees and activity fees
Safari guide
Transport during the trip
Carbon Tax to offset your fuel use on safari
Community values are very important to the Hadza people, and their land is seen as a communal resource. Tourism is judged worthwhile only if it enhances community land and resource rights. In particular, tourism should not permit individuals to profit at the expense of the community. Tourist proceeds, therefore, go primarily to community accounts, though smaller fees (structured by the community) may be paid to local individuals who take part in a given tourist visit.

TAILOR MADE HOLIDAYS
Make this trip your own
Tailor this trip around your preferred dates, your budget and your ideas.