Madagascar's least visited area
This fly-in safari takes you straight to the iconic baobab alley and the amazing Tsingy de Bemaraha National Park
Whilst one of the most instantly recognisable places in Madagascar, it is one of the least visited areas due to the challenge of reaching it. This three-day fly-in safari allows you to stroll down this picturesque "avenue" lined with majestic Adansonia grandidieri baobab trees believed to be between 800 and 1200 years old.

Fly over Tsingy de Bemaraha National Park giving you a breathtaking bird"s eye view of the jagged limestone pinnacles landscape, and observe the colours and texture of the formations enhanced by daylight.
Walk through the Tsingy for an up-close experience of this fragile ecosystem. Along the way, encounter lemurs (11 species among which white-footed sportive lemurs, red-fronted lemurs), a variety of birds (103 species, the most common to see being Coquerel's coua, crested coua, Madagascar Fish Eagle, Forest rock thrush) and chameleons, geckos, iguanas and snakes (all of them being non poisonous!).
This short 3-day trip can easily be made into a longer Madagascar trip incorporating different areas of this completely unique island. Talk to Lucie who has done this trip and she will advise what would complement it well.
Speak to an expert
I created this trip - call me to create yours.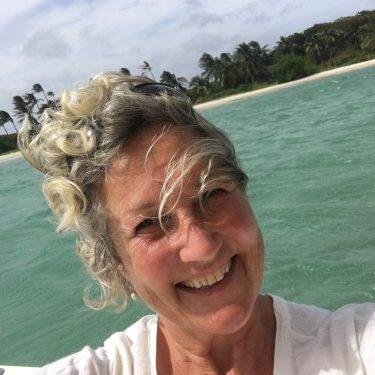 Lucie
Africa Specalist
The itinerary…
Day 1: Baobab Alley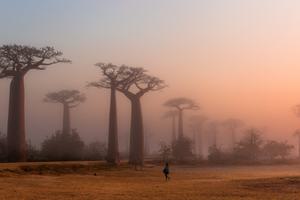 In the early morning, fly to Morondava. Upon arrival, short 4x4 drive to the iconic baobab alley, Madagascar's first natural monument with trees that are over 800 years old. Enjoy time to photograph this place and soak up the incredible scenery, this majestic species of baobab is the tallest one in the world (up to 98 feet).
Return to the airport and head to Amborodia flying over the majestic Tsingy de Bemaraha National Park giving you a birds eye perspective of where you will be walking tomorrow and a chance to appreciate the scale of the jagged limestone pinnacles.
.On landing, you will be transferred to your hotel, Le Soleil des Tsingy where you will spend 2 nights.
Day 2: Big Tsingy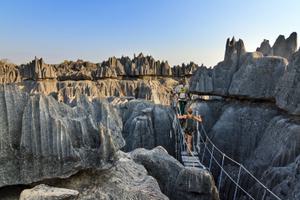 Today is dedicated to the thrilling and unforgettable exploration of the Big Tsingy. The walk will take you through a labyrinth of limestone pinnacles, deep canyons and narrow fissures in which you'll discover 'unexpected flora and fauna. Along the way you'll have the chance to spot some of Madagascar's lemur species, as well as many tropical birds.
Day 3: Manambolo River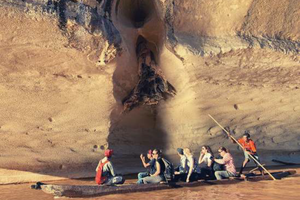 In the morning, enjoy a relaxing canoe ride on the Manambolo River to appreciate the natural beauty of the region, Along the way, explore the caves lodged at the bottom of the limestone cliffs. Your guide will also explain to you the tradition to bury local kings in cliff cavities.
Flight back to the capital city at midday ready to get your return flight home, or to add an extension to your trip.
---
Duration: 2 nights
Location: Madagascar, Africa
Price: £3636pp
From £3,636pp based on two people travelling.
Accommodation full board at Le Soleil des Tsingy in a single / double or twin room
The services of a professional English speaking guide all along the tour
Private charter flight Tana - Morondava - Amborodia - Tana, including the Bemaraha National Park overfly
Entrance and guide fees in the Bemaraha National Park
Canoë ride on the Manambolo river
All transfers
This trip is seasonal, from May 1st to October 31st every year.
Excludes international flights.
TAILORMADE HOLIDAYS
Make this trip your own
Tailor this trip around your dates and adding in extra destinations.
OUR FAVOURITE TAILOR-MADE MADAGASCAR TRIPS
Unique Madagascar Holiday Ideas
When to go to Madagascar
Find out the best time to visit Madagascar with our month by month guide.
Jan
Feb
Mar
Apr
May
Jun
Jul
Aug
Sep
Oct
Nov
Dec
A detailed itinerary in 24 hours
Speak to a Madagascar expert to start planning your adventure
Alistair

Madagascar Specialist
Call an expert on
01768 603 715