See the best of Ethiopia's endemic mammals and birds with us
Ethiopia has an unusually high concentration of endemic mammals and birds. You'll be able to see many of them during this individual tour.
Ethiopia has a high concentration of endemic mammals and birds: of its mammals, best known include the Ethiopian wolf, rarest of all canids. With less than 500 remaining - and none held anywhere in captivity - this impressive species is on the brink of extinction. Another very rare endemic mammal, the Walia ibex, is confined to the Simien Mountains where it numbers some 500 individuals, again with none held anywhere in captivity.
Interestingly Ethiopia has two endemic primates - the iconic Gelada monkey was long considered to be a baboon and is the only primate that grazes. Geladas are happily fairly numerous where they occur - large groups can be seen around Simien Lodge for example. Much harder to spot is the Bale monkey or Bale Mountains vervet, which inhabits bamboo stands in Harenna Forest, Bale National Park.
Also in Bale, visitors come to seek endangered Mountain nyala, an antelope numbering some 2,500. In the Juniper-Hagenia woods around Dinsho where the park HQ is set, you won't have to walk to far to find these antelopes. Also easily seen in Bale is the dark Menelik's bushbuck. And up on Sanetti Plateau, you'll probably see the Ethiopian wolves' favourite prey item, the gopher-like Big headed or Giant mole-rat. The hares you'll see in the area are also endemic (Starck's hare).
In terms of endemic birds, Ethiopia is second only to South Africa with some 30 endemics, a few of which extend their ranges into Eritrea. Birders come from all over to seek the likes of Blue-winged goose, Spotbreasted lapwing, Rouget's rail, White-billed starling and White-tailed swallow. More serious twitchers though, tolerate basic accommodations in order to see some highly localised and extremely sought-after 'megaticks' like Harwood's francolin, Ruspoli's turaco and Streseman's bush-crow. If you want to see any of these, let us know and we'll arrange a superbly guided trip for you.
Speak to an expert
I created this trip - call me to create yours.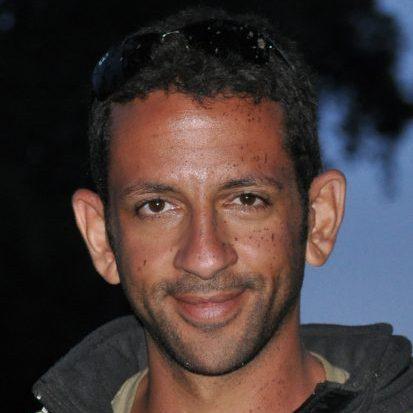 Ben
Africa Specialist
The itinerary…
Day 1: Fly to Ethiopia
Take an overnight flight to Addis Ababa.
Day 2: Welcome to Ethiopia!
On arrival in Addis Ababa you will be met and transferred to the comfortable Golden Tulip Hotel to overnight with breakfast. In the afternoon your professional guide and driver will take you on a sightseeing tour which includes Mt Entoto Park, from where you can take in panoramic views over the city..
Day 3: Fly to Gondar and drive to Simien Mountains National Park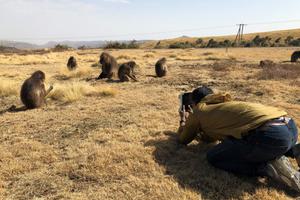 Take the early morning flight to Gondar, the access town to the Simien Mountains. Your guide and driver travel with you to Debarak where your park permits are issued. Check in at Simien Lodge for a 2 night stay, all meals included. Visit beautiful Sankaber for an introduction to the sub-Afroalpine habitat here. You should see many of the iconic Gelada monkeys here, as well as around the lodge.
Day 4: Chennek's odd faunal assemblage - Walia's and Geladas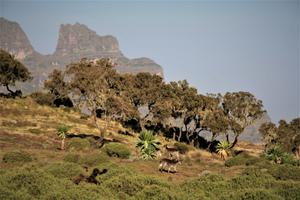 Drive deep into the Simien Mountains to Chennek, where in the Afro-alpine habitat you should see endangered Walia ibexes with many Geladas. Keep an eye open for raptors, too. The scenery here is some of Africa's most dramatic.
Day 5: Back to Gondar for castles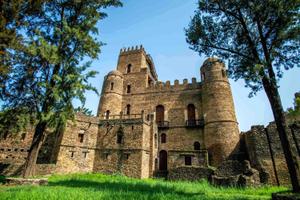 Return to Gondar (2 hours drive) and go for a stroll around the Imperial Compound with its unexpected 17th century castles. In the grounds, some endemic birds such as White-billed starling and White-collared pigeon are quite common. Overnight in the hill-top Goha Hotel, where, while sipping sundowners on the terrace, you can keep an eye open for raptors such as Lammergeier, as well as endemic Thick-billed ravens.
Day 6: Flight to Addis Ababa and drive to the Rift Valley Lakes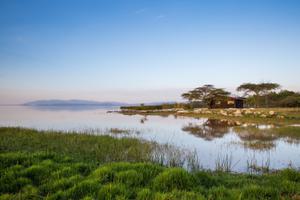 Take a quick flight to Addis Ababa, from where you travel in a comfortable 4WD vehicle for 4 hours to relaxed Lake Langano. Overnight in a lakeside chalet at Hara Langano, where you may see hippos, crocs and an incredible variety of birds. All meals included.
Day 7: Bale Mountains National Park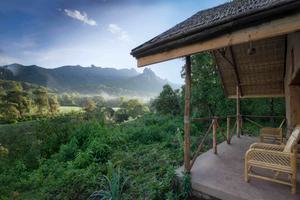 Continue south in your air-conditioned 4WD vehicle to Dinsho, the Bale Mountains NP office where you collect your park permits. A short stroll into the surrounding Juniper and Hagenia woods here, should easily produce endemic Mountain nyala, Meneliks bushbuck and possibly other mammals such as Oribi and Serval. Continue up to the Sanetti Plateau and cross it along Africa's highest-lying road. Wind down the escarpment into the verdant and vast Harenna Forest, where you are based for three nights in Bale Mountains Lodge, all meals included.
Day 8: Wolves on the Roof of Africa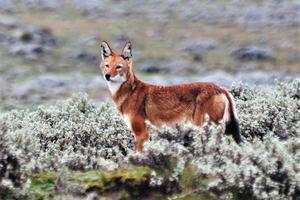 One of the highlights of your trip is today's excursion to Sanetti Plateau, the Roof of Africa. In a frail ecosystem where Giant lobelias preside like sentinels over the Afro-alpine moorlands, you'll look for the world's rarest canid, the Ethiopian wolf. You may see them stalking their prey which includes the comical Big-headed (giant) mole-rat. There is a busy and thriving endemic rodent community in these moorlands. Birders can seek endemic Blue-winged goose, Spot-breasted lapwing and Rouget's rail among others.
Day 9: The enchanting Harenna Forest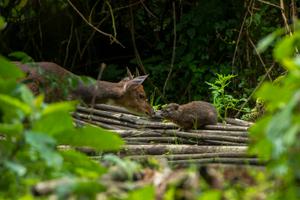 From Bale Mountains Lodge, venture out with your guide and driver to take on one of the walking trails into the forest in search of wildlife such as the rare and localised Bale monkey. With luck you may also see forest-dwelling lions; Menelik's bushbuck and perhaps Giant forest hog. Look for birds such as White-cheeked turacou and the Abysinnian catbird, one of Africa's finest songsters.
Day 10: Drive back to Lake Langano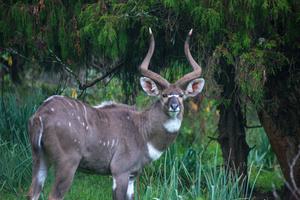 Drive back over the Sanetti Plateau - another chance to seek wolves - and past Dinsho (where again you can see Mountain nyala and plenty of Warthog) northwards to Lake Langano to overnight in Hara Langano, all meals included.
Day 11: Return to Addis Ababa and depart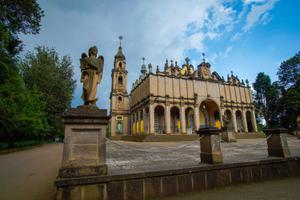 Drive back up to Addis Ababa with optional stops at the Tiya Stelae Park for its obelisks and Melka Kunture Archaelogical Site. You will have day room use in Golden Tulip (or overnight, depending upon the time of your international flight out)
Day 12: Flight home
Fly back to London Heathrow, where you arrive in the early morning.
---
Duration: 11 nights
Location: Ethiopia Holidays, Africa
Price: £4640pp
Price per person sharing in twin or double room accommodation includes: domestic Ethiopian Airlines flights, air taxes, all private transfers and private transportation, services of dedicated, professional English-speaking Ethiopian natural history guide; all excursions and activities as outlined, park permits and park guide and ranger fees; accommodation as per itinerary with meals as listed.
Tailormade Holidays
Make this trip your own
Tailor this trip around your preferred dates, your budget and your ideas.
Plan with an Expert
Have a look at our original holiday experiences and then contact us with your brief, or call 01768 603 715
A detailed itinerary in 24hrs
Our experts will send you a detailed holiday itinerary within 24 hours. It's our service promise to you.
Value Guarantee
Tailor-made doesn't mean expensive! Ask about our price promise and book with financial security.
More Holiday Ideas
Find your perfect trip
Expertise
You talk to someone who's been there

We listen first. Our expertise, but always your holiday.

Quick. A holiday plan tailored to you in 24 hours.

Safe. Licensed and regulated by the CAA.
Service
Simple. These best rates and the best routes delivered in a clear and simple way.

Personal. From the start you'll only ever deal with one consultant.

Our service charter explains what you can expect from us. 
Your Holiday
We keep the focus on your holiday. In fact it's the sole objective of everything we do at Far & Wild.

Delivering you an outstanding and original holiday experience means...

..location connections, expert guides, hand-picked experiences and creating the space for magic to happen.
Book with Confidence
Transparent. Prices, information – we'll break it down anyway you like.

Financial Security. Our Civil Aviation Authority's ATOL bonding consumer protection scheme.

24/7 emergency support on the ground wherever you travel.
A detailed itinerary in 24 hours
Start planning your tailor made holiday with Far & Wild. We're open 08:00 to 19:00
Ali

Indian Ocean Specialist
Call an expert on
01768 603 715