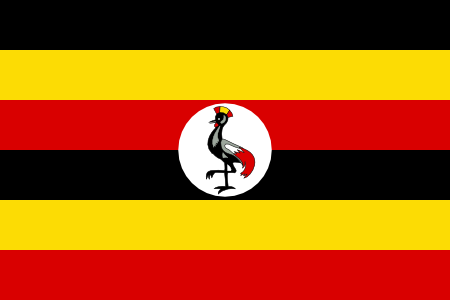 Quick Facts
Area: 241,038 sq km
Population: 34,758,809
Capital: Kampala
Religions: Christian, Muslim
Languages: English, Ganda or Luganda, other local languages, Swahili, Arabic
Currency: Uganda Shilling (UGX)
Time Zone: GMT + 3 hours
Geography and Climate
Uganda is a landlocked country in East Africa that consists of savanna plateau, mountains and lakes. Uganda features the misty Ruwenzori Mountains—a home of the endangered mountain gorilla. The tropical climate is semiarid in the north and hot and humid in the south.
Kampala
Average annual temperature and rainfall:

Passports and Visas
Your passport should be valid for at least six months beyond your intended stay in Uganda, with a minimum of one blank page. British, EU, American and Canadian passport-holders require a visa for entry to Uganda. For British citizens, Ugandan visas must be applied for prior to departure from the Uganda High Commission in London. You will then receive an approval letter, which you can take to the airports in Rwanda (Kigali) and Uganda (Entebbe) where you will receive the visa and stamp. The cost of a single-entry visa is US $50 per person. For other nationalities, please find out your visa requirements (this can be done through a Ugandan diplomatic mission or the government foreign travel office in your country).
For people going to Uganda and Rwanda, you can apply for an East African Tourist Visa. This is valid for 90 days and allows multiple entry into Kenya, Rwanda and Uganda and costs US $100. This must be applied for in advance from the High Commission of the country you are entering first e.g. if you arrive into Rwanda, then venture into Uganda and fly out of Uganda, then you MUST apply for the East African Tourist Visa using the link on the Rwanda website.

Check the foreign office for all the latest travel advice for Uganda.

Health
We hope the information below is helpful, but it is only guidance; requirements change frequently and you MUST check all health requirements yourself with your GP.
There are no compulsory health requirements at present. There is a risk of malaria and precautions, including anti-malaria tablets, wearing long-sleeved tops and trousers and insect repellent, are recommended.
Yellow fever vaccination is recommended, and a certificate of vaccination is required for those travelling from areas where Yellow Fever is endemic.
We strongly recommend that you take a generous supply of wet wipes and use them after handling currency to reduce the risk of digestive upsets. Never drink un-purified water. Bottled water is available almost everywhere. People planning prolonged camping trips should take water purification tablets. The strong rays of the African sun can cause severe burns and sunstroke in a few hours. Take the necessary precautions (light clothing, hat, sunglasses and sun block).
Please ensure that you are fully up to date with your country of destination's Covid travel policies. Click here for the latest FCO advice.
More information on the latest health requirements can be found at the Travel Pro Health website.
Insurance
Your travel insurance should provide cover for cancellation and curtailment, medical insurance, lost or damaged baggage and emergency evacuation. We are fortunate to be partnered with Rush Insurance who provide a range of travel insurance policies specifically for the type of trips we offer. We have a dedicated page on their website here.
Money
US Dollars cash is the preferred option in Uganda. We suggest a combination of small denomination notes (US 1, 5, 10, 50) as well as US $100 bills – make sure they are post 2009. Note that while it is more convenient in terms of changing currency and not having to carry around huge amounts of Shillings (approximately 3500 shillings to the US dollar), there is normally a surcharge on the smaller notes when changing them. Keep your slips: you will be able to change surplus Shillings back to US$ cash if you have proof of purchase when leaving the country.
These have at least a 5% surcharge levied on all transactions and credit or debit cards are not accepted at many places. Cashing money on credit cards can only be done during banking hours (09h00 – 15h00 weekdays) at Barclays Bank Kampala but rates of exchange are very poor, and the process is extremely time-consuming so is not recommended.
Tipping
Tipping is entirely at your discretion. There is no obligation to pay a tip to either our staff, or your guides. However, should you wish to tip, the following may be used as a guideline:
Driver Guides: A tip of US $5 per traveller per day for larger groups, and US $10 per traveller per day for singles and couples.
Lodges/Camps outside of Kampala and Kigali: Your lodge/camp should have a staff tip box from which tips are distributed equitably. A tip of US $10 – $20 per traveller should be adequate if the service warrants it.
Hotel/Restaurant (Waiting Staff): 10-15% service charge per meal, irrespective of group size, and if not already included in the bill.
Gorilla Tracking: If you choose to take a porter to carry your daypack for the trek (highly recommended), the minimum recommended payment is US $15 per traveller per track. Porters are drawn from local communities, and this payment serves as their wages. This can be arranged on the morning of the trek, and payment will be made as a tip at the end of the trek.
Guides (1 per group), Trackers (2-3 per group) and Security personnel (2-4 per group) do earn salaries. A recommended tip is US $25 per day of tracking per traveller. This may be given to the guide in view of the trackers once out of the park, so that he can distribute amongst the trackers and himself.
Other National Park Guides: A tip of US $5 - $10 per traveller is appropriate each time you receive a guiding service from a park employed guide.
Transfer Driver/Guest Relations Officer in Kampala, Entebbe, and Kigali: US $5 - $10 per traveller per transfer depending on group size.
Recommended Reading
Wildlife and Travel Guides
Uganda Bradt Travel Guide, Philip Briggs
A Field Guide to the Tracks & Signs of Southern, Central & East African Wildlife, Chris Stuart, Mathilde Stuart
Mountain Gorillas: Biology, Conservation, and Coexistence, Gene Eckhart, Annette Lanjouw
In the Kingdom of Gorillas: Fragile Species in a Dangerous Land, Bill Weber, Amy Vedder
In the Shadow of Man, Jane Goodall
Stuarts' field guide to the larger mammals of Africa, Chris Stuart, Mathilde Stuart
Pocket Guide to Mammals of East Africa, Chris Stuart, Mathilde Stuart
Birds of East Africa: Kenya, Tanzania, Uganda, Rwanda, Burundi, Terry Stevenson, John Fanshawe, Brian Small, John Gale, Norman Arlott
Uganda - Culture Smart! The Essential Guide to Customs & Culture, Ian Clarke
A History of Modern Uganda, Richard J Reid
Other Interesting Reading
Crossroads: Women Coming of Age in Today's Uganda, Individual Contributions, Christopher Conte
The Night Wanderers: Uganda's Children and the Lord's Resistance Army, Wojciech Jagielski