Tanzania and Zanzibar Travel Advice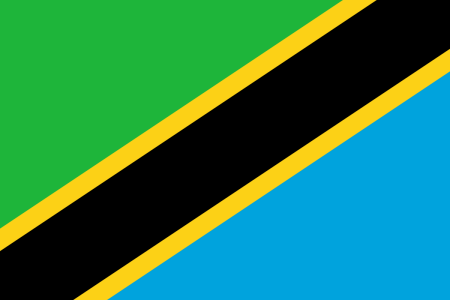 Quick Facts
Area: 947,300 sq km
Capital: Dar es Salaam (administrative) Dodoma (legislative)
Religions: Muslim, indigenous beliefs, Christian
Languages: Swahili, Kiunguja (Swahili on Zanzibar), English, Arabic, local languages
Population: 48,261,942
Currency: Tanzanian Shilling (TZS)
Time Zone: GMT + 3 hours
Geography and Climate
Tanzania, one of the largest countries in East Africa, includes the spice islands of Zanzibar, Pemba, and Mafia and contains Africa's highest point—Kilimanjaro, at 5,895 meters (19,340 feet). Kilimanjaro, a dormant volcano, is snowcapped even though it is near the Equator. Most of the country features a savanna plateau, which is east of the Great Rift Valley containing Lake Tanganyika. The coastal areas are temperate, but the interior is semiarid.
Zanzibar
Average annual temperature and rainfall:

Passports and Visas
A passport is essential and should be valid at least six months beyond your intended stay, with a minimum of two blank pages. Holders of British passports require a visa for entry into Tanzania, which is valid for three months and can be obtained in advance of travel from the High Commission in London, or on arrival at Kilimanjaro and Dar es Salaam airports at a cost of US $50 per person in cash. If you're getting a visa on arrival, you may be asked for proof of your return journey. Most other nationals must obtain visas; if you do not have a British passport, please contact your national foreign travel advice department for further information.
For newlyweds taking advantage of honeymoon offers, please note an original wedding certificate or a certified copy may be required at hotels for honeymoon packages.

Check the foreign office for all the latest travel advice for Tanzania.

Health
We hope the information below is helpful, but it is only guidance; requirements change frequently and you MUST check all health requirements yourself with your GP.
All travellers en route to Tanzania, who have passed through an Endemic Yellow Fever zone (and have left the airport of that endemic country), will be required to show yellow fever certificates on their arrival in Tanzania. When travelling from the Tanzania mainland to Zanzibar, you will not be required to show your yellow fever vaccination certificate again.
There is a risk of malaria in Tanzania and precautions including anti-malaria tablets, insect repellent and wearing long-sleeved tops/trousers etc., are recommended.
Please ensure that you are fully up to date with your country of destination's Covid travel policies. Click here for the latest FCO advice.
More information on the latest health requirements can be found at the Travel Pro Health website.
Insurance
Your travel insurance should provide cover for cancellation and curtailment, medical insurance, lost or damaged baggage and emergency evacuation. We are fortunate to be partnered with Rush Insurance who provide a range of travel insurance policies specifically for the type of trips we offer. We have a dedicated page on their website here.
Money
The Tanzania Shilling is the official currency in Tanzania, but due to rapid inflation, US dollars have become common currency in international hotels. If placing any hotel extras on your room account e.g. restaurant or bar, then these will often be shown on your hotel bill in US dollars. You should take some low denomination notes that are dated post-2009. In Stone Town there are ATMs, but they are not always reliable and sometimes breakdown or run out of money. To minimise the risk of card cloning, only use ATMs located within the bank.
American Express, Visa and MasterCard are accepted at some Camps and Lodges and in most large hotels and shops, however please be aware that a 5 – 10% surcharge is often applied, especially by smaller establishments. Please bear in mind that some establishments will not have credit card facilities.
Tipping
Tipping is at your discretion and the following should be used as a guideline. At safari camps and lodges, a central tip-box is commonplace. It is advisable to change some of your money into small denominations of Tanzanian Shillings for tipping.
Driver-guides: US $10-15 per guest, per day.
General camp/lodge staff: US $5 per day. This should be placed in the central tip-box.
National Park guides: US $8 per day.
Recommended Reading
Wildlife and Travel Guides
A Field Guide to African Wildlife, Peter Alden and Richard Estes
Birds of Kenya and Northern Tanzania (Helm Field Guides), Dale A Zimmerman, David J Pearson and Donald A Turner
Collins Wildlife of Kenya, Tanzania and Uganda, David Hosking and Martin Withers
Collins Field Guide Birds of East Africa, JG Williams and N Arnott
Field Guide to the Birds of East Africa - Kenya, Tanzania, Uganda, Rwanda, Burundi, T Stevenson and J Fanshawe
Sasol Birds of Prey of Africa and its Islands, Alan Kemp
The Safari Companion: A Guide to Watching African Mammals, Richard Estes
The Kingdon Field Guide to African Mammals, Jonathan Kingdon
The Bradt Travel Guide Tanzania
Other Interesting Reading
Death in Zanzibar, MM Kaye
Ice-Cream Wars, William Boyd
In the Footsteps of Mr. Kurtz: Living on the Brink of Disaster in the Congo, Michela Wrong
King Leopold's Ghost: A Story of Greed, Terror and Heroism, Adam Hochschild
Shadow of the Sun: My African Life, Ryszard Kapuscinski
Zanzibar Chest, Aiden Hartley
Zanzibar, Giles Fodden