South Africa Travel Advice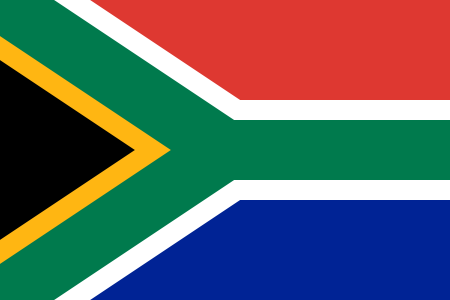 Quick Facts
Area: 1,219,090 sq km
Population: 48,601,098
Capital: Cape Town (legislative)
Religions: Protestant, Catholic, Muslim, other Christian
Languages: While road sings tend to be in English and Afrikaans, there are in fact 11 official languages in South Africa, including Sepedi, Setswana, Sesotho, Xitsonga, siSwati, Tshivenda and IsiNdebele. Afrikaans, Zulu, Xhola and English are most commonly spoken.
Currency: South African Rand (ZAR)
Time Zone: GMT + 2 hours; British Summer Time + 1 hour
Geography and Climate
South Africa sits on the southernmost tip of Africa, and is the continent's most developed economy. From the low coastal plains, mountains rise up in the south and east, with a high plateau just beyond. South Africa is a subtropical country which means warm, dry weather and unpredictable rainfall. With an oceanic coast on three sides, South Africa enjoys generally mild temperatures, with a hot desert climate in the northwest.
Cape Town
Average annual temperature and rainfall:

Passports and Visas
British passport holders travelling to South Africa for up to 90 days do not need a visa. A passport is essential and should be valid for at least six months beyond your intended stay and contain at least two full blank pages for the entry stamp. Many other nationals must obtain visas. If you do not have a British passport, please seek further information from your nation's immigration department.
One important note for parents is that, if you are travelling to/from South Africa with children under the age of 18, you are required to provide an unabridged birth certificate for all children travelling with you. This applies even when both parents are travelling with their children. In the case of one parent travelling with a child, he or she must produce an unabridged birth certificate and consent in the form of an affidavit from the other parent (issued no more than three months prior to travel date). The official list of requirements can be found here.
Check the foreign office for all the latest travel advice for South Africa.
Health
We hope the information below is helpful, but it is only guidance; requirements change frequently and you MUST check all health requirements yourself with your GP.
There is a risk of malaria in some areas of KwaZulu Natal, Swaziland, Mpumalanga and Northern Province including Kruger Park and precautions including anti-malaria tablets are advisable.
If you are arriving to South Africa from a Yellow-Fever risk area you must have a certificate of vaccination, even for those in transit and not clearing South African immigration.
Please ensure that you are fully up to date with your country of destination's Covid travel policies. Click here for the latest FCO advice.
More information on the latest health requirements can be found at the Travel Pro Health website.
Insurance
Your travel insurance should provide cover for cancellation and curtailment, medical insurance, lost or damaged baggage and emergency evacuation. We are fortunate to be partnered with Rush Insurance who provide a range of travel insurance policies specifically for the type of trips we offer. We have a dedicated page on their website here.
Money
South African Rand (ZAR) is the local currency. South Africa has a comprehensive network of ATMs most of which accept British bank cards. You are now allowed to take a maximum of 25,000 ZAR into South Africa per person in bank notes, and a maximum in foreign currency equivalent to US $10,000.

American Express, Visa and MasterCard are widely accepted in hotels, restaurants, shops and by car hire companies. However, Debit Cards can be used at most petrol stations except at small petrol stations where cash is required.

Tipping
Tipping is not compulsory, however, if you want to tip because you have received good service, this is a guideline:
Camp, Game Lodge and Specialist Guides: if the guide has done a good job, perhaps 100 ZAR per guest per day;
General Safari Camp/Lodge Staff: about 30 ZAR per guest per day for safari camps. This should be placed in the communal tipping box to be distributed equally amongst all the staff at a later stage;
Hotel Staff: please allow between 10 – 20 ZAR per guest per day for hotel staff, i.e. housekeeping etc;
Porters: about 20 ZAR per person per movement;
Transfer Drivers: tipping is not recommended
Touring Driver/Guides:

Half day tour – 50 ZAR per person
Full day tour – 100 ZAR per person

Restaurants/Hotels: 10% is customary on meal accounts but only if you are satisfied with the service;
Car Guards/Petrol Attendants: 5 ZAR per 'transaction'
Recommended Reading
Wildlife and Travel Guides
The Bradt Travel Guide South Africa
A Field Guide to African Wildlife, Peter Alden and Richard Estes
Lonely Planet South Africa, Lesotho & Swaziland
Newman's Birds of Southern Africa and Common Birds of Botswana, Ken Newman
Newman's Birds of the Kruger Park, Newman
Rough Guide South Africa, Lesotho & Swaziland
Sasol Birds of Prey of Africa and its Islands, Alan Kemp
Sasol Birds of Southern Africa, Ian Sinclair, Phil Hockey and Warwick Traboton
Southern African Wildlife (Bradt Wildlife Guides), Mike Unwin
Southern Africa (Lonely Planet Watching Wildlife)
The Safari Companion: A Guide to Watching African Mammals, Richard Estes
Other Interesting Reading
This Traitors Heart, Rian Malan
Long Walk to Freedom, Nelson Mandela
Shadow of the Sun: My African Life, Ryszard Kapuscinski
Disgrace, JM Coetzee
Africa: A Biography of the Continent, John Reader
The Electric Elephant, D Jacobson
Shadow of the Sun: My African Life, Ryszard Kapuscinski
Don't Lets Go To The Dogs Tonight, Alexandra Fuller
A Good Man in Africa, William Boyd
White Mischief, James Fox
Ways of Dying, Zakes Mda
The Bang Bang Club, Greg Marinovich and Joao Silva
Things Fall Apart, Chinua Achebe
Mukiwa, Peter Godwin
Heart of Darkness, Joseph Conrad
The Last King of Scotland, Giles Fodden
The Power of One, Bryce Courtenay
No 1 Ladies' Detective Agency series, Alexander McCall Smith