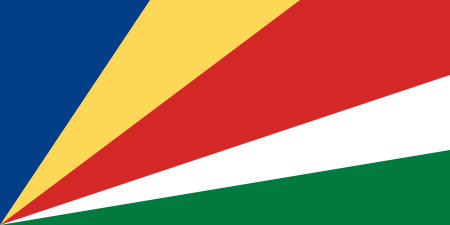 Quick Facts
Area: 455 sq km
Population: 90,846
Capital: Victoria
Religions: Roman Catholic, Protestant (Anglican, Seventh-Day Adventist), other Christian, Hindu, Muslim
Languages: Creole, English
Currency: Seychelles Rupee (SCR)
Time Zone: GMT + 4 hours
Geography and Climate
About 115 tropical islands, many uninhabited, form the Republic of Seychelles in the Indian Ocean. The islands enjoy a pleasant tropical climate all-year round and, as they are situated outside the cyclone belt, there are no extremes of weather. The temperature seldom drops below 24°C or rises above 33°C. Globally changing climatic conditions make it difficult to predict exact weather patterns. From May to October the southeast trade winds bring a relatively dry period peaking in July/August when there is little precipitation and temperatures average 26°C, though seas can be a little choppy. In November the winds start to change bringing light, warmer winds and the start of the main rainy season. December to March brings the wet Northwest Monsoon when the vegetation is lush, the winds generally light and the sun is at its warmest. This period is followed by the calmest, warmest month, April, as the winds die down and start to change direction.
Mahe
Average annual temperature and rainfall:

Passports and Visas
There are no visa requirements to enter the Seychelles for the majority of passport holders. Immigration documents required for entry include:
Passports valid for 6 months beyond your intended stay, with a minimum of 2 blank pages
Return or onward ticket
Proof of accommodation
Sufficient funds for the duration of your stay (US $100-150 per day)
For newlyweds taking advantage of honeymoon offers, please note an original wedding certificate or a certified copy must be produced at hotels for honeymoon packages.

Check the foreign office for all the latest travel advice for Seychelles.

Health
We hope the information below is helpful, but it is only guidance; requirements change frequently and you MUST check all health requirements yourself with your GP.
The Seychelles is free of tropical diseases such as malaria, bilharzias, typhoid and dysentery. No vaccinations are necessary. However, if you are coming from East Africa, it is important that all tourists have the Yellow Fever vaccination and have proof of this.
Tap water is safe to drink throughout the country.
The main hospital is on Mahé, at Mont Fleuri. There are also clinics in the districts and islands of Praslin and La Digue. There is a decompression chamber on Silhouette Island (15 minutes from Mahe by Helicopter).
Please ensure that you are fully up to date with your country of destination's Covid travel policies. Click here for the latest FCO advice.
More information on the latest health requirements can be found at the Travel Pro Health website.
Insurance
Your travel insurance should provide cover for cancellation and curtailment, medical insurance, lost or damaged baggage and emergency evacuation. We are fortunate to be partnered with Rush Insurance who provide a range of travel insurance policies specifically for the type of trips we offer. We have a dedicated page on their website here.
Money
The local currency is the Seychelles Rupee (SCR), made up of 100 cents. Notes come in denominations of SCR10, 25, 50, 100 and 500, and coins for SCR1 and SCR5, and 1, 5, 10 and 25 cents. Foreign currencies can be changed at banks or hotels. Seychelles Rupees are the legal tender, but payment in foreign currency (credit card or major international currency notes) is legally required when making payments in hotels and guest houses or when paying for other hospitality related services. Should you decide to pay in foreign currency, the exchange rate of the day will apply. If you require Rupees, it is advisable to exchange only what you need on the day, rather than one big withdrawal. All major credit and debit cards are widely accepted throughout Seychelles.
Tipping
Tips for good service are warmly received, but not compulsory.
Recommended Reading
Fiction, Wildlife and Travel Guides
Bradt Travel Guide Seychelles
A Photographic Guide to the Birds of the Indian Ocean Islands: Madagascar, Mauritius, Seychelles, Reunion and the Comoros, Ian Sinclair, Fanja Andriamialisoa,and Olivier Langrand
Diving and Snorkeling Guide to Seychelles (Pisces Diving & Snorkeling Guides), Lawson Wood
Seychelles: Garden of Eden in the Indian Ocean (Odyssey Illustrated Guides), Sarah Carpin
Field Guide to the Birds of Seychelles, Adrian Skerrett, Ian Bullock, and Tony Disley
A Gecko Blew Up My Toaster: An English Family in Seychelles by Martin Varley

Island Home by Wendy Veevers-Carter
Where the Clock Chimes Twice by Alec Waugh
Voices by Glynn Burridge
Hard Times in Paradise, Rivals in Eden and To Be a Nation by William McAteer
Seychelles, The Best Of by Gregor Kervina