Sao Tome and Principe Travel Advice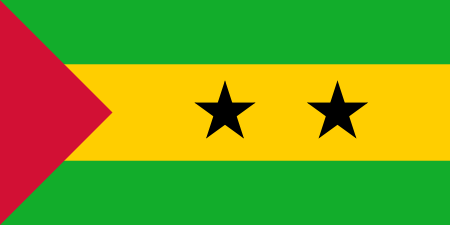 Quick Facts
Area: 964 sq km
Population: 186,817
Capital: São Tomé
Religions: Catholic, Evangelical, New Apostolic, Adventist
Languages: Portuguese
Currency: Sao Tome and Principe Dobra (STD)
Time Zone: GMT + 1 hour
Geography and Climate
The equatorial location of these isles makes for a fairly even, year- round, warm and humid climate, with rains peaking in April and November. Best months to travel are between May and October. Temperatures generally vary between 23 - 30˚C, thus ensuring good beach holiday conditions at any time of the year.
Sao Tome
Average annual temperature and rainfall:

Passports and Visas
A full and valid passport is essential, and it must be valid for at least 12 months beyond your final date of travel. British passport holders do not require a visa if visiting for less than 15 days. For longer stays, you should get a visa before you travel as problems can occur if you arrive without the necessary documentation. You can apply online here. As soon as your application is received, you receive an immediate confirmation with the reference number that your application is assigned to. After that your application goes through a verification process which takes approx. 5 business days. Once approved, you will receive their Visa Approval letter by email. Print it out and take it with you to the airport. You need to show the Visa Approval letter TWICE: To the airlines in your country when you check in and to the Immigration officer at the Sao Tome airport upon arrival to get the visa stamped onto your passport. You are then required to fill out the entry and exit form, and pay the visa stamping fee (€20 for single 1-month Tourist Visa) directly to the Immigration officer.

Check the foreign office for all the latest travel advice for Sao Tome and Principe.

Health
We hope the information below is helpful, but it is only guidance; requirements change frequently and you MUST check all health requirements yourself with your GP.
Sao Tome and Principe are a malaria area, so antimalarial medication is recommended, along with precautions such as wearing long-sleeved tops, trousers and using insect repellent.
You will only require a Yellow Fever Certificate if you have travelled to a yellow fever endemic area within three months before visiting the islands.
Drink only bottled water. There will be a good supply of bottled water at your lodges.
Please ensure that you are fully up to date with your country of destination's Covid travel policies. Click here for the latest FCO advice.
More information on the latest health requirements can be found at the Travel Pro Health website.
Insurance
Your travel insurance should provide cover for cancellation and curtailment, medical insurance, lost or damaged baggage and emergency evacuation. We are fortunate to be partnered with Rush Insurance who provide a range of travel insurance policies specifically for the type of trips we offer. We have a dedicated page on their website here.
Money
Local currency is the Dobra which can only be obtained in-country. Take Euros in cash – these can be used anywhere on the islands. Credit/Debit Cards (Visa and Master Card) are accepted at the hotels that we use but otherwise, cash is a necessity.
Tourism tax
Please note that Tourism Tax of €3 per person per night has to be settled directly by guests at any hotels and lodges.

Tipping
Service is normally included, and tips are warmly accepted.