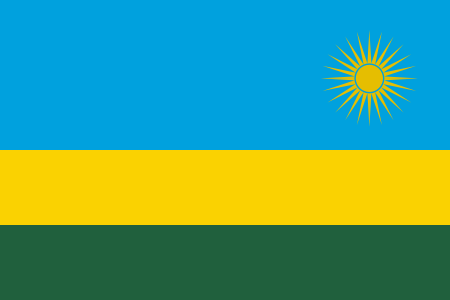 Quick Facts
Area: 26,338 sq km
Population: 12,012,589
Capital: Kigali
Religions: Roman Catholic, Protestant, Adventist, Muslim
Languages: Kinyarwanda, French, English, Kiswahili
Currency: Rwandan Franc (RWF)
Time Zone: GMT + 2 hours
Geography and Climate
Rwanda, just south of the Equator in central Africa, is a land of plateaus, with rolling hills of grasslands and farms. In the west, volcanoes and mountains slope down to Lake Kivu, part of the Great Rift Valley. The rich volcanic soils allow intensive agriculture, and Rwanda has the highest population density in Africa. This small and landlocked country enjoys a mild climate due to its high average elevation.
Kigali
Average annual temperature and rainfall:

Passports and Visas
Your passport should be valid for at least six months beyond your stay in Rwanda, with a minimum of two blank pages. British Nationals entering Rwanda will be able to get a visa on arrival for a fee. The fee is currently US $30 for a 30-day tourist visa, and it is advisable to have the exact amount of cash ready, using bills that are post-2006 and are unmarked, clean and not torn in any way. You can also choose to get a visa in advance at any Rwandan diplomatic mission or online. For other nationalities, please find out your visa requirements (this can be done through a Rwandan diplomatic mission or the government foreign travel office in your country).
For people going to Uganda and Rwanda, you can apply for an East African Tourist Visa. This is valid for 90 days and allows multiple entry into Kenya, Rwanda and Uganda and costs US $100. This must be applied for in advance from the High Commission of the country you are entering first e.g. if you arrive into Rwanda, then venture into Uganda and fly out of Uganda, then you MUST apply for the East African Tourist Visa using the link on the Rwanda website.
Check the foreign office for all the latest travel advice for Rwanda.

Health
We hope the information below is helpful, but it is only guidance; requirements change frequently and you MUST check all health requirements yourself with your GP.
There is a high risk of malaria in Rwanda. Travellers should take antimalarial medication along with preventative measures such as mosquito repellent, wearing long-sleeved shirts and trousers and using mosquito nets and coils where supplied.
There is a low potential for exposure to Yellow Fever in Rwanda. A Yellow Fever vaccination is required for entry if you are coming from an area where there is a risk of Yellow Fever transmission.
We strongly recommend that you take a supply of anti-bacterial wet wipes and use them after handling currency to reduce the risk of digestive upsets. Never drink non-purified water. The local agent will provide bottled water in the vehicle along all transfers and game drives. In hotels you should request or buy bottled water for your room. Bottled water is available almost everywhere. People planning prolonged camping trips should take water purification tablets.
The strong rays of the African sun can cause severe burns and sunstroke in a few hours. Take the necessary precautions (light clothing, hat, sunglasses and sun block).
Please ensure that you are fully up to date with your country of destination's Covid travel policies. Click here for the latest FCO advice.
More information on the latest health requirements can be found at the Travel Pro Health website.
Insurance
Your travel insurance should provide cover for cancellation and curtailment, medical insurance, lost or damaged baggage and emergency evacuation. We are fortunate to be partnered with Rush Insurance who provide a range of travel insurance policies specifically for the type of trips we offer. We have a dedicated page on their website here.
Money
The local currency is the Rwandan Franc, but US dollars in cash is the preferred option. We suggest you take both small denomination notes (US$ 1, 5, 10) for tips etc. as well as US$ 50 and 100 bills for currency exchange – make sure they are post 2006 and in good condition. Your driver/guide can take you to change money in Kigali – this is a better rate than the rate at the airport. Bank cards for cash machines generally do not work in Rwanda. All major credit cards are generally accepted at hotels and lodges in Rwanda. A surcharge at least 5% is levied at those hotels where they are accepted.
Tipping
Tipping is at your discretion. Below is an indication of what is generally given per passenger travelling:
Gorilla guides: Tips should be given to the main guide who will distribute them among the trackers and game guards. We suggest US $20 - 30.
Safari driver/guides: US $15 - 20 per day.
Cooks/camp assistant: US $5 - 10 per day. National Park guides (cruises/bird walks): US $10
Bar staff/waiters: 10% of bill
Recommended Reading
Wildlife and Travel Guides
Rwanda Bradt Travel Guide, Philip Briggs
A Field Guide to the Tracks & Signs of Southern, Central & East African Wildlife, Chris Stuart, Mathilde Stuart
Mountain Gorillas: Biology, Conservation, and Coexistence Hardcover, Gene Eckhart, Annette Lanjouw
In the Kingdom of Gorillas: Fragile Species in a Dangerous Land, Bill Weber, Amy Vedder
In the Shadow of Man, Jane Goodall
Stuarts' field guide to the larger mammals of Africa, Chris Stuart, Mathilde Stuart
Pocket Guide to Mammals of East Africa, Chris Stuart, Mathilde Stuart
Birds of East Africa: Kenya, Tanzania, Uganda, Rwanda, Burundi (Helm Field Guides), Terry Stevenson, John Fanshawe, Brian Small, John Gale, Norman Arlott
Other Interesting Reading
Land of Second Chances: The Impossible Rise of Rwanda's Cycling Team, Tim Lewis
Shake Hands With The Devil: The Failure of Humanity in Rwanda, Romeo Dallaire
Left to Tell: One Woman's Story of Surviving the Rwandan Genocide, Immaculée Ilibagiza, Steve Erwin
We Wish to Inform You That Tomorrow We Will be Killed With Our Families, Philip Gourevitch
Season of Blood, Fergal Keane