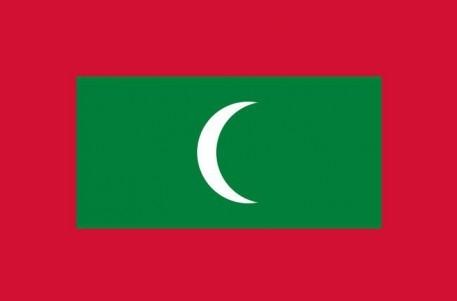 Quick Facts
Area: 298 sq km
Population: 393,988
Capital: Male
Religions: Sunni Muslim
Languages: Dhivehi, English
Currency: Maldive Rufiyaa (MVR)
Time Zone: GMT + 5 hours
Geography and Climate
Located south of India in the Indian Ocean, the 1,200 coral islands—about 200 of which are inhabited—make up the island nation of Maldives.The islands are small and none rise more than 1.8m (6ft) above sea level. 90 of its islands are designated as tourist islands.
The climate in the Maldives is tropical. Although it is warm throughout the year, there are slight variations in the temperature during certain periods determined by the monsoon. From November to April it is mostly dry with very little wind, while the Southwest monsoon from May to October brings some rain, though temperature varies very little.
Average annual temperature and rainfall:

Passports and Visas
No advance visa is needed to go to the Maldives. A 30-day free visa is issued on arrival for all Nationalities, provided:
You possess a valid passport with Machine Readable Zone (MRZ) and at least 6 months validity
Have a valid ticket to continue the journey out of Maldives
Have enough funds to cover the expenses for duration of the stay in Maldives (USD $100 + $50 dollars per day) or a confirmation of reservation in a Tourist Resort or a Hotel
Passports should have a minimum of one blank page. Some airlines refuse passage to travellers with less than 6 months validity remaining on their passport. Please check with the airline before departure.
For newlyweds taking advantage of honeymoon offers, please note an original wedding certificate or a certified copy must be produced at hotels for honeymoon packages.
Check the foreign office for all the latest travel advice for Maldives.

Health
We hope the information below is helpful, but it is only guidance; requirements change frequently and you MUST check all health requirements yourself with your GP.
Visitors to the Maldives do not require any medications against Malaria before travelling to the Maldives, unless they are coming from a Malaria infected area.
There is no risk of yellow fever in this country, however, a yellow fever vaccination certificate is required from travellers over 1 year of age arriving from countries with risk of yellow fever transmission and for travellers having transited for more than 12 hours through an airport of a country with risk of yellow fever transmission.
The most common problem for tourists in the Maldives is sunburn and dehydration. The tropical sun is very intense and soft breezes on the islands and during boat rides can easily fool you. Some form of sun protection is necessary even for travellers with darker skin tones. A range of sun creams are available in Male and in most resorts. It is also advisable to wear a T-shirt when snorkelling. Drink plenty of fluids to prevent dehydration.
There are two hospitals in Male, many clinics, pharmacies and many good doctors both in private practice and at the hospitals. A physician is also within easy reach from all resort islands.
Please ensure that you are fully up to date with your country of destination's Covid travel policies. Click here for the latest FCO advice.
More information on the latest health requirements can be found at the Travel Pro Health website.
Insurance
Your travel insurance should provide cover for cancellation and curtailment, medical insurance, lost or damaged baggage and emergency evacuation. We are fortunate to be partnered with Rush Insurance who provide a range of travel insurance policies specifically for the type of trips we offer. We have a dedicated page on their website here.
Money
The Maldivian currency is the Rufiyaa and Laari. One Rufiyaa is equivalent to 100 Laari. Rufiyaa banknotes come in denominations of 5, 10, 20, 50 100 and 500. Coins are in the denominations of 1 Laari, 2 Laari, 5 Laari, 10 Laari, 25 Laari, 50 Laari, 1 Rufiyaa and 2 Rufiyaa. The US Dollar is the most commonly used foreign currency. Payments in the resorts and hotels can be made in most hard currency in cash or cards. Commonly used credit cards are American Express, Visa, Mastercard.
Tipping
Tipping is something of a grey area in the Maldives, where 10% service tax is added to nearly everything from minibar drinks to room prices. In many places this would mean that you don't need to tip in addition, but it's still the case that people serving you personally will often expect something. It's good form to leave a tip for your room staff and in smarter resorts, your thakuru (butler). Give any tips to the staff personally, not to the hotel cashier – US dollars, euros and local currency are equally acceptable. A few dollars a day is fine for room staff, while anyone carrying your bags might expect US $1 or so per bag.
In Male, the fancier restaurants usually add a 10% service charge, so you don't need to tip. Tipping is not customary in local teashops. Taxi drivers are not tipped, but porters at the airport expect 10 Rufiyaa or US $1