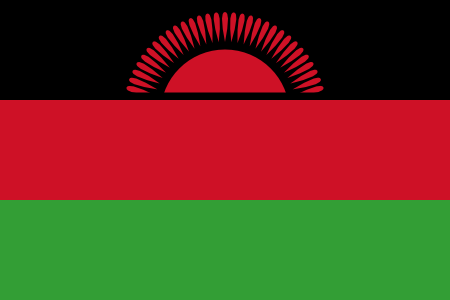 Quick Facts
Area: 118,484 sq km
Population: 16,777,547
Capital: Lilongwe
Religions: Christian, Muslim
Languages: Chichewa, Chinyanja, Chiyao, Chitumbuka, Chisena, Chilomwe, Chitonga
Currency: Malawi Kwach (MWK)
Time Zone: GMT + 2 hours
Geography and Climate
Malawi is a landlocked in the eastern part of central Africa. Its most dominant feature, Lake Malawi, takes up about a fifth of the landscape. Meanwhile, in southern Malawi, the Mulanje massif rises to 3,000 (9,842ft), making it the highest mountain in central Africa.
In general, the seasons may be divided into the cool and dry (May to Mid-August); the hot and dry (Mid-August to November) and the rainy (November to April). However, the variety of altitudes in Malawi means that the temperatures and amount of rainfall vary considerably throughout the country.

Blantyre
Average annual temperature and rainfall:

Passports and Visas
Visas for most nationalities can be obtained on arrival in Malawi but there are some exclusions. Although the process at the ports of entry is currently time-consuming, even travellers arriving unaware of the new requirements armed only with their passports are having visa applications processed on arrival and are successfully entering the country.
However, current official advice is to avoid unnecessary inconveniences and obtain a Malawi visa in advance of travel from the nearest Malawi Diplomatic Mission. Visit the Malawi Tourism website for more information.
Passports should be valid for six months beyond your intended stay, with a minimum of two blank pages.
Check the foreign office for all the latest travel advice for Malawi.

Health
We hope the information below is helpful, but it is only guidance; requirements change frequently and you MUST check all health requirements yourself with your GP.
It is compulsory that you are vaccinated against Yellow Fever if you arrive from an endemic area. Malaria is endemic to Malawi, so it is strongly advised that suitable prophylactics are taken – please contact your pharmacist or GP for recommendations.
There is a small risk of contracting bilharzia if bathing in Lake Malawi but this is negligible near the main beach hotels and islands. The infection is relatively easily treated once diagnosed and should not keep visitors out of the water!
While Malawi suffers from a high HIV infection in its local population, risk of contracting HIV is low for most visitors to the country provided they exercise common sense and take precautions.
Please ensure that you are fully up to date with your country of destination's Covid travel policies. Click here for the latest FCO advice.
More information on the latest health requirements can be found at the Travel Pro Health website.
Insurance
Your travel insurance should provide cover for cancellation and curtailment, medical insurance, lost or damaged baggage and emergency evacuation. We are fortunate to be partnered with Rush Insurance who provide a range of travel insurance policies specifically for the type of trips we offer. We have a dedicated page on their website here.
Money
Malawi's official currency is the Kwacha (MWK). Visitors are only permitted to export MWK 200 on departure from Malawi so we recommend keeping your kwacha to a minimum as it is very difficult to buy hard currency on departure. It is best to carry hard currency in small denominations in Euro, British Sterling, US Dollars or South African Rand which are all easily exchanged.
Malawi is relatively unsophisticated with regards to international credit cards being accepted. Smaller restaurants and lodges do not have facilities to accept credit card payments while major hotels, airlines and travel agents charge a service fee of between 5% and 12% for payment by Visa or Mastercard. It is advisable to take a Visa card, rather than Mastercard, as the National Bank in Malawi are the agents for Visa in Malawi.
Tipping
Most restaurants and hotels include a 10% service levy in their prices. Tipping is voluntary, but since wages are very low, it is always appreciated. 10% is usually the standard tip for most situations.
Recommended Reading
Wildlife and Travel Guides
The Bradt Travel Guide Malawi
Newman's Birds of Southern Africa and Common Birds of Botswana, Ken Newman
Sasol Birds of Prey of Africa and its Islands, Alan Kemp
Southern African Wildlife (Bradt), Mike Unwin
A Field Guide to African Wildlife, Peter Alden and Richard Estes
Collins Field Guide Birds of East Africa, JG Williams and N Arnott
The Safari Companion: A Guide to Watching African Mammals, Richard Estes
Other Interesting Reading
Meet Me in Mozambique, E.A. Markham
The Bang Bang Club, Greg Marinovich and Joao Silva
Mukiwa, Peter Godwin
A Good Man In Africa, William Boyd
Snows of Kilimanjaro, Ernst Hemingway
Shadow of the Sun: My African Life, Ryszard Kapuscinski
Don't Lets Go To The Dogs Tonight, Alexandra Fuller
White Mischief, James Fox
The Last King of Scotland, Giles Fodden
No 1 Ladies' Detective Agency series, Alexander McCall Smith
The Africa House, Christina Lamb
Flame Trees of Thika, Elspeth Huxley
Long Walk to Freedom, Nelson Mandela