8 nights at £2,025pp (excl. international flights). First child under twelve sharing also stays free.
Black Friday Deal - 20% off Sao Tome and Principe Island Getaway
Discovered by Portuguese explorers in 1471, São Tomé and Príncipe evolved into a vital trade route and cacao plantation center, earning the moniker 'the chocolate islands' by 1900. Today, deeply rooted African culture thrives, shaped by the descendants of Cape Verdeans, Angolans, and Mozambicans who worked on Portuguese-run plantations during and after slavery. This heritage brings a lively fusion of West African traditions, contributing to the islands' vibrant atmosphere. Experience the rhythmic tchabata drumming, the graceful ussua dance, and the energetic puita dance; admire the colorful sanguê clothing; and savor the aroma of calulu stew, a culinary delight with 30 types of leaves.
Embark on an unforgettable 8-night journey to the captivating landscapes of São Tomé and Príncipe, where lush rainforests meet pristine beaches. Your adventure begins with a 3-night retreat at the luxurious Omali Lodge in São Tomé, a haven of tranquility nestled between the Atlantic Ocean and lush tropical gardens. Immerse yourself in the rich local culture, explore historic plantations, and savor the unique fusion of Portuguese and African flavors.
The magic continues as you venture to Bom Bom Island Resort on Príncipe for a blissful 5-night stay. Indulge in the ultimate tropical paradise experience with overwater bungalows, where the turquoise waters of the Gulf of Guinea are just steps away. Discover the island's biodiversity with guided nature walks through dense forests, and unwind on secluded beaches surrounded by swaying palm trees.
This exclusive journey seamlessly combines luxury and adventure, promising a perfect balance of relaxation and exploration. From São Tomé's cultural gems to Príncipe's idyllic beaches, this 8-night escape promises a harmonious blend of nature, culture, and pure bliss. Join us for an extraordinary experience in the heart of West Africa.
Speak to an expert
I created this trip - call me to create yours.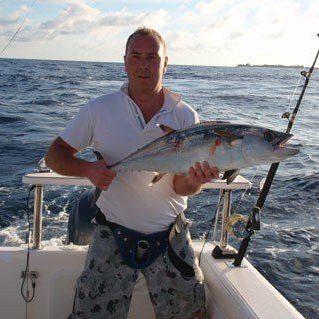 Alistair
Sao Tome and Principe Specialist
The itinerary…
Day 1: Fly from UK to Sao Tome
Fly to Sao Tome, where you will be met at the airport and transferred to Omali Lodge for three nights.
Days 2-3: Omali Lodge
Begin your mornings with a hotel breakfast then a leisurely stroll through the lush tropical gardens, breathing in the fragrant air. Unwind by the poolside, surrounded by swaying palm trees, or opt for a rejuvenating spa session. Indulge in exquisite cuisine at the lodge's restaurant, showcasing the island's flavours. Embark on guided tours to discover São Tomé's rich history, including visits to cocoa plantations and charming local villages. Complete your days with sunset cocktails on the terrace, overlooking the Atlantic Ocean.
Day 4: From Sao Tome to Principe!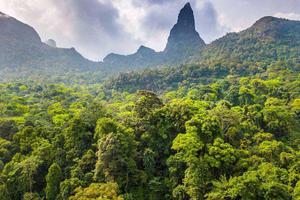 After breakfast, you will be collected and transferred to Sao Tome airport the STP Airways flight to Principe departing at 09h00.
Arrive in Principe at 09h35, where you will be transferred via a short drive to the Bom Bom Island Resort, where you will stay five nights. Between two picturesque golden beaches, the 19 hillside and beachfront bungalows on Príncipe's northern tip offer a tranquil retreat just moments away from the emerald waters of the Gulf of Guinea.
Days 5-8: Bom Bom Island Resort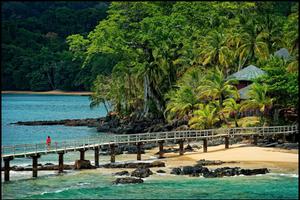 Awaken to the sounds of the ocean in your beachfront bungalow, then have a delightful breakfast overlooking the turquoise waters. Spend your days basking on pristine sandy beaches or exploring the resort's lush surroundings. Dive into the crystal-clear waters for snorkeling or simply relax by the infinity pool with a refreshing drink. Indulge in delectable cuisine at the resort's restaurant, combining local flavors with international flair. Join a guided excursion to discover Príncipe's diverse landscapes, from dense rainforests to vibrant coral reefs. Revel in the incredible sunsets, embracing the serene beauty of Bom Bom Island.
9: Arrive Home
After your final Bom Bom Island breakfast, meet your guide who will transfer you back to the airport for your flight to Sao Tome. From there, catch your international overnight flight home.
---
Duration: 8 nights
Location: São Tomé and Príncipe, Africa
Price: £2449 Save £424 now only £2025
Special offer only for booking before 31st December 2023*: 20% off 8 nights on Sao Tome and Principe, based on two people sharing. First child under 12 sharing also stays free.
Price includes:
3 nights at Omali Lodge, standard room, breakfast included.
5 nights at Bom Bom Island Resort, pool-view room, half-board included.
All transfers and internal flights are included.
Price excludes:
Any international flights
Any meals or activities not listed as included.
*Travel must happen in May, Sept, October, or November 2024.
OUR FAVOURITE TAILOR-MADE SAO TOME & PRINCIPE TRIPS
Popular Sao Tome & Principe Holiday Ideas
When to visit Sao Tome & Principe
Find out the best time to visit Sao Tome & Principe with our month by month guide.
Read more
Jan
Feb
Mar
Apr
May
Jun
Jul
Aug
Sep
Oct
Nov
Dec
A detailed itinerary in 24 hours
Speak to a Sao Tome and Principe expert to start planning your adventure
Alistair

Sao Tome and Principe Specialist
Call an expert on
01768 603 715
Plan with an Expert
Have a look at our original holiday experiences and then contact us with your brief, or call 01768 603 715
A detailed itinerary in 24hrs
Our experts will send you a detailed holiday itinerary within 24 hours. It's our service promise to you.
Value Guarantee
Tailor-made doesn't mean expensive! Ask about our price promise and book with financial security.